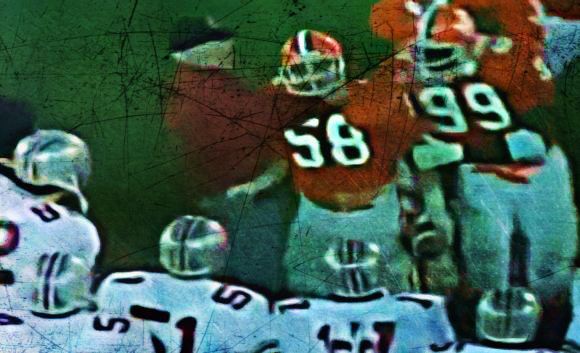 Buck Burnette was the first commitment of the Texas Longhorns' 2006 recruiting class. He made his college pledge one month after Vince Young raised the BCS championship trophy for beating Southern Cal in the Rose Bowl.
He was a two-time all-state first team offensive tackle who registered 234 pancake blocks (!) in three years of high school football, but he was kicked off the team by the time Texas played Ohio State in the Fiesta Bowl in January 2009.
The catalyst for his dismissal was created in mere seconds: Following the 2008 presidential election, Burnette posted a Facebook status that called for hunters to get "the #$%&er in the whitehouse (sic)." Just like that, he was abruptly transformed from a Texas Longhorn into an Abilene Christian (DII) Wildcat.
Burnette is now a musician with a couple dozen Twitter followers. Google his name and you're immediately reminded of the only reason his name was once familiar: He went on the record with overt racism, tinged with violence - for a few seconds on the Internet.
Josh Jarboe also got thrown off his team, but that took a little longer than the Facebook status which caused Burnette's dismissal. Still, his unplanned departure happened before he played a single down.
Jarboe made a hideous 75 second freestyle video that quickly turned him from an Oklahoma Sooner on a short leash into a Troy Trojan. The former five-star WR later became a NE Mississippi Community College Tiger and finished college as an Arkansas State Red Wolf.
But the ball got rolling in Norman before his freshman year. It didn't even take a minute and a half.
Last week when Riley Cooper was permanently destroying his reputation on camera, I didn't think about Burnette or Jarboe. I immediately thought about Woody Hayes, whose reputation to non-stakeholders of Ohio State football is still defined by a few seconds of 35-year old videotape.
Sure, Woody held racial biases - but they didn't carry the violence or ugliness of Cooper's or Burnette's. Prior to the second game of the 1973 season he stood in the Buckeyes' locker room, held up a team photograph of the Horned Frogs and asked his players if they knew why they were going to win the game.
The players shouted out their answers: We have a better team. We have better coaches and athletes. Woody shook his head and said, "they don't have enough black players."
That could be interpreted as a backhanded way of saying TCU had too many white players, which is something John Cooper actually did say upon inheriting Earle Bruce's roster. Woody was most likely creating inspiration for about half of his roster. Anyway, the Buckeyes beat TCU 37-3.
But hot racial takes aren't how sneering outsiders define Woody 25 years after his death. They still view him by those few ugly, violent seconds that he willfully provided while a camera was on him. Cooper's racial tirade took less time than Woody slugging Charlie Baumann, but everyone saw both.
While it might be unfair to judge him on solely on his televised throat-punch, that glimpse into part of his character was correct: Woody put his hands on players all of the time. He was known to throw punches, but the recipient was almost always himself. Just not that time.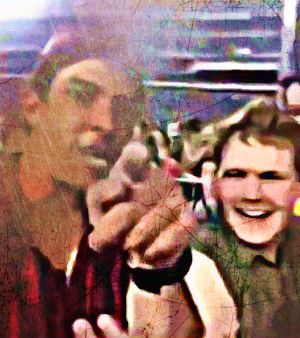 That's the wanton appeal of catching and recording unguarded behavior: It turns us into voyeurs, privy to what we believe to be a person's true character. You learn more about that person's dark side than they intended.
The towel Cooper normally held up to obscure who he really is hit the floor and for a few seconds at a Kenny Chesney concert, he was butt-naked. It wasn't sexy to anyone but unapologetic racists.
Cooper angrily telling a black security guard at a country music show what he did in those seconds told plenty of people all they ever need to know about him. He turns 26 next month.
When Cooper turns 36 he'll be known as the white former NFL receiver who...right. 
Similarly, Bob Knight is 73. He also once threw a sideline chair across the court during a televised basketball game and years later he put his hand on Neil Reed's neck during a practice that was recorded.
Those two pieces of tape, less than ten seconds in total, are easily the most-watched Knight highlights. The man won 902 college basketball games, but to many people he threw a chair and choked a player. They saw it.
Woody and Knight couldn't control their conduct despite having thousands of eyes on them. Jarboe was told to curb his unsavory tendencies and promptly took them to a camera.
Burnette and Cooper didn't have the courtesy or restraint to just keep their prejudices silent while creating millions of unintentional voyeurs, sending the public into a snap-judgmental tizzy. Disgusting, bite-sized racism occurs among us: Film at 11.
The Internet simplifies the distribution channel for this bite-sized ugliness. It's easier to consume than ever before: Carlos Hyde sort of reach-slapped in the direction of an underage female twerker at Sugar Bar 2 and lost a quarter of his final collegiate season.
Is El Guapo really the type who strikes women? Once he satisfies Urban Meyer he'll probably get to play in four road games. He might get a reminder of that night from those crowds.
Public shaming transcends ages, races professions and geography: Anthony Weiner showed his dong on the Internet twice during the time that you've been reading this column and it wrecked his political career. Paula Deen willfully eviscerated her buttery empire with racist comments.
She followed that up by tearfully saying I is what I is while live national television cameras were rolling. Weiner turns 49 next month and Deen is 66, but you probably know everything you care to about those two based on a few revealing seconds they shared publicly.
Ask any Michigan fan if Jim Tressel ever coached a game in his life without cheating.Meyer's predecessor at Ohio State effectively ended his coaching career with two very brief emails, but ask any Michigan fan if Jim Tressel ever coached a game in his life without cheating. Tatgate confirmed everything they wished to be true with a single instance of prima facie evidence.
Those are just some brief moments of indiscretion that went public. Consider the ones that slid under radar, or even the close calls: Clay Matthews and Brian Cushing once created a Facebook group at Southern Cal called White Nation that contained off-color racial slurs.
After news of it spread outside of Facebook, their non-white teammates revealed that White Nation was a nickname they had given their Caucasian teammates and that it was an inside joke that should have never made it outside. The reputations of Matthews and Cushing were salvaged.
In light of so many cautionary tales, it's important to remember that your reputation doesn't actually belong to you. Cooper's doesn't belong to him. Burnette's was never his. Your reputation - which carries more value for you than anyone else - is actually owned by the public.
Your character is yours. Guard it well and the public probably won't do unkind things with your reputation. Cooper lost control of his character for a few seconds with cameras rolling. El Guapo did as well. Woody did it live during a bowl game. And Burnette did it on Facebook.
Despite the varying degrees of ugliness, they all provide a nice little lesson: If you're really the person you want others to think you are when no one is watching, you should be okay if you drop your towel and the public accidentally catches a glimpse.