We all know Buckeye football kicks off in four weeks, but are you aware that Ohio State's first basketball game is in fewer than 100 days?
Now that I've got all of you juiced up for basketball season, it's a good time for the August basketball recruiting mailbag.
The July evaluation period is over, and Thad Matta and his staff have given out a few more scholarship offers over the next three years. 
Still, most of the focus is on how they plan on filling out the 2014 class.
Let's dive in, shall we?
How much urgency is there for Thad Matta and his staff to secure another commitment in the 2014 class? I know there is room for 1 (maybe 2) more guys, but how does the team look if Thad can't get a recruit to pull the trigger? - KILLER NUTS
Considering all the momentum they built up by securing early commitments from everyone in this class (relatively early, compared to a majority of the top recruits), it would be disappointing if the Buckeyes don't close out the class with another one.
It's still a tremendous group and a top 10 class, overall. A tremendous shooter, whose versatility allows him to run the point (D'Angelo Russell), athletic, strong wing play (Keita Bates-Diop and Jae'Sean Tate) and a post who has room to grow (literally). 
They're already loaded on the perimeter, and will add Kam Williams' smooth stroke this year. If they can't get another big man, they still have Bell, Amir Williams, Marc Loving (combo guy, can play on the perimeter too) and Trey McDonald.
Who knows if LaQuinton Ross will stick around for 2014-15, but you could have a lineup of: Amir Williams, Ross, Sam Thompson, [whoever], Shannon Scott and a loaded bench that Matta may or may not use. We know from last year's willingness to use a small lineup, that Thad doesn't necessarily need a shot blocker (save your Amir jokes) on the floor at all times.
If that's "all they have," there's obviously more pressure on getting another big (ahem, Carlton Bragg?) and a point guard in 2015.
From many sources, Jahlil Okafor is leaning toward Duke commit. Who is the most available center/power forward among Myles Turner, Goodluck Okonoboh, and Craig Victor? - CHOWOON97
First off, add another one to the "Jahlil Okafor and Tyus Jones are going to Duke" camp – Okafor's AAU coach, the most credible source yet.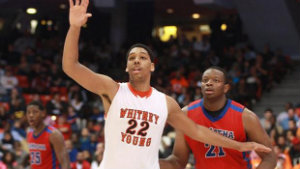 As far as the other three guys, only two are still considering the Scarlet and Gray. Craig Victor – who, at one point, had Ohio State in his top five – will now decide between Arizona, Kansas, LSU and Oklahoma State. The Wildcats have been the heavy favorite to land him, while both him and the Buckeyes are better off going in different directions.
It feels like Matta wants more of a low-post presence, particularly on the defensive end. As the two best shot blockers in their class, both Goodluck Okonoboh and Myles Turner would provide that.
Ohio State only recently offered Okonoboh, so they have to make up some ground. Although, he told the Las Vegas Review Journal, "I'm open to everybody. I don't have a list. I have no favorites."
Turner, meanwhile, announced he'd cut his list this week, according to Jayhawk Slant – of course, he has a large pool of programs to choose from. There's also been some talk of him teaming up with fellow Texan and point guard Emmanuel Mudiay. Any package deal of uncommitted recruits clearly hurts OSU's chances.
Currently, Turner is only scheduled to visit Kansas and Okonoboh has yet to plan any visits (he told CBS Sports, "I'm going to wait until after AAU season to really get into that, talk about schools and stuff like that.") 
I have a lack of understanding about the important dates for the dead, signing, and open periods in basketball recruiting compared to football. Which dates are important within basketball recruiting? - DANIFY
I imagine you would find this chart helpful to your cause. 
A number of elite 2014 recruits still haven't announced where they'll attend college. Many of those will follow this timeline: finish up AAU ball, set up visits, go on said visits and then sign in November. You'll see a lot of commitments in the upcoming months, before high school basketball season begins.
Are the past 2 NCAA tournaments paying dividends on the trail? Basically, are we seen as a destination for national recruits? - BRANDONBAUER87
Our Jordan Wagner points out some of the Buckeye targets for the next two years in Eleven Warriors' basketball scholarship breakdown. Do you see a single talent unworthy of a high major offer? Well, maybe one.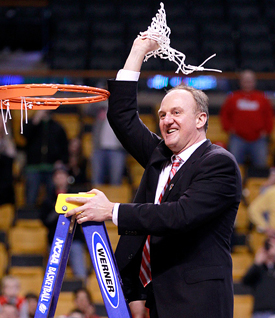 Only overly optimistic coaches chase talent they can't possibly get to commit. Matta's not one of them. Ohio State is able to recruit and land some of the top guys because of the success they've had on the floor.
Since 2007, at least one Buckeye has been selected in the NBA Draft – THE longest streak in college basketball. I assume that lovely fact is casually referenced "on the trail."
As far as the last two tournaments go, Craig Victor told 247Sports he likes OSU's tradition.
"I got a chance to see them play when they came to New Orleans for the Final Four. I was rooting for them to win."
A good rule: any time Matta gets a chance to build a large class, he'll deliver. With plenty of scholarships to work with in 2006, 2010 and 2014, the Buckeyes brought in – and will bring in – some of the nation's top talent.
So, if you don't envision Ohio State as a "destination" for the top recruits, then you are too blind to see it.
If we strike out on Okafor, is there a possibility of going the JUCO route for a big man? - KEITHMC33
Usually, only in complete desperation will any major program – such as Ohio State – go after junior college transfers. No, missing out on Okafor wouldn't be one of those times.
Recently, he's only had to scour junior college talent one time. That was due to all those players leaving before the 2009-10 season.
Fans got on Matta in the past about his bench, but you can attribute that to the overall lack of depth and ineffectiveness, when compared to the starting lineup. Last year, we saw a shift in his philosophy. With talented reserves pushing for more minutes, he didn't hesitate to go to the bench.
Considering what he has coming in and coming back – especially on the wing – I doubt we'll see the OSU coaching staff dip back into the JUCO pool.
With Luke Kennard's recruitment recently "blowing up" (getting offers from pretty much all the blue blood programs), where do you think OSU stands in regard to eventually getting him in the Scarlet & Gray? - OLDCOLUMBUSTOWN
Few high school basketball players in the country had a July quite like Kennard's. Offered by "pretty much all of the blue blood programs," meaning Duke, Indiana, Kentucky and North Carolina (what is Kansas waiting for?).
He, like many 2015 recruits, isn't particularly close to making a decision. Making that choice only gets more difficult with his options constantly expanding.
Right now, he's not even picking either football or basketball, recently saying he plans to play both. He even has a scholarship to play for Charlie Strong's Louisville football squad, as well.
So, the Franklin (Ohio) guard is wide open on many fronts. Having attended basketball camps in Ann Arbor over the past several years, Kennard has a strong relationship with John Beilein and his staff. He also grew up a Kentucky fan and idolized Tayshaun Prince.
Of course, John Calipari still doesn't know how many scholarships he'll have available in 2014, let alone 2015. Kennard is reportedly planning on visiting UK, this month or in September.
His recruitment is wide open, and visits before school starts might pay off later. Considering his hometown's proximity to Columbus, Matta and his staff will have plenty of time to appeal to Kennard.
---
I appreciate all the feedback, you guys. If I didn't get to yours, hopefully I answered it without directly responding to your question.