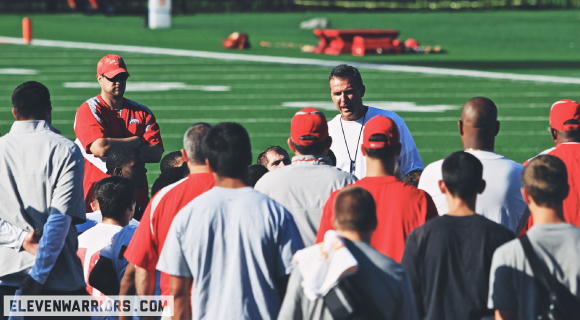 A group of 21 freshmen are officially Ohio State Buckeyes. They trotted out to the practice fields at the Woody Hayes Athletic Center 8:45 a.m. Sunday morning to take part in drills directed by a cadre of coaches and support staff members.
Absent were Marcus Baugh, Donovan Munger and Cameron Johnston. Baugh is suspended indefinitely, Munger is expected to join the team when school starts and Johnston will be practicing with the returning players. After all, it's challenging to punt without your long snapper.
Former Georgia Tech wide receiver Jeff Greene has officially joined the Buckeyes and will wear jersey No. 8.
The first-year players have grown familiar with strength coach Mickey Marotti over the summer – some would say too familiar – as he directed their offseason workout regimen. That hard work becomes worthwhile, though, when the 17- and 18-year-old stars of the future go head-to-head with grown men, as Meyer is wont to say.
Much has been said about Dontre Wilson, Jalin Marshall, Ezekiel Elliott and Corey Smith – a quartet of first-year skill players that brings back visions of David Boston, Michael Wiley and the 1996 freshman class. During the first 30 minutes of Sunday morning's workout not much could be determined other than they have a significant burst of speed.
Wilson, Marshall and James Clark were returning punts.
Evan Lisle, Joey Bosa and Billy Price carry the physically imposing tag. All three already have the bodies of veteran college football players. 
Meyer gave a spirited speech to the first-year players with the theme being 'you have a long way to go, don't mess up early in your career and through hard work, you can be an all-time great at Ohio State.'
The Buckeyes' upperclassmen will practice this afternoon.