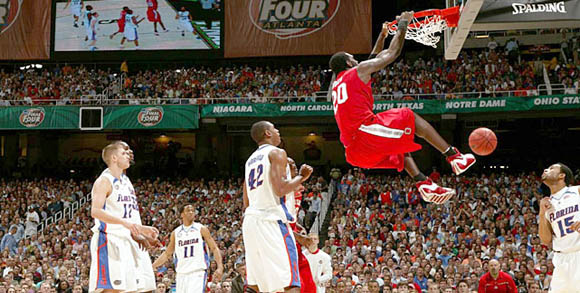 Greg Oden is taking his talents – and history of injuries – to South Beach.
Oden, who last played an NBA game in 2009, chose the Heat over San Antonio, Dallas, New Orleans, Sacramento and Atlanta, and will report to the Heat next week.
Referring to Miami, home of the two-time reigning champions, as the "best place" and "best fit" after years of knee troubles, Oden will report to the Heat on Monday and, according to sources close to the process, sign a two-year deal at the league minimum with a player option for Year 2.
Oden spent one year at Ohio State, helping to lead the Buckeyes to the 2007 NCAA championship game behind 15.7 points and 9.6 rebounds per game. The choice of Miami will present a dilemma of sorts for Ohio State fans that also happen to be Cavs fans – and fans of every other team in the league, for that matter.
While many despise the Heat, you can't help but hope for the best for Oden, the No. 1 pick in the 2007 NBA draft. In the six years since Oden was drafted, he's appeared in just 82 NBA games.
Do well, Greg. We're pulling for you.