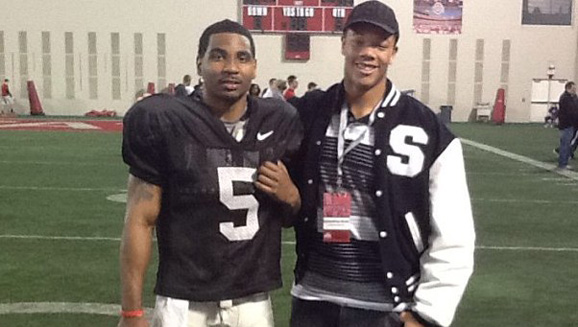 Sunday night, offensive guard Demetrius Knox committed to Ohio State, becoming the 15th member of Urban Meyer's 2014 class. Knox, a 6-foot-3, 290-pound guard from All Saints Episcopal in Fort Worth, is considered a 4-star talent, considered the nation's No. 6 guard in the 247 composite rankings.
As many of you already know, Knox is also a a member of this site and has not shied away from commenting and interacting with with other members, both prior to, and after his commitment to the Buckeyes.
Which means we have a small problem.
Several site members are Ohio State boosters and according to the kind folks in Ohio State's compliance department, interacting with Knox on Eleven Warriors – even something as seemingly innocuous as a reply to one of his comments – is considered a secondary NCAA violation.
We've asked Demetrius to lay low on the site and although he's not thrilled about it, he's agreed to do so. Here's what you can do: Avoid replying to any comment Knox has made or will make going forward. Especially if you're a booster.
Thanks for your cooperation.
Go Bucks!