The end is near, Buckeye fans. The Buckeye 2014 recruiting class added two more commitments this past week as Demetrius Knox and Malik Hooker each added their names on the 2014Bucks.com website. As the numbers get tighter, the decisions will get tougher for Urban Meyer and his assistant coaches. Ohio State now has 16 commitments in a class that could range anywhere from 20-23.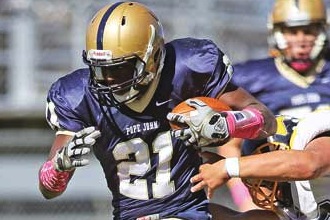 There are a number of players left on the Buckeyes' recruiting board with plans to make their final decisions soon, and each of them would fill a different need in the 2014 class. There is rampant speculation that a handful of these players will have a spot no matter when they decide to say "I'm in," and from a star-rating and impact standpoint, it's easy to understand why.
Let's take a new, refreshed look at how the Buckeyes hope to finish out the "Dream '14."
IN NO MATTER WHAT OR WHEN OR HOW
There are some players too talented for Ohio State to pass up, no matter how squeezed the numbers are. Players that the Buckeyes will find a way for, even in a class with tightening numbers. It's the decision of these players that keeps the class in the top five nationally when all is said and done. 
Raekwon McMillian // ILB // Liberty County High School (Hinesville, Ga.)
McMillan is the biggest fish remaining for Ohio State, and not just because of his immense talent. He's a natural leader on and off the field, and receiving his signature on Signing Day would give the Buckeyes an important head-to-head recruiting victory against Nick Saban and other southern foes for a top player from SEC country. McMillan and his family took an extended visit to Columbus last week, an important visit as the Buckeyes continue their pursuit of the nation's top linebacker. Ohio State would wait until after Signing Day if they had to for a player like McMillan, but he plans to make his announcement at the Under-Armour All-American game in January and then enroll at the school of his choice immediately. You don't like to use the words "must get," but McMillan is as close to it as there is in 2014.
Curtis Samuel // WR // Erasmus Hall High School (Brooklyn, N.Y)
Recently bumped to five-star status by 247Sports.com, Samuel has become a major piece of the Buckeyes' 2014 puzzle. He's an explosive, game-breaking player — a homerun threat every time he touches the ball — and fits the now famous "Percy Harvin" role better than any recruit in the class could. At 6-foot and 185 pounds, Samuel is big enough to take a hit and strong enough to deliver one, but it's his ability to get to — and maintain through cuts and changes of direction — 4.36-40 yard dash top speed that separates him from the back. Urban Meyer has personally handled Samuel's recruitment, an unmistakable sign that the Buckeyes view his commitment with the utmost importance. Samuel made his second trip to Columbus this past weekend and the scuttlebutt regarding an imminent commitment has been overwhelming since he returned home. With an upcoming weekend visit to his home-state Rutgers looming, Ohio State could know by next week if they've reeled in this speedster. Will Samuel pull a Stefon Diggs and decide to stay home? Watch this one closely, because the answers should come this weekend.
Marshon Lattimore // DB // Glenville High School (Cleveland, Ohio)
Marshon Lattimore is one of the best athletes in the entire country. Marshon Lattimore goes to Cleveland Glenville. Marshon Lattimore will go to Ohio State. Right?
That's the line of thinking held by most who think about that sort of stuff, and it makes sense. Lattimore is a player who could be a five-star player at wide receiver or defensive back, and he fits perfectly into the mold of cornerbacks sought by Urban Meyer and Ohio State's defensive backs coach Kerry Coombs. He's big, he's physical and he's fast. Lattimore has been all over the country and holds offers from the likes of Alabama, Oregon, Michigan and numerous other nationally-ranked programs and he insists that despite Glenville's Buckeye pipeline, he's considering every school equally. As with most of the biggest names from the 'Ville, Lattimore will make a late decision, and as with most you should expect it to be Ohio State, despite his assertion to the contrary. Michigan and Kentucky continue to make their play for the Tarblooder star however, and that will keep the Buckeyes on their toes until February.
Damian Prince // OL // Bishop McNamara (District Heights, Md.)
Ohio State's need for help along the offensive line has been documented here and there and everywhere, and repeatedly so. With commitments from Knox, Jamarco and Marcelys Jones and Kyle Trout, the Buckeyes have answered that call admirably so far. To land Prince, the nation's second-ranked offensive tackle according to 247Sports.com Composite, would be a 6-foot-6, 300-pound cherry on top. Following a June visit to Ohio State, Prince — previously thought to be leaning towards Florida State — nearly committed to the Buckeyes but held off, and will hold off for the foreseeable future. Expect this one to come to the wire and be a Signing Day special between the Buckeyes, Florida State and the hometown Terps.
BUT DON'T FORGET THESE GUYS
If the Buckeyes were able to secure commitments from those four players as they hope to, then things become even more interesting as they finish the class off. Most expect that Lattimore's Glenville teammate, defensive back Erick Smith, will be in scarlet and gray next year, almost to the point that he could be in the "In No Matter What" group above. Ohio State won't want to risk losing Smith — who has talked about being a "package deal" with Lattimore — to a school like Michigan, potentially opening the door for more Wolverine presence at the Buckeye stronghold in Cleveland. When Smith wants to make his commitment, he'll be able to. When Hooker committed this week, there was some concern that Smith's spot would be gone, but that's not the case.
Noah Brown is a name that Buckeye fans should expect to hear a lot of more of, and soon. He's a big-time player being recruited by the Buckeyes as a pure wide receiver, and it appears that his commitment could happen at any time. Brown visited the Buckeyes last week and told Eleven Warriors that Ohio State was his favorite school, but he needed to make a follow-up visit to Vanderbilt before he could get closer to a decision. Following his Vanderbilt visit he confirmed that the Buckeyes were still on top, and that a decision would happen within weeks. Could he be the next commitment for Ohio State? He'll have to choose the Buckeyes over the regional favorite Rutgers and the lure of the SEC with Vanderbilt, but it seems to be trending that way.
With Smith and Brown and the "fantastic four" listed above, I still expect one more player to round out the Buckeyes' class. The question of who that is however, is anyone's guess. With players like New York five-star defensive tackle Thomas Holley, New Jersey freak tight end Mike Gesicki, Nassau Community College star offensive tackle Chad Mavety, Texas star Solomon Thomas and North Carolina running back Derrell Scott all still considering the Buckeyes, things will certainly get interesting if any of them call up Ohio State and want to commit. 
Even with the 2014 class nearly complete, the next few months are going to be a lot of fun. Stay tuned.