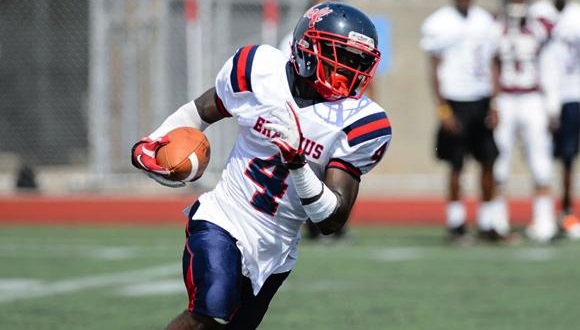 Lots of players talk about the famed "Percy Harvin role" in the Ohio State offense. Perhaps none fit that role better than Ohio State's newest commitment, New York star Curtis Samuel. Samuel committed to the Buckeyes today on the heels of a return visit to Columbus by his head coach at Erasmus Hall, Danny Landberg. Most speculated that Landberg's visit was a fact-finding mission, to ensure that in his eyes Ohio State was the right choice for his star player, and that turned out to be partially true.
"I don't think that was the initial point of the trip," Erasmus Hall assistant coach Ray Lizzi said. "It was a chance to talk to a great staff at Ohio State about x's and o's and to bring something back to our football team. I guess it could not hurt for (Landberg) to see how they do things a bit closer, to make sure it was a good fit for Curtis."
At 6-foot and 185 solid pounds, Samuel brings blazing 4.36-40 yard dash speed to an Ohio State offense along with a knack for putting the ball in the endzone. Samuel's talents have earned him offers from Alabama, Notre Dame, Southern Cal, Rutgers, Miami and more; but he chose the Buckeyes because of his relationship with Urban Meyer and his confidence in the Buckeyes' plans for him, plans that include being used in that fabled "Harvin" style.
"Curt's style is based on his athleticism, he will fit in their offense at Ohio State very similar to how we use him at Erasmus," Lizzi added of Samuel. "Ohio State will use him in the slot like we do, east and west on the field but he can beat defense in the vertical game as well. He'll be incredible as a kick returner, too."
With Samuel in the mix, Ohio State not only gets a commitment from its top offensive target, they get a verbal pledge from one of the country's most explosive players as Urban Meyer continues to build an offensive powerhouse. The New York Daily News player of the year in the Empire State, Samuel is a quiet and unassuming guy off the field, but he's a monster on it. Terrifying defenses every time he touches the ball. Samuel bounced back in 2012 after breaking his ankle in three places in 2011 and has not looked back since.
With his commitment now out of the way, Samuel hopes to prepare in earnest for his senior season at Erasmus Hall. Helping secure the school's first championship a year ago has him focused on a repeat, and not being distracted by recruiting should help that cause. His coaches at Erasmus Hall find his humility and commitment to his team one of his best qualities. 
"Curt is very quiet, the decision to go to Ohio State, to leave the New York City area is huge," Lizzi continued. "The trip to Oregon for The Opening was the first time he'd ever left his family for any extended period of time. His decision it what's best for him and that's all we on our coaching staff want, but it's huge. We're very close with (Rutgers head football coach) Kyle Flood, I've exchanged baby pictures with him, but this was about Curt."
The Curtis Samuel File
Size: 6-0/185
Pos: ATH/WR
School: Erasmus Hall (Brooklyn, N.Y.)
Composite Rating: ★★★★
Composite Rank: 8 (ATH)
Ohio State's recruiting has ramped up of late, and it could be argued that none of the commitments they've received since June have the impact that Samuel does. A five-star talent at running back, wide receiver or defensive back, Samuel's offer list is second to none and his skills are a perfect fit for the Ohio State offense. He could comfortably fill the role vacated by Corey "Philly" Brown and will get a chance to make an impact for the Buckeyes at a number of spots early in his career.
Eleven Warriors will have more on Samuel's commitment soon, but until then Buckeye fans welcome Curtis Samuel, your newest member of the "Dream 14," the Ohio State 2014 recruiting class.