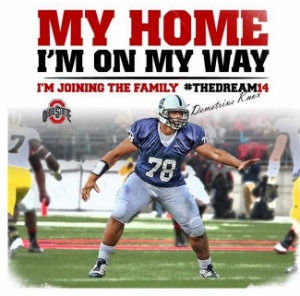 The slow recruiting month of July is winding down, but not before Ohio State takes over the top spot in our Big Ten football recruiting rankings. A commitment from four-star offensive lineman Demetrius Knox is enough to help the Buckeyes overtake the Wolverines for the number one spot. 
Illinois and Purdue were the only other schools to land a commitment in the past seven days. Illinois accounted for two of the Big Ten's four commitments this week. 
As a result, we have a shift in the back end of our rankings, with Purdue jumping three spots. The Boilermakers' jump pushes Minnesota, Indiana, and Maryland down a spot. The Terrapins are now bringing up the rear. 
Ohio State hosted their second annual Friday Night Lights camp this past week. Many of the Buckeyes top targets – including Raekwon McMillan, Marshon Lattimore, Curtis Samuel, Erick Smith, Trevion Thompson, and Braxton Berrios – were in attendance. FNL produced no immediate commitments. 
Now, on to the rankings: 
14. Maryland
Maryland finds themselves at the bottom of our rankings this week. The Terrapins are off to a slow start, but they remain in on some five-star prospects including Damian Prince and Jalen Tabor. I tend to think that Damian Prince's decision will come down to Ohio State and Maryland. Prince is from District Heights, MD. I currently predict Prince will commit to Ohio State on 247Sports' crystal ball. 
It's disappointing to see one of our newest conference members at the bottom of the rankings. However, the Terrapins still have time to climb upwards, with many of their top targets left uncommitted.  
13. Indiana
Indiana also moves down a spot in the rankings. The Hoosiers have 10 verbal commitments in the 2014 class, but remain behind two schools with fewer commitments: Minnesota (six commitments) and Purdue (eight). 
Seven of their 10 commitments are lineman. Kevin Wilson has mentioned that Indiana must improve in the trenches and the easiest way to improve a part of your team is to simply recruit better. Wilson will need to turn the corner and lead his team to a bowl game if the Hoosiers plan to attract a higher quality of talent to Bloomington. Indiana could be a sleeper team to watch in the Big Ten this season and recruiting success could follow. 
12. Minnesota
Minnesota falls a spot, with Purdue jumping three spots in our rankings. The Gophers have the smallest class, with only six commitments. However, their class has a few players that should be able to step in immediately under Jerry Kill. The player expected to make the biggest impact is four-star running back Jeff Jones – but he currently is considered a soft commit. Iowa could be a team to watch for Jones. 
Expecting to have a small class, Kill must pull in his top targets. Their top uncommitted offensive line target, Frank Ragnow, chose not to visit Ohio State for Friday Night Lights. The Gophers appear to be the favorite over Arkansas and Florida State. 
11. Purdue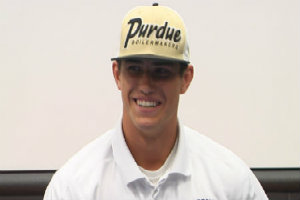 Purdue was able to land one of the Big Ten's four commitments this week, helping the Boilermakers jump from 14 to 11 in the rankings. Four-star safety/linebacker Drue Tranquill committed to Purdue over Indiana, Bowling Green, Eastern Michigan, Cincinnati, Minnesota, Toledo and others. The 6-foot-2, 210-pound hybrid reportedly ran a 4.50 40-yard dash. 
The Boilermakers started off their class with three lowly rated recruits, but have since landed some highly touted prospects. Four-star signal-caller David Blough leads their current, eight-man class. 
10. Illinois
Illinois holds steady in our rankings, despite landing two junior college commitments this week. The Illini landed four-star receiver Tyrin Stone-Davis and three-star wideout Geronimo Allison. Stone-Davis is the second ranked JUCO receiver, with offers from Illinois, San Diego State and Texas Tech before committing to Tim Beckman's squad. Allison chose Illinois over offers from Iowa State, Kansas State, LA Tech, Ohio, and Utah State. 
Beckman is expected to host five-star cornerback Adoree' Jackson in the coming days. Jackson is considered a long shot, but it is impressive that he will even visit the struggling Illini program. USC and Florida appear to be the favorites for Jackson.  
9. Nebraska
Nebraska has had a disappointing year recruiting 2014 so far, after having prior success on the recruiting trail. Following a 10-4 season in Lincoln, one would think their recruiting would not drop off. I realize that Nebraska might not be a recruit's dream destination, but it's a better football school than a lot of other schools, who are recruiting better. 
Is the Cornhuskers down recruiting year a fluke or are recruits taking notice of Pelini's temper?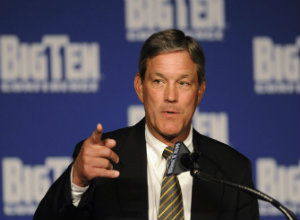 8. Iowa
At least recruits appear to be more interested in Iowa than the media was at Big Ten Media Day. Kirk Ferentz only used about half of his allowed time for question and answers. Iowa hasn't put together a great class, but it is your typical Iowa recruiting class. The Hawkeyes will finish middle of the pack in the rankings. It's just one of those things that will never change. Perhaps it will change when Bret Bielema returns to his Alma Mater after being fired at Arkansas. 
Iowa continues to be a team to watch for Minnesota soft-commit and four-star running back Jeff Jones. Landing Jones would be huge for the Hawkeyes, who have long had problems at the running back position with arrests and injuries. 
7. Wisconsin
Much like Iowa, Wisconsin typically finds themselves in the middle of the pack in recruiting. The Badgers still manage to be one of the top teams on the field, despite not pulling in the highly rated recruits. We must wait and see if Gary Andersen will be able to do the same in Madison. 
Six of Wisconsin's 11 commitments are lineman. It seems like things are still the same in that regard. I was very impressed with the Badgers landing dual-threat quarterback D.J. Gillins. It's about time for Wisconsin to actually develop their own quarterback instead of relying on transfers. 
6. Northwestern
Northwestern remains sixth in our rankings this week, but the Wildcats have slipped in the rankings since June. Pat Fitzgerald is one of the best coaches in the Big Ten and he'll get the most out of his guys, but it would be nice to see Northwestern finish the recruiting class strong. It will be interesting to see what him and his staff can do with these four-star offensive weapons. 
Northwestern and the schools ahead of them in the rankings are recruiting well. The schools that are seventh and above in our rankings are on watch: Recruit better or the rest of the teams will continue to pull away. I expect Wisconsin and Nebraska to recruit better. Not clear about the other programs. 
5. Michigan State
Recruiting is quiet in East Lansing as college football season nears. The Spartans are putting together their best recruiting class under Mark Dantonio, but they have missed out on their top targets, including Lawrence Marshall, Jamarco Jones, and Drake Harris. 
Michigan State is a good candidate to finish third in our rankings after Signing Day 2013 passes. 
4. Penn State
Penn State continues their search for two more prospects to fill out their 15-man class. Four-star cornerback Dravon Henry continues to be one of the Nittany Lions' top targets. Penn State is fighting head-to-head with Pittsburgh for his services. Four-star tight end Mike Gesicki could be another guy to watch for Penn State. Many consider Ohio State the favorite, but don't rule out the Nittany Lions here. 
Bill O'Brien has done a great job on recruiting trail, considering the sanctions that he inherited. It's unfortunate that he only has 15 scholarships to work with because he has done surprisingly well.
3. Rutgers
Rutgers continues to lead the Big Ten with 20 commitments, but it has been a few weeks since they have added to that total. The Scarlet Knights sit at third in our rankings, mostly due to their quantity of commitments. Penn State, Michigan State and Northwestern have higher quality of commitments, but each of those schools only have 13 verbals.
Rutgers could be a team to watch for four-star running back Jonathan Hilliman. Ohio State was once considered the favorite, but it appears that Urban Meyer and staff is focused on other prospects. 
2. Michigan
Michigan falls to second after holding the top spot for two months. The Wolverines added commitments from 2015 receiver George Campbell and running back Damien Harris, but those do not factor into these rankings. 
Michigan hosted their annual BBQ event on Sunday, attracting many of their top targets. Two of Ohio States targets – Marshon Lattimore and Erick Smith – were in Ann Arbor for the event. Michigan did not add any immediate, 2014 commitments from their weekend event, nor did the Buckeyes. 
Michigan will continue to fight for the top spot in the rankings. The Wolverines are considered the leader for five-stars Da'Shawn Hand and Malik McDowell, as well as four-stars Montae Nicholson and Parrker Westphal. It will be a Michigan-Ohio State battle for the top spot in the rankings until National Signing Day. 
1. Ohio State
Ohio State has taken over the top spot with yesterday's commitment from Demetrius Knox. Knox surprised a lot of people with the timing of his commitment, and some even felt that he would eventually end up at UCLA. Knox helped Buckeye fans quickly get past Jermaine Eluemunor committing to Arkansas on Friday. Eluemunor was set to commit to Ohio State before deciding to visit Arkansas and then eventually committing to the Razorbacks.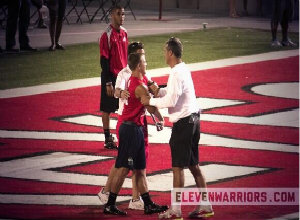 Friday Night Lights did not help land any commitments for the Buckeyes, but it was a useful recruiting tool to bring many of the Buckeyes top 2014 targets together. Raekwon McMillan, Curtis Samuel, Marshon Lattimore and Erick Smith were some of the top targets in attendance. Meyer offered receiver Braxton Berrios after an impressive camp performance. His offer throws another wrench into things, with scholarship numbers already being tight. Ohio State, Miami (Fla.) and Kentucky are teams to watch for Berrios. 
---
Rankings Overview
| No. | School | Commits | Scout ★ AVG | Rivals ★ AVG | 247 ★ AVG | ESPN ★ AVG | Overall ★ Avg |
| --- | --- | --- | --- | --- | --- | --- | --- |
| 1 | Ohio State | 15 | 3.67 | 3.40 | 3.80 | 3.60 | 3.62 |
| 2 | Michigan | 15 | 3.53 | 3.47 | 3.47 | 4.00 | 3.62 |
| 3 | Rutgers | 20 | 2.90 | 2.80 | 3.00 | 3.11 | 2.95 |
| 4 | Penn State | 13 | 3.31 | 3.23 | 3.31 | 3.38 | 3.31 |
| 5 | Michigan State | 13 | 3.15 | 3.08 | 3.55 | 3.31 | 3.27 |
| 6 | Northwestern | 13 | 3.00 | 3.08 | 3.31 | 3.31 | 3.18 |
| 7 | Wisconsin | 11 | 3.27 | 3.09 | 3.09 | 3.27 | 3.18 |
| 8 | Iowa | 12 | 2.83 | 2.91 | 3.00 | 3.25 | 3.00 |
| 9 | Nebraska | 11 | 2.64 | 2.82 | 2.91 | 3.30 | 2.92 |
| 10 | Illinois | 11 | 2.63 | 2.73 | 2.72 | 3.00 | 2.77 |
| 11 | Purdue | 8 | 3.00 | 2.71 | 2.88 | 3.00 | 2.90 |
| 12 | Minnesota | 6 | 3.33 | 3.00 | 3.17 | 2.80 | 3.09 |
| 13 | Indiana | 10 | 2.50 | 2.56 | 2.75 | 3.00 | 2.70 |
| 14 | Maryland | 8 | 2.50 | 2.63 | 2.75 | 3.33 | 2.80 |