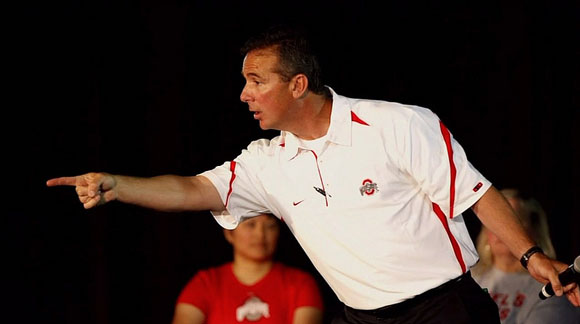 Urban Meyer has entered less than ideal situations at every head-coaching destination of his career. Bowling Green was at one of the lowest points in program history, Utah was mired in consecutive losing seasons, Florida's glamour days were in the rearview mirror and Ohio State had just lost seven games for only the second time in program history and first since…1897.
But each time Meyer entered, wins followed. He's a turnaround artist who's mastered the craft of changing a culture and raising expectations. Winning isn't the only trend that's developed. Piling up victories in Year 2 has been a hallmark of Meyer's career. Undefeated seasons and national championships have been part of the equation.
Paul Krebs, the former athletic director at Bowling Green, was the person who gave Meyer his big break, laying the foundation for the past 12 years. Former head coach Gary Blackney informed Krebs before the 2000 season ended that it would be his last, giving the young A.D. an opportunity to scour the nation for up-and-coming assistants.
Krebs only had to venture 165 miles west, to South Bend, Ind., to find Blackney's replacement. It took all of one interview with the baby-faced 36-year-old wide receivers coach from Notre Dame for Krebs to realize Meyer was a rare coaching talent.
"I don't know that you ever know someone is going to be a star, but what I observed during the interview process was someone who was incredibly prepared and incredibly thorough in his preparation," said Krebs, now the A.D. at New Mexico. "He was more prepared than any other candidate we interviewed and was the youngest and least experienced. He had a creative way to compete and his ideas on offense were unique at the time. We struggled with the age part. But clearly he was the best candidate for the job."
That's been the case at every landing spot since – Meyer as the best man for the job. Fans have revered him while players describe him as a lifelong friend and father figure.
"I learned a ton from him, not just football, but how to represent yourself," said Dennis Wendel, a two-year starter on the offensive line at Bowling Green. "I have a ton of respect for the guy."
Meyer has been no stranger to controversy, though, and with the recent spate of arrests at Ohio State, questions about discipline, something that was part of Meyer's tenure at Florida, have cropped up again.
But while media and opponents' fans jeer him, those close to him, former players included, swear by him. The contrasting images are akin to the public opinion of Bob Knight.
"I was struck by the fact that he was so driven and so committed to being successful and developing young men," Krebs said of Meyer. "He spent a lot of time and a lot of energy with guys away from the field talking about what it meant to be a man, what it meant to be a responsible citizen and what it means to be a father. I always thought he was so focused on the development of the individuals, as well as the collective team. He cared about his players."
Meyer's personality developed in the Rust Belt city of Ashtabula, tucked in the far reaches of Northeast Ohio along the shores of Lake Erie. The blue-collar town is a melting pot of nationalities that preaches a tough work ethic. So, too, did Meyer's father, Bud.
At a young age, Bud instilled the importance of hard work into Meyer. It took hold and Meyer developed into a leader on the high school athletic fields both during the season and offseason. As a senior, he was named a captain on the football team – he wore No. 45 because Archie Griffin was his favorite player – in large part due to his go-getter attitude.
"We'd be out doing high school stuff and Urban would be in the weight room," longtime friend Tom Penna said. "He was like, 'Get in here.' We'd be like, 'Get out of here, we're not lifting weights.' It would be before practice or after practice, he didn't care. But it was only because he wanted to win."
Not much has changed over the past three decades.
"The thing that Urban did was he brought perspective," said Morgan Scalley, a captain on Utah's 2004 Fiesta Bowl team and currently the Utes' safeties coach and recruiting coordinator. "At our first team meeting he told us about only eight teams in the country do everything the right way – offense, defense, special teams and the way they act off the field – and we're going to be one of those teams. A lot of guys in that room thought who is this guy kidding. But he established a sense of confidence."
Meyer's career spanned 15 years before he became a head coach, during which he apprenticed under Earle Bruce, Sonny Lubick, Lou Holtz and Bob Davie. It was as an assistant that Meyer's legendary long hour days began. Outworking him became impossible.
"If you did something that contributed to the team he made you feel like a million bucks."
That commitment to the job is expected of the staff and players. For the 2013 Buckeyes, "The Chase" may as well be a synonymous for hard work. In truth, it references the trail to college football's mountaintop. Meyer, the coaching staff and the 100-plus players who don Scarlet and Gray each Saturday are aware of the challenges that await, making accomplishments all the more enjoyable.
"He's a master motivator," Scalley said. "If you did something that contributed to the team he made you feel like a million bucks. He would take a special teams player and make him feel like the MVP of the team because of the contributions he was making. He had guys relish their role.
"What did he get his degree in? Psychology. He uses it well. He knows how to find what you're looking for and turns it on."
Said Krebs: "The time he spent on leadership and teambuilding really struck me. I'd never seen a coach spent so much time trying to create a sense of unity and family around the team."
Any coach will tell you the foundation of every championship team begins with leadership. With fewer than two weeks until fall camp commences, Meyer is desperate for leaders to step up amid the current disorder. When leaders emerge and a message is responded to, confidence builds.
When a talented roster with good coaches starts moving, it can become a boulder charging downhill quickly. It just so happens that Meyer is on track for that type of production once again – in his second season.
It's no coincidence according to those who have experienced the improved results. Changing the course of a locker room does not happen immediately nor does grooming a dual-threat quarterback to fit the specifications of Meyer's offense. It's the when, though, that keeps opposing coaches awake at night, staring at their ceiling. 
"It's hard to implement his complete change of culture in just a year," Wendel said. "That first year there still a feeling out process between players and coaches, and him and his assistant coaches. But once it clicks it turns into a well-oiled machine."
"People saw results and bought in. He brought discipline to the program," said Scalley.
With a season of great expectations rocked by turmoil, Meyer's discipline and leadership are needed now more than ever.