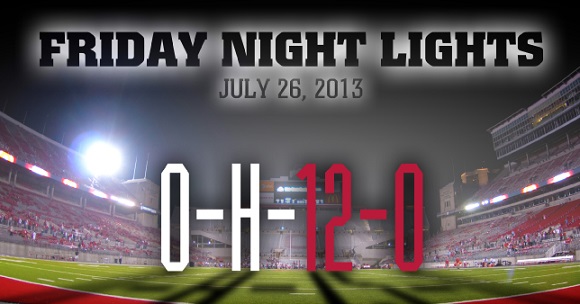 This Friday, the Buckeyes will host their second annual "Friday Night Lights" camp in the Horseshoe in front of a throng of adoring fans, thirsty for any bit of real-life football action that they can find. With this year's slate against Michigan taking place in Ann Arbor and the Ohio State spring game taking place in Cincinnati, Friday's camp becomes one of the year's biggest recruiting showcases for Urban Meyer and his coaching staff; with only the Saturday night showdowns against Wisconsin and Penn State looming larger.
Over the last few weeks, we've kept you apprised of everyone who is anyone with a plan to attend, and that list has seen a bit of a change the last few days, including the disappointing news that two of the country's top 2015 defensive lineman, Florida's CeCe Jefferson and Minnesota's Jashon Cornell, would not be attending, eschewing the Buckeye visit for Florida and Iowa visits, respectively.
What should fans expect from this year's version of Friday Night Lights? Let's take a look.
As one should expect of any Urban Meyer-led Buckeye event, passionate competition is the hallmark of this year's event. Meyer and his staff thrive on seeing players and coaches pushed to the limits and Friday Night Lights is no exception. It may be the final camp of the year for most attendees, but this is no vacation day for players hoping to earn their stripes in Ohio Stadium. It's an opportunity for players from the classes of 2015 and 2016 to make their first impression with Meyer and a chance for would-be high school seniors to make a final presentation for the Ohio State staff as they head into "real" fall camp with this year's Buckeye squad.
A major contingent in attendance this weekend will be the Buckeye's current commitments. The "Dream 2014" group continues to solidify their friendships through various social media implementations and this Friday night will give them a chance to spend some face-to-face time with other key Buckeye targets. Damon Webb, Marcelys Jones, Jamarco Jones, Sam Hubbard, Lonnie Johnson, Kyle Trout, Terry McLaurin, Kyle Berger, Dylan Thompson, Dante Booker Jr., Parris Campbell and Sean Nuernberger are all scheduled to be on hand as the Buckeyes' staff turns to their future leaders to help lure in the likes of five-star talents like Georgia's Raekwon McMillan, New Yorker Curtis Samuel and Cleveland Glenville star Marshon Lattimore.
It is McMillan's visit that looms largest for the Buckeyes as we've talked about previously. Attending the event with his entire family present, McMillan will get a shot to show the people closest to him why he regards Ohio State so highly, and the Buckeyes will get their first shot at "selling" the university and all its charms to his family. Ohio State still leads for McMillan, the five-star inside linebacker widely considered as the nation's best, and this trip is the best chance to seal the deal.
While the exact number of prospects in attendance won't be known until post-event, the wide receiver group is one area that will garner special attention from Buckeye coaches and fans alike with Samuel — one of the stars of Nike's recent The Opening — as a primary focus. Already with a Buckeye offer, the 6-foot, 185-pound speedster's recruitment has been personally handled by Meyer, a surefire sign that his pledge is one most coveted by the Buckeyes. Another key visitor at wideout, Durham (N.C.) Hillside High School's Trevion Thompson, is coming north with his mother, and mom's usually don't make 1000-mile trips without a serious reason for doing so. Thompson has consistently had the Buckeyes in his top group of schools, even mentioning them previously in his top two with Clemson. The Tigers have received commitments from Florida's Artavis Scott and Georgia's Demarre Kitt, so the Buckeyes could make a serious push if Thompson, a high school teammate of Buckeye defensive end/linebacker Jamal Marcus, is able to make the trip. 
One player that has not been talked about for a while in connection with the Buckeyes is Raleigh (N.C.) native Braxton Berrios. Berrios, from Leesville Road High School, was exceptional at Nike's camp and told Eleven Warriors yesterday that he was making the trip to Columbus for Friday Night Lights for the second straight year. Berrios impresses everywhere he goes and he's hoping to make the most of his final appearance in front of Ohio State coaches. With offers from Tennessee, Kentucky, West Virginia, Miami (Fla.), Kentucky and others, Berrios is an interesting prospect and an impressive performance in the Horseshoe for the second time could be enough to get him an offer. Why make a second trip? For Berrios, the question is more accurately "why not?"
"I made the decision to come back last week," Berrios said. "I've been getting a good vibe from the Buckeye coaches so I figured why not? Last year was electric to be honest. Definitely a first to see that many fans just at a camp. We'll see if the offer comes."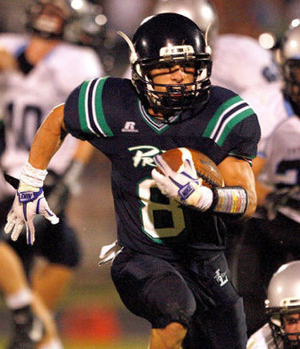 Looking ahead to the class of 2015, a player sure to stand out is Canton McKinley's Eric Glover-Williams, an explosive playmaker who is very high on the Buckeyes and vice versa. Williams is a certified speed-merchant and he will draw plenty of "oohs" and "ahhs" from the faithful in attendance. Other key targets from the class of 2015 include Huber Heights defensive back Tyree Kinnel, who is looking to earn a Buckeye offer, an offer that would certainly catapult the Buckeyes towards the top of his short list. Running back Andrew and wide receiver David Dowell, rising twins that were featured on Eleven Warriors from Lakewood St. Edward's High School, are fresh off a busy summer that saw them gain their first offers. Could Ohio State take the plunge on the tandem? 
Detroit Cass Tech has been good to the Buckeyes in 2014; but can Damon Webb help the Buckeyes secure top talent from the traditional Maize and Blue feeder program in 2015? If the Buckeyes are going to make a dent for top talent like running back Mike Weber and defensive lineman Josh Alabi then Friday Night Lights is the time and place to do it. Webb has been working hard to get the duo, along with quarterback Jayru Campbell to make the three-hour drive with him, although it seems unlikely that Campbell will attend. Weber and Alabi have offers in tow from the Buckeyes already.
A couple under-the-rader 2015 prospects that could draw your attention include North Carolina's Reggie Gallaspy, a bruising tailback originally from the Flint (Mich.) area and Lawrenceville High School (Lawrenceville, Ga.) athlete Adonis Thomas. Gallaspy caught the eye of Ohio State's Stan Drayton after a solid performance at Ohio State's late June camp and was personally asked to return for FNL by Drayton that afternoon. Thomas, 6-foot-4 and 210 pounds, reportedly runs a 4.4-forty and could play wide receiver or linebacker and is just starting to see his recruiting take off according to coach Todd Wofford, who also coached Buckeye freshman linebacker Trey Johnson. Thomas has picked up offers in recent weeks from Tennessee an South Carolina. 
The event starts Friday night at 6 p.m., but expect the action to kick into high gear around 7 p.m. Eleven Warriors will have comprehensive coverage from the free to the public event all weekend long. There are literally hundreds of highly-touted prospects that could show up, and we'll do our best to keep you updated on each and every one.