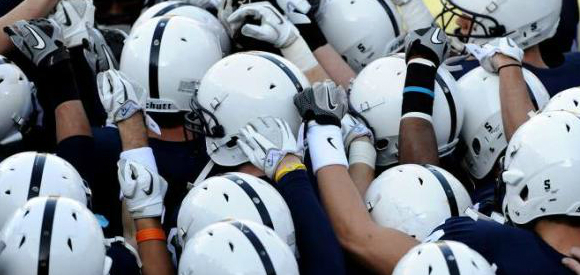 We've already taken a look at the villains from the first half of Ohio State's 2013 opponents. This week, we turn our attention to the third quarter of the schedule, where all foes come in the form of Big Ten opponents.
As in past installments, we'll discuss the players you should go ahead and mark down for hatred now, so as to avoid the rush later. These will be the players Ohio State will look to contain in order to produce the only acceptable outcome — the complete and utter destruction of everyone standing between the campus in Columbus and the national championship.
We'll see the return of the Iowa Hawkeyes to the schedule for the first time since 2010, when Terrelle Pryor overcame a DeVier Posey end zone drop and picked up a huge first down on 4th-and-10 en route to a 20-17 victory. See? You remember that game, which means the NCAA didn't vacate anything. Nevertheless, the Buckeyes will try to officially defeat the Hawkeyes for the first time since a 27-24 overtime thriller in 2009.
Also appearing in the Shoe in the season's third quarter will be the Penn State Nittany Lions. While the moxie may be gone in Year 2 of the Bill O'Brien era, the Nitts will still present a formidable opponent if they continue to play solid defense. Prepare for a steady feast of tight ends when Penn State comes to town.
Finally, the Buckeyes will travel to Ross-Ade Stadium, where they will once again have to contend with both the Purdue Boilermakers and their insidious negativity field generator. Urban Meyer has had his top men working on the problem ("Who?" you ask. Top. Men.) Hopefully the good guys have found countermeasures for the negativity field generator or have destroyed it for good. Engineers are sneaky and must not be allowed to focus their mediocrity beams at quality opponents. Luckily, a little sweet, sweet jazz from Kenny G can always save the day.
Here are your villains for the third fourth of the 2013 Ohio State football schedule:
Iowa
I'm no bored high school student (not for many, many years now), but I'll take a shot at finding your 2013 Iowa villains.
If you're feeling suicidal, one thing that might help you get where you want to go is to ask a Hawkeye fan about Iowa Offensive Coordinator Greg Davis. The Hawks will need offensive improvement in order to avoid a repeat of Iowa's 4-8 record in 2012 (2-6 in B1G play). The Hawkeyes will also need to reduce the 23 points per game they yielded a season ago to avoid finding themselves in the Legends (Leaders?) Division basement again.
Offense: Senior tight end C.J. Fiedorowicz (#86) was an honorable mention All-B1G player a season ago, when he caught 45 passes for 433 yards (9.6 YPR) and a touchdown. He was Iowa's third leading receiver in both yards and receptions. At 6-foot-7 and 265 pounds, tackling Fiedorowicz is kind of like trying to bring down a vending machine. Ohio State's star and safeties will have their hands full with Fiedorowicz, which makes him public enemy #1 in Columbus on Oct. 19.
Running back Mark Weisman (#45) slid over from his fullback spot last season to lead Iowa in rushing, carrying 159 times for 815 yards (5.1 YPC avg.) and eight touchdowns. He also caught 15 balls for 90 yards and another score. If Iowa can keep junior Damon Bullock (#5) healthy, Weisman may be able to stay at fullback. Bullock gained 513 yards in just six games on 135 attempts (3.8 YPC), scoring three times.
I'm not sure how much he'll play this season (but there's a good chance, considering AIRBHG), but freshman running back LeShun Daniels Jr. (#29) may have a familiar-sounding name, as the Warren, Ohio product's father played offensive line for Ohio State. A legacy that goes elsewhere makes a good villain.
Finally, whoever wins the Iowa starting quarterback spot will gain instant 2013 villain status. You may recall a freshman named James Vandenberg, who played very well in Ohio Stadium in 2009 and then went on to play nowhere near that level for most of his collegiate career. So inexperience doesn't prevent villainy. The race is still wide open, but our friend Adam Kramer over at Keggs 'n Eggs blog and Bleacher Report says Jake Rudock (#15) or Cody Sokol (#19) will emerge as the starter, with Rudock possibly having a slight edge heading into camp. Just hate both now to avoid confusion later.
Defense: The strength of Iowa's defense is in the second level. Senior middle linebaker James Morris (#44) has 231 tackles over the last two seasons. He was third in the B1G last season with 9.2 stops per game, and he finished with nine tackles for loss, 1.5 sacks, an interception, a forced fumble and a fumble recovery. He had nine tackles the last time the Hawkeyes met Ohio State. Only senior linebacker Anthony Hitchens (#31) finished with more tackles (124) for Iowa in 2012. Hitchens, a turncoat from Lorain, Ohio, will be looking to make more big plays this season after tallying only 5.5 TFLs and a single sack last year. Senior Christian Kirksey (#20) rounds out the trio of returning starters at linebacker. He made 95 stops last year, with 3.5 TFLs, two sacks and two interceptions.
Like Daniels, Iowa defensive back John Lowdermilk (#37) is the son of a former Buckeye lineman. (Seriously, Iowa, WTF? I almost lost my mind when I saw the name Solomon Warfield out of Lorain on Iowa's roster but he's not related to Paul, apparently.) The junior safety from Carrollton, Ohio and son of Kirk, Lowdermilk has had a quiet career thus far but could see the field a lot more in 2013.
Penn State
The Buckeyes and Nittany Lions battled to a classic 7-7 first-half stalemate last year in Happy Valley before Ryan Shazier turned the game on its head with the traditional pick six of Matt McGloin. A 21-3 OSU run in the third quarter made things a lot more comfortable. McMoxie is gone now. Everyone returning from the team that went 8-4 (6-2) last year is a villain, and you may remember them well, but who stands out?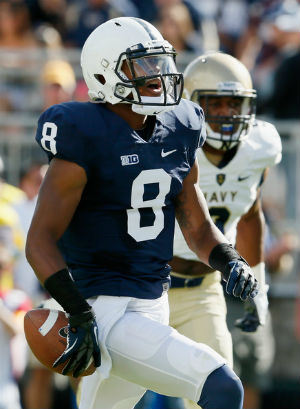 Offense: The quarterback battle comes down to incoming freshman Christian Hackenberg (no number assigned yet) and JUCO transfer Tyler Ferguson (#5). I wouldn't ordinarily be too concerned about which one gets the job, except O'Brien turned McGloin around, proving he's capable of making chicken salad out of…well, you know. Even if Penn State struggles on offense early, expect the starting quarterback to make strides by the time the Lions visit the Shoe the weekend before Halloween.
Whoever locks down the QB spot will have a lot of options. You'll want to keep an eye on junior wideout Allen Robinson (#8) and sophomore tight ends Jesse James (#18) and  Kyle Carter (#87). Robinson won the Richter-Howard Award as the B1G's best receiver last season, with 77 catches for 1,013 yards (13.2 YPR), scoring 11 touchdowns. Hating him should come naturally because he's from Michigan.  James and Carter combined for 51 receptions for 729 yards and seven touchdowns in 2012, giving Penn State a solid 1-2 punch at tight end.
Junior Zach Zwinak (#28) rushed for 1,000 yards on 203 attempts (4.9 YPC) last year with six touchdowns. He also caught 20 passes for 177 yards and a touchdown. Feel free to draw comparisons between Zwinak and Weisman because they are similar, but Zwinak may be the better of the two. 
Defense: Penn State lost some star power on D with guys like Mike Mauti and Gerald Hodges moving on, but there is talent there. The defensive line is a rebuilding project and, as usual, the strength of the Lions will be at linebacker.  Senior Glenn Carson (#40) is the leading tackler returning. Carson played mainly SAM last year, finishing with 85 tackles, three TFLs, a sack and three pass breakups. Junior linebacker Mike Hull (#43) made 58 stops in 2012, with four sacks, five TFLs, an interception and four pass breakups.
In the secondary, Adrian Amos (#4) picked off two passes for a serviceable but not stellar defensive backfield last season.
Purdue
The Darrell Hazell era has begun in West Lafayette. Purdue's transformation will be interesting to watch, and interesting things are rare in the wastelands of West Lafayette. It will be difficult to root against Hazell until seeing him in black and gold. His team has undergone some turnover since Danny Hope's final year, losing some key pieces. But villains still abound.
Offense: Senior Rob Henry (#15) is the most experienced quarterback on the Boilermakers roster. Henry appeared in 11 games last year as a backup to Caleb TerBush and Robert Marve, completing 21/38 passes (55.3%) for 216 yards and three touchdowns with one interception. He can run too but was rarely called upon to do so last season.
Junior running back Akeem Hunt (#1) out of Georgia takes over for departing starter Akeem Shavers. Hunt rushed 42 times in 2012 for 335 yards (8 YPC) and two touchdowns, and you'll probably remember this from last year, although you won't want to. Hunt is versatile and averaged more than 15 yards per reception in 2012, with two receiving touchdowns. Senior Gary Bush (#6) is a receiver to watch. He caught 41 passes for 360 yards and seven touchdowns in 2012, making him the leading returning player at WR. 
Defense: Kawann Short is gone but senior D-lineman Bruce Gaston (#90) returns to lead the villainous Purdue defense. Gaston produced only 28 tackles last year, but made key plays with 5.5 TFLs, two forced fumbles and two fumble recoveries. He'll anchor the Boilermaker front.
Senior Ricardo Allen (#21) is an experienced cornerback who made 45 tackles in 2012, with four TFLs, a sack, an interception and four pass breakups. He's a good open-field tackler with the potential to spoil long Braxton Miller runs. Junior linebacker Joe Gilliam (#39) finished fourth among Boilermaker tacklers a year ago, with 57 takedowns. He made 41 solo stops, with 2.5 TFLs, a sack and a forced fumble.
---
Now you know the villains for the first three quarters of the 2013 Ohio State football season. Tune in next week when we finish up with a look at the malefactors from Illinois, Indiana and Michigan.