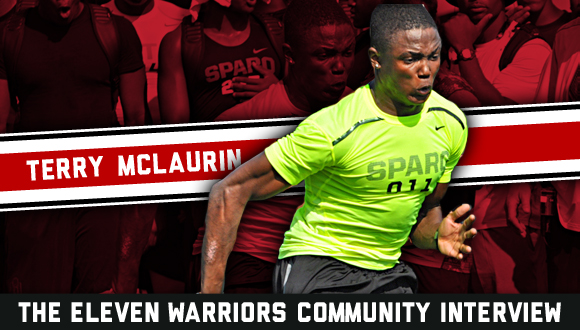 The 11W Community Interview is truly of the people, by the people, and for the people. You submit the questions, vote on them, and then we pass the top ones on to the biggest names in the world of Ohio State athletics.
Terry McLaurin came to Ohio State on June the 9th and dazzled Urban Meyer and his offensive cohorts with his speed, but there were questions that needed answered. For McLaurin to turn that outstanding performance into a scholarship offer, there was work to be done. The Indiana speedster left Columbus that day undeterred and focused on his next task; getting his offer from Ohio State before he left for Oregon, where he was headed as a relative unknown to Nike's The Opening.
In the middle of a frenzied June for Buckeye recruiting, there was one player working away on a football field in Indianapolis, grinding tirelessly to prove to himself and to the staff at Ohio State he deserved a scholarship offer from the Buckeyes. 
When McLaurin made a surprise return to Ohio State 12 days later on June 21st, he did so for one reason, to show the Buckeyes that he was not a one hit wonder. McLaurin got the call he had hoped for that afternoon and never looked back. He was a Buckeye and damn proud to be one.
After putting in the work to earn his spot at Ohio State, and subsequently blowing up at The Opening, McLaurin sits down with the 11W community as the next participant in the 11W Community Interview series.
Could you share a little about your experience at the Opening, what you learned, what you might need to work on, and how you went from an "unknown" prospect to Sparq runner-up? - TennBuckeye19
TM: The Opening was the best football experience I've ever had. It's called "football heaven" for a reason, and that's why it was a goal for me to get to The Opening. I learned when your on a stage like that everyone is good but the thing that will set you apart is the details and fundamentals. I would still like to work on my route running and catching the ball, two things that will come with more and more repetition. I knew going in I was going to compete at a high level, every regional event I had tested well. I felt that if I went out and left it on the field in front of the best coaches and players I would recognized. Being able to preform the way I did on national television was the icing on the cake, though.
What parts of the recruiting process do you like? Dislike?  - KeithMC33
TM: The fact that there is a lot of pressure to make a life changing decision in such a small amount of time. For some of us this is the biggest decision we have had to make thus far in our lives, and people act like it's supposed to be "easy," or something.
We've been trying to come up with a nickname for you. So far, on here, I've heard T-Mac, F1, Run-TMC, and countless others. Which one of those, or any other nicknames you've heard, do you prefer? - TheBadOwl
TM: I haven't heard that many. I did hear "Soarin' McLaurin" after my vertical, but if I had to choose one of those I like Run-TMC.
How much have other schools/coaches contacted you since your display at the Opening? How has this added interest impacted you personally and your recruitment? - DMcDougal24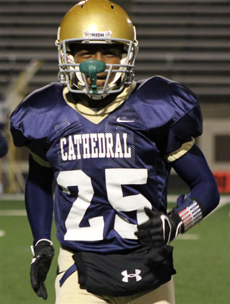 TM: Honestly, not too many coaches have tried, but I do get occasional letters here and there. Ole Miss invited me to visit and Miami (Fla.) has shown a lot of interest but I told them I'm honoring my commitment to Ohio State.
Which uncommitted recruits have you been talking to? - Danify
TM: I was talking to Austin Roberts for a while, but he has recently committed to UCLA so no one else really as of now.
How did you address the areas that the staff wanted to see improvement in such a short time period and who if anybody helped you train? - BuckGuyFan1
TM: I went home and thought about how much I really wanted this offer and I came to the conclusion that if I wanted it bad enough, I needed to get it. I went to work running routes and catching 200 footballs a day. My mom, my dad, my head coach, my wide receiver coach and former Cathedral quarterback helped me.
What are some of the things do the coaches want to see you improve on this upcoming season? - SinCityBuckeye
TM: They would like to see me work on my quickness in and out of breaks and catching the ball with fluidity. That's two areas I can always improve.
What are the top 3 characteristics of Urban Meyer that made you decide you wanted to play for him? - BuckSkin
TM: It's really been his honesty with me from day one. He's got a great winning spirit and attitude; he always wants to be the best. Lastly, he has coached a lot of great receivers and had a wide receiver background of his own.
I like that you don't celebrate after a big play or TD. Instead, you just casually hand the ball to an official, which is a rarity nowadays. How did this good habit start? Was this something a family member, player, or coach inspired you to do or was it just something you started on your own? - 9Route
TM: I have my own persona, but I just don't get into celebrations I feel like if I scored everyone saw that and so did my opponent. My favorite receiver of all time is Marvin Harrison and I kind of took the way I go about things from him.
Was Ohio State your "dream school?' If so, how did it feel to earn that offer? - WhySoSerious
"I DON'T GET INTO CELEBRATIONS... IF I SCORED EVERYONE SAW THAT AND SO DID MY OPPONENT"
TM: I never had a dream school, necessarily, but Ohio State was definitely an offer I really wanted and it felt good that I went out and did what the coaches asked and earned the offer. 
Who is you favorite OSU receiver past or present? And what receiver would you say you have modeled your game after, if any? - LuckyNutz
TM: My favorite Buckeye is probably Ted Ginn, Jr. I also like guys like Desean Jackson and Percy Harvin, they both can return kicks and punts, take hand-offs and they also play great at a traditional receiver spot. They're gamechangers which I see myself as, so that's how I try to model my game.
I can't say enough about the Buckeyes fans, I really couldn't really appreciate how big the fan base and alumni base was until I committed I received so many messages, follower requests on Twitter, etc. Then when I went out to The Opening and met numerous alumni I knew Buckeye Nation is everywhere. I would like to thank them for their support through all of this and I can't wait to give my all and perform when I arrive on campus. I may not be as well known or nationally-ranked, but I can compete with the best of them and I have an unbelievably competitive spirit that I hope you all get to see soon. If you're a recruit out there reading this, and you're waiting on your first offer, try and be patient and keep working hard! A little over 90 days ago I didn't have a single offer now I'm blessed to be in the best situation for myself. Stay positive and make the most of your opportunities. Then to the uncommitted guys just take it all in and be thankful, and at the end of the day you can only choose one school no matter how many offers just make sure its the best overall fit for you. Nobody knows what's best for you better than you do.
Thanks a lot Eleven Warriors readers! Go Bucks!