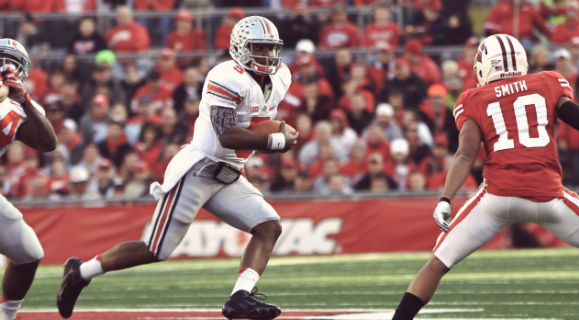 You've got to accentuate the positive
Eliminate the negative
And latch on to the affirmative
Don't mess with Mister In-Between – Johnny Mercer
If Ohio State is going to challenge for a national championship in 2013, it should stop being so negative — at least on offense.
The Buckeye offense lost yardage on 72 plays last season, falling behind the line of scrimmage an average of six times per game (excluding clock-killing kneel-downs). The real estate conceded on those 72 plays totaled 304 yards over the course of the season. You don't have to be a mathematician or a sorcerer to figure out that's more than three football fields yielded.
For 56 of those 72 negative yardage plays, Braxton Miller had the ball in his hands, so only 16 times was a Buckeye other than Miller tackled behind the line of scrimmage. Ohio State runners fumbled on six of those negative plays, losing three of them.
In the first six games of 2012, Ohio State sustained only 28 negative yardage plays (4.7 per game), compared to 44 in the second half of the season (7.3 per game). Some of this can be attributed to playing better teams, but the Buckeyes had 10 such incidents at Indiana and nine more at home against Illinois. Woof.
That's not good, and Tom Herman and Urban Meyer would probably like to improve in that area in Year 2. If Ohio State is to win the B1G and contend for a national championship, it would certainly behoove the Buckeyes to better those numbers.
The trick is to figure out how to improve those numbers. Miller's maturation should help in that respect, as will a second season in the Meyer/Herman system.
Miller isn't solely to blame for getting tackled behind the line 56 times in 2012. Of those, 31 came via sack (2.5 per game). There are a number of variables that contribute to sacks that aren't quarterback related, including poor offensive line play, bad blitz pickups, or receivers running the wrong route or failing to get open. The QB is responsible in circumstances such as holding the ball too long / indecision, leaving a stable pocket prematurely, or slipping while on the move (hate u so much, college rule of not having to be touched to be down by contact).
This season, Ohio State returns four of five starters on a veteran offensive line that should be one of the nation's best. Braxton's better grasp of his duties and his overall development, combined with a stout offensive line, should drop that sack total in 2013. And if Ohio State's receivers can further develop their game, sacks against could dwindle even further.
More familiarity with the playbook in Year 2 should lead to better variety in play calling, too. A more unpredictable offense is a much harder one to throw for a loss. All one has to do for a lesson in predictable play calling and the negative plays produced is to look at the 2011 Buckeyes.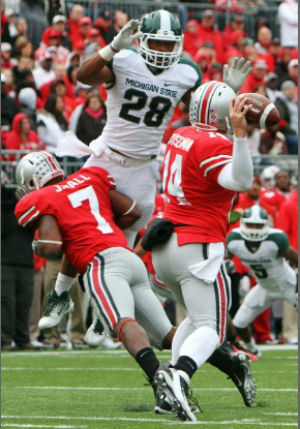 Negative play numbers probably didn't improve from the abysmal 6-7 2011 season to 2012 as much as you'd think, but they did get better. Under Luke Fickell and his walrusball "offensive coordinator" Jim Bollman, the Buckeyes racked up 101 negative yardage plays (7.8 per game) in 2011, losing 351 total yards (27 per game). That's yielding more than a quarter of the football field before penalties are even considered. It's not ideal.
The biggest problem in 2011 was allowing sacks. OSU quarterbacks were sacked an incredible 48 times in 2011, including 10 at home against Sparty in a game to forget, and six each against Indiana (!) and Florida.
Miller was brought down in the backfield 53 times as a freshman, sometimes sacking himself instead of throwing the football away. Negative plays led to seven fumbles in 2011, of which two were lost to the opposition.
So the difference in negative yardage plays between Ohio State's 2011 6-7 season and its 12-0 record a year ago is only 29 tackles for loss, 17 sacks, and 47 yards, which sounds worse than it is because the Buckeyes played one extra game in 2011. Come to think of it, I'm fine with surrendering just the difference between 2011 and 2012 as a total for the 2013 season. [sacrifices several goats to any/all offensive deities.]
Staying on schedule is important for Meyer's power spread philosophy and for play calling. The Buckeyes failed to do it a lot last year but were bailed out by Miller's sick athletic ability, a sledgehammer named El Guapo, and the five steamrollers up front. Year 2 of the Meyer/Herman offense should show improvement in this crucial offensive area.
If Ohio State showed the same improvement this upcoming season that it had from 2011 to 2012, it would extrapolate to about four negative plays per game (two of those would be sacks) for about 23 yards. That would cover around 275 yards for the regular season, with a total of around 24 sacks. Those numbers are decent, if not great, and certainly well within the margin of error for a national championship run.
By way of example, Alabama had 60 negative yardage plays in its 12 regular season games last season (5 per game) for a total of 270 yards (22.5 per game), giving up 20 sacks. So a slight improvement for Meyer's Buckeyes would put them in about the same category as the Crimson Tide's 2012 numbers.
I think we'd all be happy with the same results the Tide had last year. Let's save the negative yardage plays for victory formation, gentlemen.