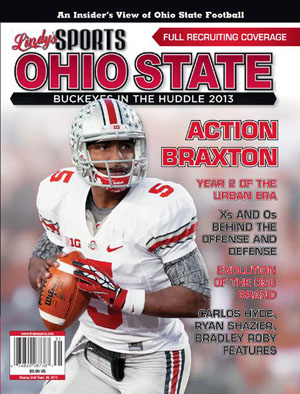 [Order Ohio State Buckeyes in the Huddle 2013 now.]
Ohio State's opener with Buffalo is creeping up and you need in-depth features and analysis on Urban Meyer's juggernaut. You also want a centerpiece for your coffee table to impress friends.
Well, you're in luck!
Eleven Warriors is pleased to announce the publication of Ohio State Buckeyes in the Huddle 2013 from Lindy's Sports.
Those of you that have been with us for a while know we put together an Ohio State preview magazine each summer and the 2013 edition is our best work yet.
Weighing in at over 110 pages – in full-color – Ohio State Buckeyes in the Huddle 2013 walks you through the roster and position battles, a full schedule analysis, player, scheme and staff analysis, recruiting insight and storylines for the 2013 season. It's the only preseason magazine devoted in its entirety to your Ohio State Buckeyes, made with love by your friends at Eleven Warriors.
Ohio State Football in the Huddle 2013 is available online and retailers across Ohio, including Barnes & Noble, Kroger, Giant Eagle, Meijer, Rite Aid, Target, United Dairy Farmers, Walgreens, and others.
We hope you enjoy it as much as we did putting it together.
2013 Ohio State Football
Your 2013 Ohio State Buckeyes: A complete roster breakdown, including position battles, key returnees and statistics. (Jason Priestas)
The Slate: A detailed look at the 12 obstacles standing in the way of repeat perfection with insight into key players, coaching changes, and recent trends. (Jeff Svoboda)
Features & Analysis
Year 2: "The Chase" begins with title aspirations that match Urban Meyer's precedent. (Ramzy Nasrallah)
Action Braxton: In his second season running Urban Meyer's offense, Braxton Miller is poised to lead an explosive Buckeye attack. (Chris Lauderback)
Urban Meyer's Ohio State Offense: Game-planning to get your best players the football. (Ross Fulton)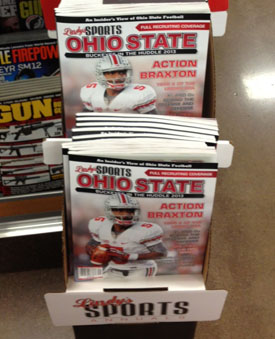 Viva El Guapo: Carlos Hyde persevered through early frustrations to become one of the Big Ten's best running backs. (Johnny Ginter)
Line of Demarcation: Thanks to Ed Warinner, Ohio State enters 2013 with the Big Ten's best offensive line. (Kyle Rowland)
The Pigskin-Seeking Missile: After a breakout sophomore campaign, expectations are sky-high for Ryan Shazier. (Michael Citro)
Help Wanted: Ohio State's continued search to fill the Mike and Star positions. (Ross Fulton)
Lockdown: Flamboyance, confidence fuel Bradley Roby's production as an elite cover corner. (Kyle Rowland)
Kerry Coombs Never Stops: The "Silver Fox" is the engine behind relentless football. (Johnny Ginter)
The Chase: Nick Saban and Alabama are in the crosshairs. (Kyle Rowland)
Recruiting
Meet the Class of 2013: Get to know Urban Meyer's first full recruiting class at Ohio State. (Vico)
The Evolution of the Brand: How Urban Meyer is changing the game in Ohio State recruiting. (Jeremy Birmingham)
Buckeye Rewind
The Year of Magical Thinking: Remembering the transformational 1993 team. (Ramzy Nasrallah)
The Struggle and Triumph: A rejuvenation of Ohio State football in a decade of change. (Joe Beale)