After July is over, players, coaches and media members will have spent up to 15 days evaluating recruits.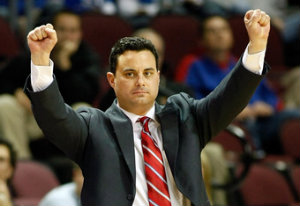 It's broken up into three, separate weeks, with five consecutive days of action each week. The slight break doesn't make it any less grueling for those involved.
For example, Buckeye commit Jae'Sean Tate spent last week in South Carolina, and is scheduled to compete in the Nike Global Challenge in Washington D.C., this week. He's doing all of this with an injured shoulder, which he admits isn't nearly 100 percent healthy.
To his credit, he isn't complaining. Neither are the countless other recruits who – unlike Tate – are essentially forced to compete, on the hopes of accumulating scholarship offers.
That doesn't mean no one is expressing displeasure about the current system.
Arizona head coach Sean Miller went on a 14-tweet binge – classified as a "rant," in some circles – and described the issue facing families who travel to events within the three week period:
As a coach or parent you can't purchase your departing tickets until after the last day of a tournament in case you make it to the finals.

— Sean Miller (@UACoachMiller) July 15, 2013
However, if you lose earlier in the tournament & then can't afford to go home in between events, u stay in hotels with no games for 5 days.

— Sean Miller (@UACoachMiller) July 15, 2013
The NCAA approved the current system – which is to say, it has inherent flaws. However, its faults are aggravated by the non-scholastic recruiting season, in general.
As John Infante of Bylaw Blog writes, "… widespread dissatisfaction still exists because everyone has competing goals," Infante said. "The NCAA's rules have little effect on when or where prospects play… As coverage and even broadcasting of non-scholastic basketball expands, the NCAA's tools of when college coaches can attend events, and which events it certifies are getting less and less useful."
The previous set of rules allowed for two 10-day periods, separated by over a week. The current July rules were put in place last year.
Regardless of the rules, there is a concern about the recruits' well being, throughout the July process.
University of Portland coach Eric Reveno wants more dialogue between coaches and players, which might eliminate the major hassles of the July recruiting period – a limited amount of time where coaches can evaluate recruits, as compared to the rest of the year.
.@John_Infante Anytime I go to a HS gym to watch a kid I shouldn't be treated like someone the kid should be protected from. Yes, talk.

— Eric Reveno (@CoachReveno) July 16, 2013
.@John_Infante Like texting, phone calls, other contacts, prospects can take care of themselves more than we think. Too paternal in thinking

— Eric Reveno (@CoachReveno) July 16, 2013
Of course, there are some instances in which kids should be protected from certain coaches. 
In the end, it should be about what benefits the players the most. There hasn't been a reasonable solution, yet, and it's clear the current system isn't without faults. Despite the circumstances, the "amateur" players' approach remains as professional as you can hope for.