202 days left, Buckeye fans. 202 days of unable-to-catch-your-breath recruiting excitement before February 5th, 2014, the day Urban Meyer and his staff ink another national top five recruiting class. 
After a "slow" spring, the Buckeyes saw a summer boom that resulted in a handful of nationally-ranked players join their midst, and with Friday Night Lights fast approaching, more commitments are realistic. 
While I'm not really one who likes to prognosticate — primarily because today's information is often tomorrow's fodder — we've gathered the gang and decided to put our noggins together to give the best possible list about how the Buckeyes will finish 2014.
Without any more of my rambling, here now is how we — your 11W recruiting squad — sees it unfolding based on a 1-5 confidence scale from each analyst. Everyone selected eight players that they see rounding out the class and gave them a numerical rating, with five being the most confident and one being the least. Five of the players were unanimous across the selections, but after that it gets a bit more tricky. The consensus five include a few players that are the "must gets" for Ohio State based on positional need and star-power.
Let's get it started.
ELITE EIGHT
As we gathered our list, there were eight names that appeared on at least two of our final picks, those names make up the list you see below. The first couple are pretty much as expected.
Marshon Lattimore // ATH // Cleveland, OH (Glenville)
Make no mistake, Lattimore is playing the Glenville game. The Glenville game, as you know, is when a top-ranked recruit from Glenville does a very good job hiding what everyone thinks they know, that said player is ultimately going to be a Buckeye. Yes, there's been a few bumps in the road in the last handful of recruiting cycles as Cordale Scott chose Illinois and Aundrey Walker chose USC, and Lattimore has an excellent poker face, but this one should end with him in Scarlet and Gray. Ohio State is recruiting Lattimore at his preferred position, defensive back, although he could be an All-Big Ten performer on either side of the football.
Confidence Rating: 4.75
---
Erick Smith // DB // Cleveland, OH (Glenville)
Smith is likely to be the third Glenville Tarblooder in Ohio State's 2014 class. A dynamic athlete, Smith holds offers from ten schools including Ohio State and Michigan, each of which recognize that adding Smith would provide substantial leverage in helping to land Lattimore. The nation's 14th-ranked safety according to 247Sports.com composite rankings, Smith will check out a number of schools like all Glenville players do but ultimately this one ends up in Columbus if the Buckeyes have the room. Something tells me they'll make the room.
Confidence Rating: 4.00
---
Curtis Samuel // ATH // Brooklyn, NY (Erasmus Hall)
If there's one player left that could really make a major impact on the offensive side of the ball for the Buckeyes within the next two years, it's Curtis Samuel. The blazing fast wide receiver from Erasmus Hall in Brooklyn is a player very similar to last year's coup, Dontre Wilson, and is a talent that could see time early for Ohio State at a number of different offensive positions as well as in the return game. Samuel doesn't say much about his recruiting, but Ohio State's offense suits him perfectly and they continue to be discussed as a favorite landing spot for the star New Yorker. While he's yet to visit Columbus, Samuel is planning a visit that could happen at any time, maybe even for Friday Night Lights.
Confidence Rating: 4.00
---
Raekwon McMillan // LB // Hinesville, GA (Liberty County)
Simply put, Raekwon McMillan is and has been a "must get" for Ohio State since he first named them his leader over a year ago. He's big, he's fast, he's mean and he's smart; a deadly combination at middle linebacker in a defense that needs a solid run-stuffer in the middle. McMillan has long been at the fore of the Buckeye defensive plans and while he's maintained that Ohio State is his leader, the scuttlebutt is that the Crimson Tide of Alabama have really narrowed the gap on Ohio State. When McMillan visits Ohio State next weekend for Friday Night Lights, the Hinesville native will do so with his entire tight-knit family in tow. Could that visit seal the deal for McMillan? All signs still point to the star landing in Columbus.
Confidence Rating: 3.75
---
Jermaine Eluemunor // OT // Scranton, PA (JUCO)
Eluemunor is one of the most interesting characters in the 2014 recruiting class, and also one of the hardest to truly get a read one. He committed to UCLA on his visit to California and decided to still check out Ohio State, which he did in late June and was shocked by how different Ohio State and UCLA were. He subsequently rescinded his commitment to the Bruins and made it very clear that Ohio State was likely his final destination.
BUT.
He also wanted to visit Arkansas just to be sure that Ohio State was the place for him, and despite some initial reservations about making the trip because of how Ohio State might perceive it, Eluemunor is making the visit to Fayetteville this weekend, where he'll get his first look at an SEC program up close. Bottom line: Fayetteville is no Columbus and to a guy from London, that will matter. There are some rumblings that Eluemunor still has a planned visit to Florida State, but he's denied it to me every time I've asked, so I'll believe him.
Confidence Rating: 2.75
---
Mike Gesicki // TE // Manahawkin, NJ (Southern Reg)
After he went to Ohio State on June 21st to earn a scholarship offer — which he did — many people assumed that the talented and versatile Gesicki, a 6-foot-5, 240 pound true tight end, would be a quick commit to the Buckeyes. That has not turned out to be the case, and while most still predict that Gesicki ultimately lands in Columbus, the Buckeyes will be in a dogfight with Penn State and maybe Florida State, where he's visited this week, for his commitment. With Sam Hubbard's athletic ability and the chance he could play tight end, do the Buckeyes need another tight end in a class with tight numbers? The late offer to Gesicki says the Buckeyes do.
Confidence Rating: 2.5
---
Chad Mavety // OL // Garden City, NY (Sparta)
Mavety has been a Buckeye fan favorite for a while as he's spoken very highly of Ohio State on numerous occasions, an occurrence that has gotten more regular since his recent visit to Columbus to check out Ohio State up close. Still, Mavety has not committed and with the news of Jermaine Eluemunor being ready to pull the trigger, the odds of Mavety joining the Buckeyes seems to have slipped a bit. He was raving about his recent visit to Alabama and Florida State is another school that's been thrown about for the JUCO tackle. If Ohio State were to land three more offensive lineman in this class as our cumulative confidence indicates, it would be a major shock. 
Confidence Rating: 1.75
---
Damian Prince // OL //  District Heights, MD (Bishop McNamara)
Not many guys remaining on the Ohio State board are as big – literally and figuratively – as the 6-foot-6, 300-pounder from Bishop McNamara High School in Maryland. Prince made his initial visit to Ohio State last month and was blown away by the Buckeyes to the point that he almost committed to the Buckeyes on the spot, but instead left with them in the front of his mind as he heads into the start of his senior season.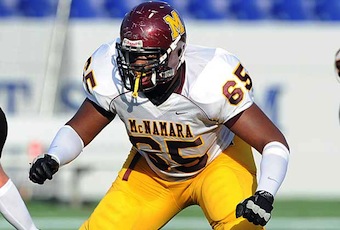 Prince will make a return to Ohio State for an official visit this fall, and while most still have him slated for Florida State despite the fact that he's not yet visited the Seminoles, I personally think this comes down to an Ohio State vs. Maryland battle and the Buckeyes finally beat Maryland for one of their own after losing out on Stefon Diggs and Taivon Jacobs in the last two recruiting cycles.
Confidence Rating: 1.5
JUST MISSED
Each of us, Jordan, Mike, Miles and myself had players that were exclusive to ourselves, and those players are all definitely still in the mix. As things unfold, you'll see new names pop up and new players become the trending pick to commit to Ohio State, and as always we'll try and give you the scoop for the next 202 days.
If you're interested, here's how we scored things. 
11W CLASS PROJECTIONS

| Jeremy | Confidence | Jordan | Confidence | MIke | Confidence | MIles | Confidence |
| --- | --- | --- | --- | --- | --- | --- | --- |
| Lattimore | 5 | Lattimore | 5 | Lattimore | 4 | Smith | 5 |
| McMillan | 5 | Smith | 4 | Smith | 4 | Lattimore | 4 |
| Prince | 4 | McMillan | 4 | Samuel | 4 | Samuel | 4 |
| Samuel | 4 | Gesicki | 4 | McMillan | 3 | Mavety | 4 |
| Eluemunor | 3 | Knox | 4 | Mavety | 3 | Eluemunor | 3 |
| Q. Wilson | 3 | Samuel | 4 | Gesicki | 3 | J. Hilliman | 3 |
| Smith | 3 | Eluemunor | 3 | M. Hooker | 3 | Gesicki | 3 |
| N. Brown | 2 | Prince | 2 | Eluemunor | 2 | McMillan | 3 |