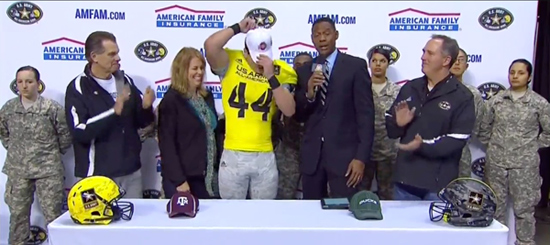 College football is no longer a veteran's game. Freshmen are making an impact, as seen last season when Johnny Manziel became the first freshman to win the Heisman Trophy. Notre Dame and Alabama also had impact freshmen that helped them reach the national title game, and in Alabama's case win a third championship in four seasons.
It's no secret Urban Meyer enjoys having first-year players who make an immediate impact. If there are plans to redshirt, Ohio State probably isn't the school for you. So who does Yahoo! believe could have a hand in Ohio State reaching the national title game this season? 
Mike Mitchell and Vonn Bell, Ohio State – Urban Meyer continues to recruit nationally from his post in central Ohio, getting two prized defenders out of Texas and Georgia. Mitchell, an inside linebacker, is the best recruit out of the Lone Star State and is capable of stepping into the Buckeyes' rotation. Bell is a freak safety who could find himself starting in the nickel sooner rather than later, perhaps finding himself entrenched at the "star" (linebacker/safety combo) position. Also receiving strong consideration? Jalin Marshall and Dontre Wilson, who are both being buzzed about as potential Percy Harvin clones.