There are Ohio State legends, and then there is Archie Griffin. Synonymous with Buckeye football, Griffin has exemplified all that is right in college sports. 
The only two-time Heisman Trophy winner is still the quiet, humble person he was in the 1970s, a time that involved 5,589 rushing yards — still a school record — 40 wins, zero losses to Michigan and four Rose Bowls. Although Ohio State didn't win a national championship during Griffin's four-year career, 1972-1975 represents one of the great stretches in the history of one of college football's crown jewels. 
Griffin recently sat down with Eleven Warriors to discuss it all, from nearly playing for Michigan to possibly being purposely injured by the Maize and Blue. 
Eleven Warriors: You grew up in Columbus at a time when Ohio State was consistently good and Woody Hayes was at the height of his powers. That being said, was the 1968 team the thing that really shot off to you and made Ohio State some huge thing?
Archie Griffin: I wouldn't say it was that alone. Growing up in Columbus, you are surrounded by Ohio State. As a football player, it's one of those things you think about, but you don't know if you'll really get the opportunity to play at Ohio State. Even when you're younger it's bigger than it is when you are there, just the magnitude of Ohio State University and everything it means to Columbus.
Certainly the success of the '68 team contributed, but I remember hearing about Paul Warfield and the guys from the early '60s. Ohio State was all over the newspapers. I remember when they had a picture in the paper, they would have the name of the player who was running the ball or making a tackle and they would have an arrow pointing to the guy. You realized the coverage Ohio State was getting was pretty doggone awesome. That in itself was an attraction to the university. It made you think that's who you want to cheer for.
11W: You're at Eastmoor, and you're a good player. A lot of big-time programs are recruiting you. What's it like when Woody Hayes walks into your living room?
AG: It was great. Actually for me, I had a dinner with Coach Hayes. He started recruiting me very late (during wrestling season senior year). After the dinner I didn't really believe he wanted me to play for him because he never talked about football. All he talked about was education. I remember having a conversation with my dad and telling him that, and my father looked me in the eye and said, 'Well, don't you think he's concerned about you as a person and not just someone who can score touchdowns?'
I really didn't think about it that way, but (Coach Hayes) continued to recruit me, so I began to feel my father was right. When I accepted Ohio State, it confirmed (my father) was right. At my first meeting (Coaches Hayes) spoke about the importance of education and told us if we weren't concerned with getting a good education we might as well leave. The man was really concerned about education. Yeah, he wanted you to be a good football player and help Ohio State win championships. But he was also concerned about you as a person.
11W: You've had nephews and sons play at Ohio State. Living through the recruiting process in the 70s and seeing it today, does it even compare?
AG: It's a lot different. Back then from a player's standpoint, there was more freedom. I could go out to dinner every night during the time I was being recruited with an alum of any university that was in town.
For instance, if one of Northwestern's coaches was in town and asked me to go to dinner, I can go to dinner that night. Same thing for the Naval Academy or Michigan. There weren't a certain number of contacts they could have with me during the course of that time. They could call you all the time, the whole works. That's good for a while, but then it becomes too much and makes a decision difficult.
11W: Seeing what (Adam) went through, do you feel bad for kids being recruiting in this era, especially with social media?
AG: Social media and recruiting services, you're always being hounded about where you are going and who's your top five. I feel sorry from the standpoint that every move they make someone's going to know about it.
11W: Were you really serious about attending Michigan?
AG: Oh, absolutely. It came down to the Naval Academy, Northwestern, The School Up North and Ohio State.
Bo Schembechler was very convincing. He happened to have some problems with his heart while I was being recruited, so I looked at that. But it was a school I considered, no question about it. As you can tell, a lot of players from Ohio consider Michigan. At that time just about all of their starters were from Ohio.
11W: Those four schools you mentioned all have strong academics, and you mentioned Coach Hayes talking about education. But obviously it was also very important to you.
AG: Football for me was the vehicle I was going to use to get the college education I wanted. That's what I used football for. I loved the game, but there was a reason I was playing it. I come from a large family – six brothers and a sister. I knew my parents couldn't afford to send everyone to school. Football was a way I could get it done, and everyone in my family did it that way, my brothers with football and my sister with track and field.
11W: We're coming up on the 40th anniversary of the 1973 Michigan game, which was one of the greatest games in the history of the rivalry. It ended in a tie, both teams were undefeated, there was the vote for the Rose Bowl, just all kinds of history. It didn't end the way you wanted, but is that game still special to you?
AG: Yeah, other than the fact that it was a tie. It was a great, hard-fought football game. You could say we won the first half and they won the second half. What I remember about that game is we were awfully conservative. Really, really conservative. More conservative than we usually were. It was mainly because Cornelius Greene messed up his thumb the week before against Minnesota. All week he couldn't pass the football, so we ran the entire game. It made it a very physical game from my standpoint.
What was at stake was really important. Both teams were undefeated and competing to go to the Rose Bowl. We were No. 1 and Michigan was No. 4. Again, you had a lot of guys on Michigan from Ohio and you're playing against those guys you heard in high school, it makes that game more intense. It was a huge game. I just wish we could have scored one more point. If we had we would have been national champions.
11W: Should have been anyway.
AG: I agree. That was a great team we had that year. All you have to do is look at the numbers. The defense gave up 64 points all season, and 21 of those points were in the Rose Bowl. Three straight shutouts. That to me is absolutely incredible. Offensively, we threw up a googob of points. A lot of times the first-teamers wouldn't play in the second half. That team was that good. It really was an incredible team, and that 10-10 tie is what kept us from winning the national championship.
11W: Something that's been talked about for 39 years – Ohio State was up 10-0, you guys are driving and then you get hurt. There have been rumblings that Michigan twisted your knee, did they try and injure you that game? Tom Skladany has also said he was knocked out [Skladany broke his leg on the opening kick]. 
AG: [grins] You're going to have to look at the film, I'm not going to accuse them of that. But, yeah, my knee got twisted.
11W: Dave Brown was the player.
AG: Dave Brown was a great player, there's no question. I'm not accusing him of intentionally doing it. But my knee got twisted, there's no question. I was already down and under the pile. You can see it in the film. The play was over and I was on the ground. That extra twist took me out for a while. I don't say a whole lot about that.
11W: Do you ever watch old games?
AG: Every now and then there'll be a game on Big Ten Network and someone will call me. But I don't always watch it. It's kind of weird [laughs].
11W: Along the same line, you're a young guy, but there is so much stuff named after you. Your name and number are hanging inside the stadium. What is that like? 
AG: When you think about the stadium and how they've got that presented, it's a wonderful honor. It shows I've played on that field with some outstanding guys who made me look good enough to get me up there with all honesty. I've always said I was in the right place at the right time with the right people.
The other stuff, I appreciate. The ballroom (in the union), a donor actually made the donation to get my name on that room. To think that that donor feels that way about me is a special feeling. One thing I'm really proud of, it was one of the first things ever done for me, was when my high school renamed the field Griffin Field in my honor. I'll never forget that. I'll always be extremely appreciative of that. 
11W: You were the first player to start in four Rose Bowls. You also played in the Super Bowl. Which is better?
AG: It's no comparison. The Super Bowl is the only game in town. No other games are going on. It takes you two weeks to even get ready for the Super Bowl. The media is unbelievable. I love the Rose Bowl, and it's the granddaddy of 'em all, but there are other bowl games going on that day. What made the Rose Bowl special was you were the only team from the Big Ten who made a bowl. That made it really, really special. To say we did that four times in a row made it ultra special.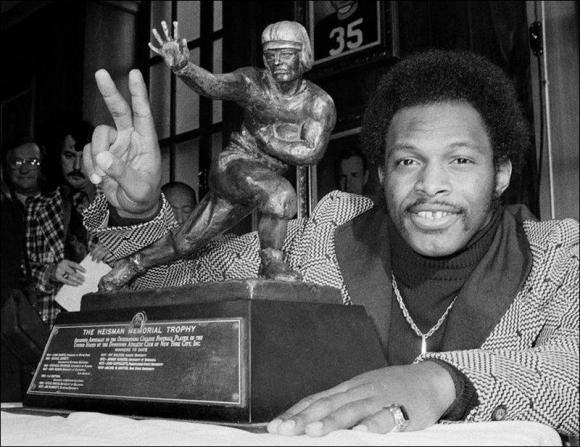 11W: Does it sadden you to see the stature of the Rose Bowl lessened in recent years?
AG: I'll never look at the Rose Bowl as lessened. To me, it'll always been the granddaddy of 'em all and a very special bowl game. Even in this position [President of the Alumni Association], when I look at our travel parties, when you go to Rose Bowls that's when you take your biggest group. The Rose Bowl is still extremely special. but I know with the BCS and playoff, people will doubt that. 
11W: It's the single greatest annual sporting event.
AG: It's absolutely incredible.
11W: Woody Hayes had a big impact on your life, as he did on most of his players. Is he someone, whether it's lessons or something he said, that you think about all the time, or relate to your job?
AG: I think about Coach Hayes every day, not a day goes by that I don't think about something that he may have said that's pertinent in the situation that I might be in. His paying forward mantra has really stuck with this university big time. The man was just so wise.
You knew he cared about you. You knew football was important, but this guy was beyond that. He was always teaching you stuff. He considered himself a teacher. That's what he took pride in, but he cared so much about people. That showed up in the way he did things in the community, the way he lent his name to charity events. The man was incredible.
11W: Do you think it's fair to say if he had not come up with his "pay forward" motto that fundraising at the university would be different?
AG: You know, I've thought about that. He talked about that ever since I was at Ohio State in the early 70s. After that, that's when the pay it forward movie came out and people starting talking about paying forward. You wonder if it was Coach Hayes talking about that and his players who listened to him talking about it for years and years who carried it on to the communities where they lived. Is that how it got started?
I know it was important from a university standpoint when he spoke at graduation in 1986. He talked about paying forward at that graduation and got teary eyed. He really expressed his feelings about doing things to help other people. I really feel like that had an impact on this university. I know I will always carry it on because it meant a lot to me when he talked to us about it. He talked about paying forward in different ways, not just money. I believe he really did leave an impact and a legacy in regards to paying forward.
11W: How special was it sharing some of your greatest memories with your brothers (Ray and Duncan), and what's it like to see other family members play for Ohio State? 
AG: It's great to see other family members get to experience it. It was always a joy playing with my brothers. My older brothers were the guys that set an example for me, and I like to think I set an example for my younger brothers. When Raymond came, I was really happy because I knew he was a talented football player and would make his mark, and he certainly did as an All-American defensive back. I was really happy to see him get in the Ohio State Hall of Fame last year. For Duncan to come and play with us, I thought it was great. He certainly contributed and did an excellent job during his time at Ohio State.
11W: What goes through your mind when you walk off the field after the Iowa game (in 1972) when you'd fumbled?
AG: I'll never get another chance. I blew my chance. That's exactly what I thought. I blew my chance. I'd heard stories about guys fumbling for Woody and never getting an opportunity again. Thank goodness there were some coaches who were in my corner, Rudy Hubbard and Ed Ferkany. They all pounded the table for me to get in that next game (against North Carolina). But I had no idea I would get in that game because I was on the scout team.
11W: There are so many standout moments from your career, but if you had to pick just one, what is the lasting image?
AG: I hate to say it, but that '73 (Michigan) game is one because it knocked you out of a national championship, and the 1976 Rose Bowl [23-10 loss to UCLA]. That would have been a national championship if we won. We had beaten them earlier that year.
11W: Handily [Ohio State beat the Bruins 41-20 Oct. 4 in LA].
AG: That was the problem. I knew there was (overconfidence). Woody tried to warn us. He told us it wasn't the same team, da, da, da, da, da and the whole works. We'd been out to the Rose Bowl four years in a row and we knew all the territory, so we were out doing things. In the back of our minds we thought, hey, we beat these guys pretty good. That first half we had opportunities to score, but we didn't finish. If we finished in the first half, it would have been a lot different. I broke my hand on the first play of that game. It just didn't work out for us. That team was another great team.
No body thought we'd be as good as we were. People had us losing three of our first four games because we played Michigan State, Penn State and UCLA. But we won all those games, and we deserved to be ranked No. 1. To blow that Rose Bowl, that's probably my most disappointing game.
11W: What was the locker room scene like after the 1974 Michigan State game? 
AG: It wasn't good. The best way I can describe it is it wasn't good. Everyone was ticked off. We thought we had won the game, Michigan State thought they had won it. It was like 45 minutes afterwards that they had told us we lost the game. Woody told the (Big Ten) commissioner (Wayne Duke), 'You tell my team they lost this game. They didn't lose this game. You're screwing us.' So it wasn't a pretty situation [laughs].
11W: What do you think about the pressures of the game? Football has changed a lot. Quarterbacks today have the most pressure. Cornelius Greene did, too, when you were there.
AG: He probably had more pressure than anybody.
11W: Even more than you?
AG: The quarterback lived under the thumb of Woody. He was in the huddle every day, talking to the quarterback all the time during practice. There's no question Cornelius had more pressure, I thought. I got to go away to my backfield coach. The quarterback always had to be there with Woody.
11W: Jack Nicklaus has always been humble about his records being broken. You've been the same way with the Heisman. Do you still believe someone will win two Heismans? 
AG: Absolutely. I thought it would have happened by now. It's a record that I'm proud of, but at the same time I recognize that records are made to be broken, and somebody's going to do it. Here's the way I look at it: it might seem really, really simple, but if I did it twice there's someone else out there that can do it twice. I'm very proud of that accomplishment, but it speaks to me about the teams I played on. Otherwise, it doesn't happen. 
11W: You've been the ultimate ambassador for Ohio State. How much do you enjoy the interaction with alumni?
AG: I love it. I'm in my 30th year at Ohio State. I spent one year in human resources, 19 years in the athletic department and I'm in my 10th year at the alumni association. I couldn't ask for anything better. It's terrific. I'm dealing with people worldwide. We have over 200 clubs around the country and another 55 special interest societies, so you're dealing with all aspects of alumni work. We're part of advancement. We do fundraising and we also do friend-raising, which is the engagement that the alumni association really takes ownership of.
11W: Ohio State has always had great coaches. You've seen them come through and observed their characteristics. When you see Urban Meyer, whether it's him delivering a message or coaching in a game, what do you see?
AG: I see a great coach. He's a guy that's proven he has a formula that's going to help him be successful here. Being here makes it extra special because you know that you're in a position where you can get the type of talent that wins you championships. I think it's been a dream job for Urban. It's great he can come back to his home state of Ohio and do the work he loves doing. I think it's a real good relationship – Urban Meyer and The Ohio State University.
There's no question in my mind that the future is extremely bright. We will be competitive year-in and year-out under his coaching. He's got a lot of pressure on him this year after having an undefeated season. But it can be done. It's hard, but it can be done.
---
Thanks to Archie for being gracious with his time.