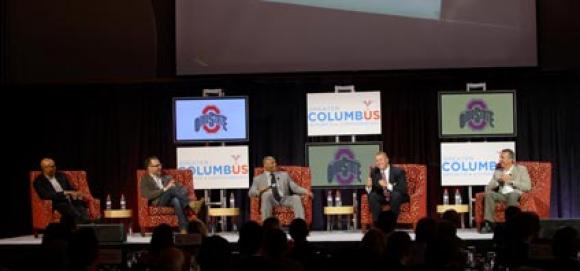 Northwestern and Syracuse have renowned journalism programs that produce many of the nation's finest journalists. That's true across all forms of newsgathering. But it's former Ohio State athletes that are cornering the market in the sports world.
Kirk Herbstreit, Clark Kellogg, Chris Spielman, Eddie George, Robert Smith, Jim Jackson Joey Galloway, John Cook and Mike Tomczak all work for national sports media organizations. Non-athletes such as the late great Jack Buck, Erin Moriarty and Albert Breer also have made a name for themselves working at national media outlets on some of the biggest news and sports stories.
Four of those athletes – Herbstreit, Kellogg, Spielman and George – were in Columbus at the Morning Sports Report in June to discuss their rise to prominence in sports media and their alma mater.
Playing at Ohio State offers many privileges: competing for championships, traveling around the country, getting a good education and garnering plenty of attention. It's that last note that helped many Buckeyes transition into life after football. None of the four went to Ohio State with goals of working in journalism, it just happened to be their final destination.
"I think we all take a lot of pride in the fact that there are a lot of us out there and I think the school really opens up opportunities for you, like standing around microphones and cameras," Herbstreit said.
Herbstreit majored in business, but even after an NFL career didn't look realistic he wanted to stay involved in sports, especially the one he cherished most. It just so happened that WBNS radio was changing to an all-sports format at the time, and they quickly hired the former Ohio State quarterback to be on the air. A short time later, Craig James left an ESPN college football pre-game show that was in its infancy. Herbstreit was hired and "College GameDay" began its evolution as the leading college football show on television. 
"I was a football guy and I wanted to talk football, and then I sat next to Lee Corso,"Herbstreit said. "I remembered being so prepared and so anxious back in 1996, the first time I was on the show. I said, 'I talked to this offensive coordinator and this is the 
key,'
and Lee is looking at me like, 'Arkansas is playing Michigan. Michigan drives Cadillacs and Arkansas drives pickup trucks. I'm going with the pickup truck.'"
A dumbfounded Herbstreit quickly realized there's an entertainment factor in the business.
Two decades ago, when Herbstreit made the leap into sports media, Kellogg was the lone Buckeye already mastering the craft. Twenty years later, Kellogg is the lead analyst for CBS' college basketball coverage. He's routinely ranked among the best announcers in sports and is known for his quirky worded references and wide-ranging vocabulary.
As one of ESPN's lead college football analysts, Spielman ventures to locales all over the country. And he hears the same thing at each stop, "There's too many Ohio State guys." Spielman credits that to the work ethic established during their playing days.
Said Kellogg: "You have to compete at the highest levels, and when you get into the real world where it is a competition, you know some of the things you've done in the past to be successful are transferable to this."
The most difficult part of the job for the ex-players is having fans understand there's have a job to do. This is seen most commonly in Herbstreit's line of work. He hasn't been shy at pronouncing fair criticisms toward the football program, but Buckeye Nation has not taken kindly to many of his opinions.
The unruliness became so overwhelming to Herbstreit and his family that they moved from their Upper Arlington home to Nashville. The problem with a society that offers instant opinions on social media is anything uttered is perceived as anti-OSU from one set of fans or anti-Michigan from another.
Kellogg said the irrational nature of fans is something he tries to ignore.
"You have to accept it as part of the equation," he said.
It's something Urban Meyer became familiar with during his one season of broadcasting for ESPN. But as Spielman tells it, Meyer needn't worry about what fans thought because his co-worker believed he was in over his head.
"I think the biggest challenge for me was working the Texas spring game with Urban," Spielman said, to laugher. "It was his tryout and after the game he asked how he did and I go, 'Man, you were freaking awful.' But then a credit to him, through hard work, he became really good at broadcasting. It was the best year of broadcasting I ever had."
"Do yourself a favor and make plans now...because we're going to Pasadena."
Although Spielman is mostly known for delivering punishing hits as a linebacker, he's moved into a role as one of ESPN's top college football analysts. He's also a hero to many in Columbus – and throughout the country – for his charity work involving breast cancer and the grace he and his late wife, Stefanie, exhibited during her long battle with the disease.  
As the four broadcasters, along with Meyer, sat side-by-side on a stage, the praise for the Buckeyes came pouring out. You see, when you step away from national TV, the loyalties flow freely.
Coming off an undefeated season, it's no surprise that the consensus is a big season is on tap for Ohio State. Herbstreit and Spielman, who both share close friendships with Meyer, lauded the Buckeyes and forecasted a season filled with unlimited potential.
"Do yourself a favor and make plans now, get your hotels, because we're going to Pasadena," Herbstreit said. "With Ohio State's team that they have coming back, the schedule that they have, they're going to be in one of those games (Rose Bowl or national championship).
"There's nothing like Pasadena, so do yourself the favor."
Still a resident of Upper Arlington, Spielman remains close to Ohio State, often an unannounced visitor to the Woody Hayes Athletic Center.
"Ohio State should be great, and they should have a run at a national title if they take care of business," he said. "These guys are held to such a high standard in everything that they do. From how they fold their clothes in the locker room to how they clean up, their grades, how they workout, their participation, their attendance. Everything is graded and evaluated. What that does is that pushes this team to strive for perfection. That was something they were able to accomplish last year, and it's something that they have a good chance of accomplishing this year."
After a borderline Hall of Fame NFL career, George is back at Ohio State as a university employee. That gives him the freedom of working out with the team and offering pointers to budding running backs. What he's seen from the entire team is a makeover.
"I train over there with the young men, and the one thing I can say is that I've watched them transform their bodies, literally, from young athletes that were kind of athletic to grown men, where now the depth is starting to come into place," George said. "I'm seeing the young running backs walking around looking like seniors. They have matured to the point where they can contend now with the elite teams in the country. Our defense is athletic as I've ever seen them, but they lack experience, but by season's end, I think they'll be one of the best in the nation.
"I don't know if a national championship is in store for us, but I think we're going to have an outstanding year."
Eddie should know in Columbus it's national championship or bust for 2013.
As the compliments flowed, Meyer sat close by with a grin affixed to his face. Then he jokingly chastised the analysts before telling those in attendance that Ohio State is focused solely on fall camp and the opener versus Buffalo.
"We need to concentrate on the next day," Meyer said. "If you worry beyond that, you've got a problem."