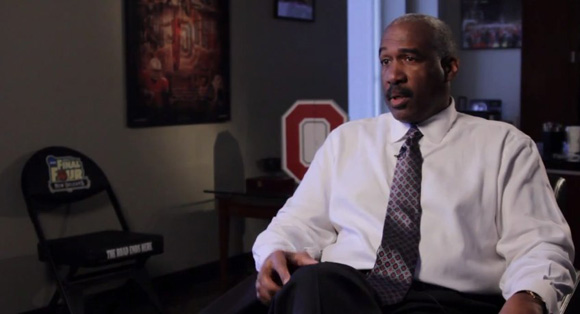 Ohio State fans enjoy bashing Gene Smith, but the truth is the athletic department is enjoying its golden age. CBS Sports is in the midst of unveiling a ranking list that rates each athletic department's sports programs for the past season. The Buckeyes check in at No. 4. 
Down years aren't part of Ohio State's model, but the 2012-13 seasons weren't supposed to yield so many wins. Winning just comes naturally in Columbus, though. Football, men's basketball, men's tennis, men's lacrosse, women's rowing, fencing and other teams enjoyed rousing success. 
"It's not just the success of two sports or three sports; it's the success of 36 sports," men's lacrosse coach Nick Myers said. "We want to see Ohio State at the top of that list. With the coaches that are here, and the athletes and the academics, there's no reason Ohio State can't continue to be in that conversation."

The dedication of athletic director Gene Smith and the resources of the university have enabled smaller sports to be competitive nationally.

"He allows you the freedom to run your program," Myers said. "He provides the resources and he's an incredible communicator. The way they work with us as coaches, you feel just as important as the next coach, you feel part of the Buckeye nation, the Buckeye family. That cohesion comes from him."