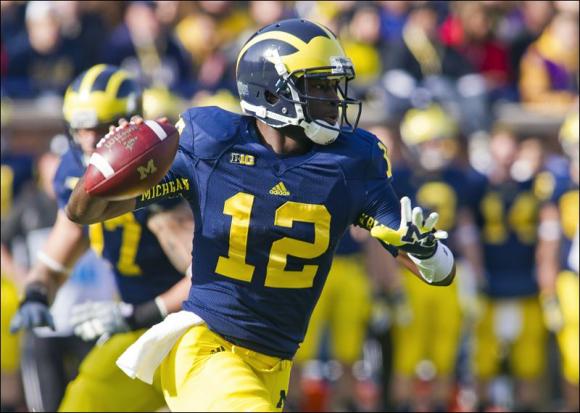 After the first 30-year career in NCAA history (at least it seemed like it), Michigan quarterback Denard Robinson is now an offensive weapon for the Jacksonville Jaguars. Seriously, that is his position on the Jaguars' website. So now, the Wolverine offense is in the hands — and legs — of Devin Gardner. 
The oft-injured Robinson allowed Gardner to get his feet wet at the position a year ago. Michigan was 3-2 in games Gardner was the primary quarterback, including a loss to Ohio State. Gardner's first introduction to the rivalry was not a welcome one.
Still, 1,219 passing yards, 11 touchdowns and five interceptions is not horrible. And Michigan appears to have decent pieces surrounding him, not to mention a favorable schedule. 
Conventional thinking says Gardner will be better this year than he was in 2012, after having a full offseason to work with the first-unit offense. He also has more time to immerse himself in film study and get a better feel for his checkdowns, as well as better reads for how defenses are countering.

But five games is a small sample size as well.

He was good enough in those games to attract national buzz as a Maxwell Award candidate, and even an early Heisman Trophy candidate. The hype is building for a guy who essentially is a first-year starter running a first-year system.

Can he live up to it?
That is the biggest mystery. Gardner is a dual-threat QB who relies more on passing than running, the mold most teams prefer. He fits nicely into Al Borges' pro-style offense, giving Michigan its ideal offense for the first time in Brady Hoke's tenure. November is a long way away, but Buckeye fans will certainly keep an eye on Gardner and Michigan's progress (or regression) over the next few months.