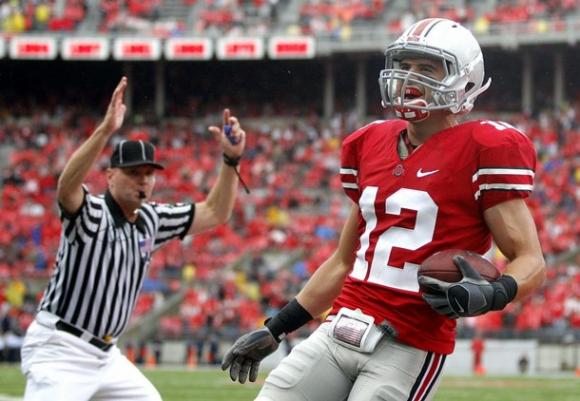 Everyone's favorite undersized, frequently doubted wide receiver, Dane Sanzenbacher, recently spoke about his up-and-down first two seasons in the NFL. The 5-foot-11, 184-pounder has always been in the position to prove people wrong. Opinions have frequently been negative when it comes to his ability to produce, but at each step he's had the last laugh.
At Toledo Central Catholic, Sanzenbacher was a two-time All-Ohioan and helped lead the Fighting Irish to a state title in 2005. He didn't receive much attention from recruiters until appearing on the Ted Ginn Bus Tour, but when Ohio State offered, Sanzenbacher gladly — and quickly — accepted. All he did during four years in Columbus was catch 121 passes, 19 of them touchdowns, for 1,820 yards. Sanzenbacher was named the team MVP his senior season. 
The cycle continued again when he entered the NFL. Too small, not fast enough. The slights came from all over. But as an undrafted free agent, he had 27 receptions for 276 yards and three touchdowns as a rookie with the Chicago Bears. Year 2, however, yielded one catch in four games and a trade to the Cincinnati Bengals. 
"I probably learned more my second year than I did my first," Sanzenbacher said. "My rookie year I kind of got thrown into it and my head was just spinning. Even though the numbers don't show it, I think I progressed as a player that second year.

"You take that experience and carry it on to the next year. I'm getting a fresh start in Cincinnati. You carry over the confidence you've gained, and all the little things you've learned. It's my third year, and I think it's a good time for me to progress. I think it's really going to be a good situation for me."
Sanzenbacher enters training camp as one of 10 receivers on the Bengals' roster. Six of them will be on the opening game roster. 
"At this point you don't want to let yourself get so excited about camp that you burn yourself out," Sanzenbacher said of his offseason workout routine. "It's a long season. You've got four preseason games and then 17 weeks. You just want to make sure you're as healthy and ready to go as possible. You have to be as physically and mentally as ready as you can be when you walk in the door."
Disproving people has never been an issue for the affable Sanzenbacher.