Out of the major professional sports in this country, basketball is truly the only one to stretch out over all six livable continents. 
Recently, Canada's top export definitely isn't Nickelback, nor is it Drake, comedic material about their crack smoking mayors, or even Ryan Gosling's angel face; it's basketball.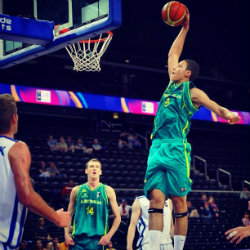 America's hat is pumping out elite talent at an unprecedented rate. Beyond Steve Nash, no Canuck was a major presence in basketball.
Recently, however, the Cleveland Cavaliers drafted Canadians Tristan Thompson (4th in 2011) and Anthony Bennett (1st in 2013). Cory Joseph (San Antonio Spurs, 2011), Kelly Olynyk (Boston Celtics, 2013) were also selected in the first round.
North America doesn't have a monopoly on the round-ball scene. Australia has also produced a number of potential NBA stars – even if we're not including Kyrie Irving, who was born in Melbourne.
Here are some international players who have or will come to the U.S. to play collegiate ball, and why they'll leave NBA scouts drooling:
Andrew Wiggins – toronto, Canada
Arguably the biggest reason why the 2014 draft is considered to be the strongest since 2003 is because of Toronto native Andrew Wiggins.
Fans of bad NBA teams are already excited about the prospect of intentionally losing games, just to receive a slight chance of winning a lottery to have a chance to select Wiggins. Words don't do the incoming Kansas freshman justice, so, here's his highlights: 
Yes, any YouTube highlight can be manipulated to make a decent high school player look better than he actually is, but Wiggins' athleticism stands out.  Every aspect of his game is refined, and really just has to prove that he can adjust to the physicality of the college game to prove his worth as the number one pick.
Dante exum - Melbourne, Australia 
Kyrie Irving was born in Australia, but he has spent most of his life in the U.S., and has already made his fellow Americans look ridiculous in Olympic tryouts.
Andrew Bogut owns the title of the only Australian to go number one overall, but Exum might follow in his footsteps – if he ends up going to college. Exum has the option of entering the 2014 draft, but might be considered the top guy if he waits until 2015.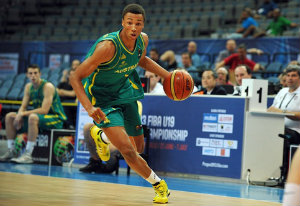 Exum has told multiple outlets that he's interested in enrolling in college. His father, Cecil Exum, played with Sam Perkins, James Worthy and – oh yeah – Michael Jordan on the 1982 North Carolina championship squad. With that as his inspiration, Dante hopes to win a title of his own.
The 6-foot-6-inch guard will prompt comparisons to Tyreke Evans, purely based on their length at the position. However, he isn't built like Evans. More finesse than brute strength, Exum is a solid jump shooter and probably has better point guard instincts than Evans.
So far, Exum has only visited Indiana. Other schools recruiting him are Michigan, Louisville, LSU, SMU, Tulsa and – naturally – Kentucky. He told Jonathan Givorny of DraftExpress.com that, strangely, North Carolina has yet to make a significant push for his services.
Ben Simmons – Melbourne, Australia
Like Exum, Ben Simmons is an Australian native who hopes to play college ball. Unlike Exum, Simmons will travel to the United States to play out his final years of high school.
In a positive development for Ohio State, who offered Simmons in June, he will be teammates with Buckeye commit D'Angelo Russell at Montverde Academy (Fla.). With considerable talent around him, Simmons has the potential to blossom into the top prospect in the 2015 class.
Simmons' father was a star basketball player for Australia's National Basketball League, and Simmons – just like Exum – has a chance to surpass his father's legacy.
At 6 feet 9 inches tall, Simmons has the length and explosive athleticism necessary to be a force at the college level, and an elite NBA prospect.
As of now, Simmons is ranked fifth in 247Sports.com's 2015 rankings. That might change, given two years to assess how Simmons plays at one of the top prep schools in the country.
Skal Labissiere – Port-au-Prince, Haiti
For a small island in the Caribbean without much basketball history, Haiti has produced a couple of solid, pro big men. Both Olden Polynice and Samuel Dalembert have played over 10 years in the NBA. Skal Labissiere has the potential and frame to join that list.
Labissiere has been in the United States since 2010, and only started playing competitive basketball at the age of 13. He'll continue playing the next two years at Evangelical Christian School in Tennessee.
His offensive game is still raw, but he shows great instincts around the rim on both ends, especially for a guy who just picked up the game four years ago.
Right now he has offers from Kentucky, Georgetown, Memphis and Texas, among others. He's ranked seventh in 247Sports.com's 2015 rankings, but has a high ceiling and the potential to rise as his game assuredly grows.