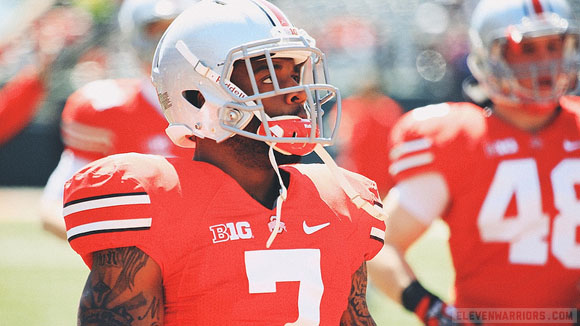 "Jordan Hall will play the Percy Harvin role." That's a narrative fans have heard for the past two offseasons.
Unfortunately last year, Buckeye Nation never got a good look at Hall in the position. A debilitating offseason injury kept him out of the first two games of 2012, then a knee injury three games later relegated Hall to the sideline for the rest of the season.
Luckily, he was able to receive a medical redshirt allowing him to return for a second senior year.
In 2013, Hall finally seems prepped to accept the duties most of the media seemingly know he can fulfill. But is that assuming too much? Taking a step back, how much do we really know about Jordan Hall?
Despite being a senior and projected starter, number 7 might be the upperclassman Buckeye fans know the least about.
Stuck behind Boom Herron and Brandon Saine in 2009 and 2010, Hall received a total of 85 carries for 409 yards and 5 touchdowns. Not able to find much of the field at the tailback position, Hall did most of his damage on kick returns, tallying 741 yards and 1 TD on the season.
After serving a suspension in 2011 for accepting benefits at a charity event, Hall came in and split carries with sophomore, Carlos Hyde, to spell Herron while he served his own suspension – 2011 was like that.
During that year Hall finally got the chance to show off his versatility rushing for 405 yards and 2 touchdowns and picking up 114 yards and 3 more scores through the air. In addition, he was able to rack up an impressive 753 yards on kick returns.
While those stats aren't eye-popping, they may have been limited by the staggering lack of creativity that comes free of charge in a Jim Bollman offense.
Moving into 2012, it was clear Hall showed Coach Meyer something on and off the field. His performance earned him the title, "team captain" as Meyer raved about his abilities. Unfortunately as aforementioned, Hall never had the chance to get his season off the ground.
So that brings us to 2013, where hopes are incredibly high for a player that has only gone over 500 yards total (rushing and receiving) once in his Scarlet and Gray career.
That's not to say 2013 wont be his long-awaited breakout season, but it's important to keep things in perspective. Hall has worked hard and deserves to start, but it's a little early to break out the "Percy Harvin" moniker.
While most are rooting for Hall, Meyer and company do have a back-up plan if he simply can't make the cut.
Incoming freshmen, Dontre Wilson and Jalin Marshall fit the bill. Both are four star recruits with speed who can stretch the field with athleticism, and versatility.
But neither has the in-game experience (or leadership) that a Jordan Hall can provide.
Hall is the prohibitive people's favorite; a Buckeye who fought his way from the bottom to earn a spot, only to see it ripped away by injury. But 2013 presents a different challenge for Jordan: his last chance to make a statement viewed through the lens of immense expectations.
With plays like these he has shown flashes of brilliance, but stringing them together on a regular basis is the goal for the upcoming season.
So here's hoping Jordan has the season fans have been waiting for. A successful swan song for Hall introduces a layer of complexity to an Ohio State offense chasing a championship. Adding that layer ultimately gets them one step closer.