An angelic, special someone sinks its talons into every part of you that has feeling - and you allow it to happen, with pleasure. It throws off your schedule, your sleep, your thoughts and your focus. You're too happy to care. You're spinning.
The disruptions don't matter because you're in love, sailor. Everything in your life is upgraded by those talons digging into your soul: Food tastes better. Music sounds richer. You radiate this weird energy that other people notice, and as a result they treat you differently. You have powers.
Of course, those crushes can turn on you quickly. All it takes is one lousy prom, a summer that finally ends or a little getaway to Glendale that goes unexpectedly south and ruins everything forever.
Last week while rummaging in my basement I rediscovered a commemorative football given to me celebrating the 2006 perfect regular season. It's signed by Jim Tressel and lives in a rectangular glass display case in a dark corner by some suitcases. It sits there specifically so that nobody - me, mostly - has to see it regularly.
That team carries arguably the toughest memories in Ohio State history. It wasn't like the 1996 edition that blew it against Michigan but later won the Rose Bowl, or the 1970 one that choked the fourth quarter and a national title to Stanford, or like so many celebrated Buckeye teams with one or two blemishes.
No, the 2006 team was unique. It actually started its ascent the previous October when everything started clicking, all the way through 617 yards of offense against Notre Dame in the Fiesta Bowl to the preseason #1 ranking to beating #2 Michigan as a play-in game to the BCS championship.
Troy Smith said while still in Tempe the Buckeyes planned on returning to Arizona his senior year for the title game. He was smiling. Everyone was. Those talons began squeezing in earnest. Those Buckeyes threw off our schedules, our sleep, our thoughts and our focus.
We were too happy to care. We were spinning.
Of course, 19 consecutive wins were capped by that catastrophically invalidating loss, upon which the entire SEC superiority narrative that still bleats loudly today was originally constructed. It's the most damaging loss in program history (before the protests begin - the 1969 loss in Ann Arbor was not a national reputation killer; it was simply hideous).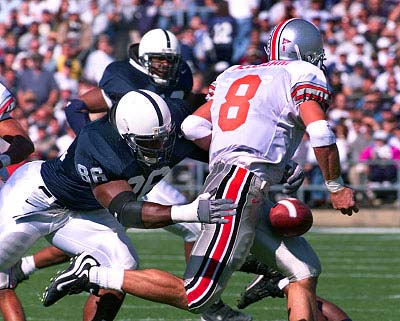 The searing pain from that game only started with how pitiful the Buckeyes were that night. What made it truly burn was how much better food tasted, music sounded and the stadium radiated during the 19 games that preceded the Florida one. It wasn't just a crushing loss. You had to break up with football entirely for awhile.
But you wouldn't change a thing prior to that night - and you shouldn't. College football is so much better when you care more than you should.
We're now 12 games removed from Ohio State's most recent loss. The Buckeyes took up residence in the top 10 in mid-October last season and shouldn't be leaving anytime soon. Planning on Indianapolis in December and Pasadena in January is somewhere right between optimistic and realistic.
Then there's Urban Meyer along with Braxton Miller, Bradley Roby, Carlos Hyde, Ryan Shazier and a whole bunch of really, really likable players. Guys who tolerated the Tatgate punishment they didn't cause.
Guys who ran the table with nothing to play for last season. Guys you would really, really like to see win everything that they are eligible to win this season. And they can they can do it. You're happy. You're spinning.
There are two ways you can go with a team already on a 12-game winning streak with title aspirations: All-in, or with caution. All-in gives you the higher highs, the tastier food, the better music and the weird energy. It will also pay off the richest should the Buckeyes extend their streak by 14 more games.
All-in will also bankrupt you faster than five minutes at the craps table, as the risk/reward for love is high. Bracing for disappointment and proceeding with caution is safer and less satisfying, but really what you're trying to do with that is convince yourself that you just don't care that much.
That's the opposite of love. You might have thought the opposite of love is hate. It isn't. It's detachment. It's disinterest. At its worst, it's genuine indifference.
That's what you're trying to feign when you fake that you don't care quite as much as you really do. There's no honor in playing coy, sailor. Let the talons dig into your soul. You deserve to radiate some weird energy for the next few months.