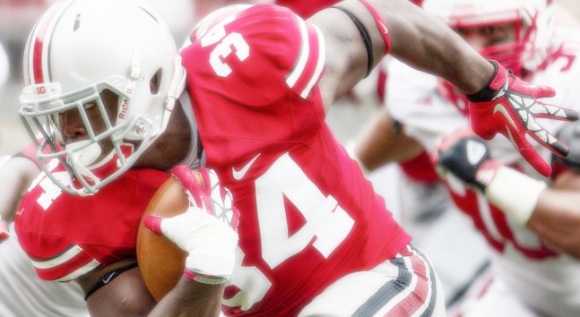 Though aspirations of running the table are nothing new in Columbus, the reality is that doing so is really, really hard. In fact, just six Ohio State football teams have produced undefeated and untied seasons. 
Four of those perfect seasons occurred before the 1970s ('16, '44, '54, '68), meaning that the two lone squads to accomplish the feat in the last 45 years include Jim Tressel's 2002 national champions and Urban Meyer's 2012 outfit. 
While the '02 and '12 squads were led by head coaches featuring differing styles and philosophies, the two teams also shared a handful of similar traits. 
Both relied on qualities such as using big plays to supplement a strong rushing attack, the ability to perform in the clutch (both went 2-0 in OT and combined to go 13-0 in games decided by seven points or less), a little bit of luck, and a significant dose of senior leadership. 
Though sometimes difficult to quantify, any coach worth his whistle will tell you the kind of leadership exuded by a program's senior class can be a significant factor in how a season unfolds. Without question, the '02 and '12 teams leaned on the play and guidance of their seniors on the way to perfection. 
With that in mind, I took a look at how this year's senior class stacks up against the last two perfect teams in school history. 
NOTABLE SENIOR CLASSES

| SENIOR PLAYER BREAKDOWN | 2002 | 2012 | 2013 |
| --- | --- | --- | --- |
| SENIORS | 13 | 21 | 16 |
| SENIORS on OFFENSE | 4 | 6 | 10 |
| SENIORS on DEFENSE | 7 | 14 | 4 |
| Seniors on Special Teams | 2 | 1 | 2 |
| OFFENSIVE CONTRIBUTORS | 1 | 2 | 8 |
| DEFENSIVE CONTRIBUTORS | 6 | 8 | 3 |
Interestingly, the 2002 team had the lowest number of total seniors with just one player even being a marginal contributor on offense. Chris Vance wasn't exactly a household name outside of Ohio but as the team's fourth leading receiver he did post 13 catches for 178 yards and three touchdowns during the magical run.
Though the offense was virtually void of senior leadership and production, the Silver Bullets were loaded with seniors. Mike Doss was the heart and soul of the team on the way to becoming just the seventh three-time All-American in school history. Kenny Peterson was a key cog in the dominant defensive line, David Thompson was a solid rotation guy at defensive tackle, Matt Wilhelm had an All-American season, Cie Grant morphed into a playmaking beast and Donnie Nickey was a four-year starter alongside Doss. The Bullets gave up like 13 points a game that year behind this crop of elder statesmen.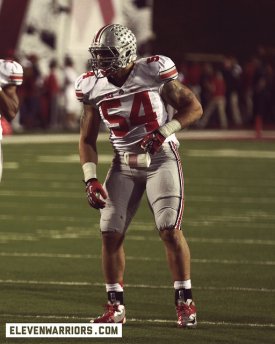 And how about that one time Cie Grant rocked Carmen Ohio in one of the greatest senior moments in the history of football being awesome. 
Last year's senior class, despite a perfect 12-0 record, never got the chance to play for a championship of any kind thanks to NCAA sanctions. Ironically, that sad reality is the driving force behind their legacy. 
With Ohio State handed a post-season ban, the seniors had the option of transferring to another school without being forced to sit out a year but none of them left. 
Following John Simon's lead, the class took responsibility for galvanizing the rest of the ranks, creating a chemistry ensuring there would be no pity party. 
Simon almost single-handedly pulled the team together with an impassioned speech following a close win against Cal in which he played with an excruciatingly painful shoulder injury, a move that moved Meyer to gush over the guts and guile of Ohio State's unquestioned leader:
"John Simon played hurt today. (He) gave a little emotional speech in there. Boy, he just lost it in the locker room as far as just sharing, opening up his soul for this team. I've done this a long time, and he's as good (as they come). You mark that down. Can you put a jersey up there or something that says John Simon because that's a grown ass man, excuse my language. That's a guy."
Simon was also a stud on the field, leading the team with 9.0 sacks and ranking 2nd in TFLs with 14.5. 
Zach Boren was also a huge piece to the undefeated run, his switch from fullback to linebacker shoring up a defense that was decidedly mediocre before the move. His emergence allowed Ryan Shazier to excel at playing his own position instead of doing just so-so at essentially trying to play two linebacker positions through the first half of the season. Last year's crop also featured experienced depth up front with Nathan Williams and Garrett Goebel while the defensive backfield included seasoned veterans in Orhian Johnson and Travis Howard. 
Similar to '02, the seniors weren't overly responsible for the offense's production as only two guys were regulars. Jake Stoneburner could make a case he was underutilized in Columbus as he totaled 16 grabs for 269 yards and four scores in his final season. Reid Fragel proved to be one of the great stories of the '12 season as he successfully made the difficult transition from tight end to right tackle in one offseason. 
Collectively, the commitment from this group of kids will forever be remembered by Meyer:
"It's almost like you're losing some of your children when they go away to college. Our house is going to be empty. When we have our team meeting on Tuesday, we start a new journey. The foundation's really, really strong. It couldn't be stronger because of our senior class. That's all I can think about. I want to make sure they're properly recognized as one of the great groups of seniors in the history of this program."
In short, the 2013 seniors have a bonfire-sized torch to carry. 
The good news on that front is that the 16 seniors tasked with leading this year's team got to see how Simon and company operated a season ago and on paper, the cumulative 2013 roster packs significantly more heat. 
The defense boasts just four seniors meaning a huge portion of the leadership load, both on and off the field, will have to come from safety starters Christian Bryant and C.J. Barnett. Bryant was 2nd-team All-B1G a season ago ranking 2nd on the team in tackles and pass breakups. Bryant's hair-on-fire approach can provide an emotional lift but the challenge this year is to ensure that passion doesn't come through via unnecessary personal fouls as we've seen on occasion over the years.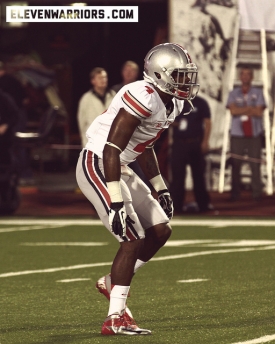 Barnett, a fifth-year senior, owns more starts than any other defensive player (24) and over the past two seasons, only Ryan Shazier can claim more stops. Serving as the last line of defense in front of a rebuilt defensive line and one completely unproven linebacker, leadership and consistent play from the safeties will be a factor in whether or not the Buckeyes hoist the crystal. 
Things are much different on the offensive side of the ball where the Buckeyes boast no less than eight seniors who should be legitimate contributors. 
The offensive line is loaded with seniors. Jack Mewhort, Andrew Norwell, Corey Linsley and Marcus Hall, likely paired with right tackle sophomore Taylor Decker, have a chance to be a special group. Beyond their collective talent, the foursome has a ton of experience playing together. 
Mewhort is the unquestioned leader of the line – a role he relishes – and Meyer announced in the spring that while the team votes on captains, the Toledo product will be one of them. 
In the backfield, the only thing that can seemingly keep Carlos Hyde from eclipsing the 1,000 yard mark will the plethora of talent around him. Hyde went for 970 yards and 16 scores in just 10 games as a junior, leading the conference with 10.2 points per game. If he's able to kick his game up a notch and Braxton becomes more consistent with his decisions on the read-option, the Buckeye offense will be close to unstoppable. 
Back for a fifth-year, Jordan Hall, a captain last season, will be called upon to provide leadership and hopefully account for some production on the field. Hall was granted one last hurrah via a medical redshirt and the coaching staff is chomping at the bit to plug him into the H-back role. "Quick as a hiccup" according to Stan Drayton, Hall could give the Buckeyes a more slippery option at the position. Fellow senior Philly Brown, in a testament to his versatility, performed solidly in the role a season ago though he's more suited for a wideout spot. 
While a reemergence from Hall would be a big story, often times great teams realize an offensive outburst from an even bigger darkhorse. If the 2013 Buckeyes experience such a lift, many believe Chris Fields will be guy to step up. After toiling in relative obscurity save for a huge punt return touchdown in the nail-biter over Toledo two seasons ago and his scoop of a Kenny Guiton touchdown pass as part of the unbelievable comeback against Purdue last year, Fields drew rave reviews from Meyer for his work this spring:
"Chris Fields has earned the starting spot, which is amazing. He is a wonderful guy that last year was very inconsistent. He's earned the starting spot."
Time will tell if Fields can finally be a consistent player for Ohio State, something that seemed utterly unrealistic heading into the offseason. 
All in all, it's fair to prefer that the seniors be more evenly spread across the offense and defense but you have to like the makeup of this senior class. They've experienced a wide swath of highs and lows and got to observe last year's seniors in action. Now, it's time for the group to put it all together and lead this team to a national championship. 
I can see it now, senior Kenny G busting out a smooth-jazz rendition of Carmen Ohio in the 'Shoe during the national championship celebration.