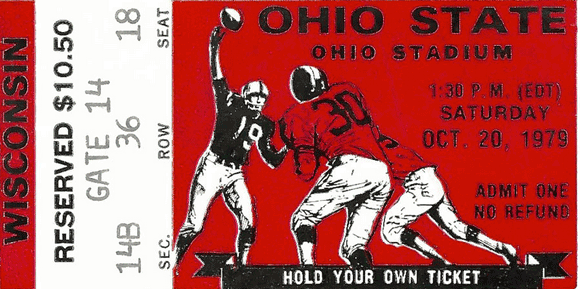 For more than five years, the United States has been in the midst of an historic recession. Jobs have been lost, unemployment has skyrocketed and spending has lessened considerably. But when it comes to college football, people are still willing to spend hard-earned cash to see their favorite team. And athletic departments know they have a product that's in demand, allowing them to charge steep prices, sometimes reaching triple digits.
Football is by far the most popular sport in the country with its fans' craving never fully satisfied. College football is witnessing its golden age. Demand has never been greater. The money spent has given athletic departments the opportunity to make upgrades on projects that called for improvements. At the same time real estate went kaput, silencing cranes and other machinery at construction sites around the globe, stadium renovations and opulent football facilities went on as planned.
The sport has proven it is recession-proof, at least in some parts of the country. Attendance has dipped nationwide during the tough economic times, but the tradition-rich programs continue to sell out on a weekly basis. The Big Ten, SEC and Big 12, home to some of college football's most successful programs and rabid fan bases, fill stadiums to 70-percent capacity conference-wide for the season. Eight of the top 10 attendance-getters are from those conferences and they're also home to the most high-profile games of the season.
Ohio State-Michigan, Alabama-LSU, Texas-Oklahoma. All three games have face values that approach or break the $100 barrier. Since the recession began, ticket prices to high-demand games has risen more than 30 percent, far exceeding inflation, and the cost of admission isn't the only expenditure that goes into purchasing tickets. Many of the leading programs only make tickets available through season ticket sales, and even then a fee – or donation – is needed to procure the right to buy the tickets.
At Ohio State, one must be a member of the President's Club or Buckeye Club. President's Club members must pay at minimum $2,500 per year. The lowest Buckeye Club membership level that allows you to purchase tickets requires an annual payment of $1,500. It's the equivalent of personal seat licenses in professional sports.
There was a time when college athletics was void of big business, advertising at every turn and coaches' salaries that make some CEOs jealous.
In January, Ohio State indicated it would raise ticket prices from $70 to $79 and institute premium game pricing, allowing the university to charge as much as $175. In 2013 only one game – Wisconsin – is designated as a marquee game, with a price tag of $110.
Charging more for games against better teams is not foreign to college football. Teams have used pricing structures for years. But it came to Buckeye fans combined with a dramatic increase in single-game prices, triggering severe blowback. It was to be expected, though, as athletic council chairman Charlie Wilson told Eleven Warriors in January.
But Ohio State had the justifications lined up: it was leaving money on the table and it's necessary when you have 36 varsity sports. An outside consulting firm discovered Ohio State could create $40 to $60 million in revenue with a majority coming from ticket sales and pricing.
"We haven't raised tickets prices the last three years," athletic director Gene Smith said. "Looking ahead into our financial plan, we knew at some point we would have to do this."
Fans didn't talk much with their pocketbooks, however. Season ticket renewal rates were sky high and one year after students and alumni failed to purchase all available tickets, a waiting list could have been created. When attendance sags, theories follow soon after to decipher why fans would opt not to cheer on their favorite team, often their alma mater, on picturesque campuses with friends and family.
Poor cell phone service, the inconvenience of losing an entire day, secondary ticket market and the lack of quality opponents all factor in. Venues with a large number of attendees have long been a black hole for cell phone service. For young fans, it's an annoyance on par with sitting next to a baby on an airplane.
"Our next generation of fans is used to staying connected," Tennessee athletic director Dave Hart told CBS Sports. "They should be able to communicate in real time with somebody on the other side of the stadium. It's quite an investment but we have to make it."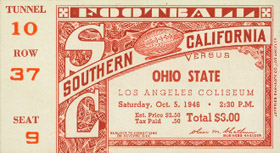 During the offseason, Ohio State has taken measures to improve cell phone reception. Other schools now have policies that permit fans to bring in tablets and laptop computers to games.
StubHub, eBay and ticket brokers have allowed fans to cash in on their tickets or skip season tickets altogether. Instead, they can go to the big games and decline watching an overmatched non-conference opponent lose by seven touchdowns. It's also provided a cheap alternative for bowl tickets. But schools view the secondary market as one of the biggest evils in college sports. Some see it as a double standard.
"I think the university is trying to carve a little more money out for themselves, which is something they've already started to do," Tim Louters, manager at Dublin-based Tickets Galore, said. "The secondary market is something that has been frowned upon for 30 years. In the last couple years, Ohio State has signed a deal with Ticketmaster to be the official secondary market for the Buckeyes. So the university is already starting to profit off of the secondary market, and obviously the university is always trying to get more money."
More and more, a segment of the population has been priced out of big-time college football. Louters believes it could even lead to an Ohio Stadium that isn't filled to capacity. The university thinks otherwise. In May, Ohio State announced that more than 2,500 seats would be added to the Horseshoe. Smith said selling the additional tickets would not present a problem.
"The demand for tickets far exceeds the number available," Wilson said.
The University of Michigan will use a new pricing system this fall called "dynamic ticketing," where single-game prices are based on market value. It's similar to what airlines use. The Akron game will start out at $65, while Notre Dame ($195) and Ohio State ($175) will be substantially higher.
Still, it's the experience that trumps all other influences. The events on a Saturday in the fall have few equals in sports. The pageantry and tradition becomes all consuming. And it's why the van is loaded up for the tailgate, even when ticket prices mount.