Ohio State's incoming freshmen are all enrolled, taking summer courses as they orient themselves with the university's academic requirements, and are all participating in summer conditioning with Mickey Marotti and his staff. While this comment in and of itself should signal that Ohio State's 2013 football season is forthcoming, the latest installment of this series profiling the incoming freshmen, Better Know A Buckeye, should whet Ohio State fans' collective appetites about the new freshmen additions to the program.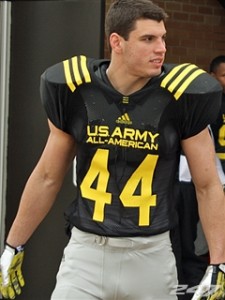 The nineteenth installment of the fifth edition of this now 24-part series profiles Mike Mitchell, a linebacker prospect from Plano, Texas. Ohio State's recruiting class has no shortage of athletic prowess. It includes guys like multi-dimensional and multi-sport, record-setting athlete Ezekiel Elliott and James Clark, who Ohio State fans may not know ran a 10.43 100m, one of the best times for any high school athlete in the country in 2012. Still, it's Mike Mitchell who may, unarguably, wear the crown of the best overall athlete in Ohio State's recruiting class.
He landed on Ohio State fans' collective radars with a dominating performance at Nike's The Opening SPARQ Combine in the summer of 2012, which came with news that he may actually commit to Ohio State that weekend. Ohio State fans would have to wait until the U.S. Army All-American Game before Mitchell pledged his signature to Ohio State on National Letter of Intent Day.
His recruitment is retold below in some detail. Thereafter, I include a breakdown of strengths and areas for improvement before including highlight film and projecting a redshirt in 2013. I conclude with some miscellaneous things about Mike Mitchell you may find interesting before concluding he is better known. I put him on the board accordingly.
Height: 6-4
Weight: 225lbs
Actual 40: 4.39
High School: Prestonwood Christian Academy; Plano, Texas
His Recruitment
Mike Mitchell's recruitment starts in earnest in the early spring of 2012. He had just recently moved to Plano, Texas from Winter Park, Florida for his junior year of high school. He had played just one season for Plano West High School before planning a transfer to Prestonwood Christian Academy for his senior year of high school. Universities in Texas and in the region were not going to be familiar with him for his football prowess. If anything, it was basketball that landed Mike Mitchell on the radar for several college football programs. Per Mike Mitchell's father, seeing Mike Mitchell dunk on guys in a high school basketball game was what led to Kevin Sumlin's program recruiting him as a college football prospect.
Several others followed suit shortly. By the first week of March, Mitchell already had offers from Baylor, Kentucky, Iowa, Iowa State, Nebraska, Southern Methodist, Texas Christian, Texas A&M, Texas Tech, Southern California, UNLV, and Washington. Ohio State and Oregon, both of which would be major players in Mike Mitchell's recruitment to the end, extended offers shortly thereafter.
There were a few programs to which Mike Mitchell briefly entertained committing during the course of his recruitment. Early in his recruitment, Mike Mitchell eyed the Texas Longhorns as the marquee program for which he, as a newly minted Texan, would love to play. He had similarly high remarks for Baylor in the early spring of 2012. Ole Miss was an early favorite in his recruitment as well. In the late summer and fall of 2012, Mike Mitchell also considered Florida State a top three interest and wanted to set up a visit. For all intents and purposes, it was a three-team race among Oklahoma, Ohio State, and Texas A&M for Mike Mitchell's signature on National Letter of Intent Day. These are three of four schools Mitchell said he was considering by October 2012 and they are given priority in the synopsis that follows.
That Mike Mitchell's recruitment made it to that point in October, let alone the U.S. Army All-American Game of January of this year, was surprising given how quickly things were unfolding in Ohio State's favor through the summer of 2012. Though Mitchell wished to attend a college close to his new home in the Dallas-Fort Worth area, it seemed less and less likely he would. His interest in Texas A&M through the summer was genuine, though his interest in Ohio State was Oregon was more pronounced.
The interest in Ohio State was particularly strong. Though Mitchell had yet to visit Columbus, Ohio, he maintained a regular relationship through electronic media with Ohio State's staff. He would routinely exchange Facebook messages. His father even quipped about how often he would walk in the door of his home and hear his son on Skype with Urban Meyer or Tom Herman, the Buckeye assistant responsible for (and very successful in) recruiting Texas. Mitchell was shrewd in how he conducted himself during interviews with various recruiting services, and maintained an interest in other programs through the summer, but the interest in Ohio State seemed really strong. That it seemed to have been building toward an early commitment to Ohio State was rather surprising.
This came to a head during Nike's SPARQ combine, known as The Opening. The Opening, set in Nike World Headquarters in Beaverton, Oregon, features some of the best high school football prospects in the country competing against each other in various athletic drills. The timing was something of a perfect storm. Ohio State fans who may not follow recruiting that closely first heard of Mike Mitchell around this time and at this combine, which was broadcast on ESPN's family of networks.
Mitchell introduced himself to Ohio State fans in style at this event. Mitchell simply crushed the competition and seemed to get better with each new drill as the event progressed. It culminated in a 4.39 (!) 40-yard dash to cement his place as SPARQ national champion in 2012. The next closest performer at the event was Alabama commit/signee Altee Tenpenny, whose score of 144.99 was a distant second to Mitchell's score of 154.47. The next closest score was another Alabama commit and signee, Derrick Henry, who finished with a score of 144.60. No one else came within ten points of Mitchell at that event or any other SPARQ combine thereafter. That Mitchell also so far outpaced two Alabama commits, who would have otherwise gone #1 and #2 in SPARQ's national champion leaderboard, also saved us all from another hubris-filled talking point from Alabama fans.
For Ohio State fans, it was even better that he seemed like such a strong Ohio State lean and could commit to the Buckeyes that weekend.
While the interest in Ohio State persisted, no decision was forthcoming. He had been trying to schedule a visit to Ohio State shortly after The Opening. That never materialized. Once again, commitment rumors started to swirl when Mike Mitchell attended the Gridiron Kings 7-on-7 event at Lake Buena Vista, Florida. Ohio State fans were disappointed when this even came and went without a verbal commitment from Mike Mitchell. The interest remained, but Mitchell again reiterated he needed to see Columbus, Ohio for himself before making that decision. Mitchell wanted to be closer to his Plano, Texas home, but would have the blessing of his parents to leave for a more distant program, like Ohio State, after he had been able to see the university for himself.
Mike Mitchell's dominating performance at The Opening, followed by his showing at Gridiron Kings, was bound to increase his appeal to several programs closer to his home. The one program that renewed and intensified its recruitment of Mitchell was Oklahoma. Mitchell and Oklahoma's coaches lost contact with each other when Brent Venables left Oklahoma for Clemson, but the offer was back on the table from Oklahoma by August 8th. He took an unofficial visit to Oklahoma three days later. The visit left quite the impression. Mitchell enjoyed his chat with Oklahoma offensive lineman Austin Woods, whose bout with cancer became a rallying cry for the Sooners' program. The big lure of Oklahoma, beyond its depth chart and marquee football program status, was the issue of distance. Mitchell wanted to be closer to home. Norman, Oklahoma is just three hours north on I-35 from Plano, Texas. Columbus, Ohio is a plane flight or an all-day drive.
The visit went so well that Mitchell scheduled Oklahoma as his first official visit, which took place on October 13th. This was the weekend of the Red River Rivalry game against Texas in the Cotton Bowl. The nature of that game, a 63-21 humiliating blowout of the Longhorns on national television, impressed Mitchell. He had nice things to say about how Oklahoma's defense had taken away Texas' running game. While Mitchell genuinely enjoyed his visit, nothing he said was effusive or glowing. He looked forward to taking more official visits.
He visited Texas A&M the next week for A&M's game against Louisiana State. The visit allowed Mitchell to see Texas A&M's game atmosphere, which impressed Mitchell. The nature of the contest itself also impressed Mitchell. Though the Aggies lost the game against Louisiana State, they were competitive even in defeat. It opened the eyes of Mitchell, who, like many analysts, expected that Texas A&M would struggle to compete in the Southeastern Conference. Mitchell did not get a lot of one-on-one time with Kevin Sumlin, but he did get to talk with Texas A&M's linebackers coach, Matt Wallerstedt. In this conversation, Wallerstedt reiterated A&M's need for linebackers and how Mitchell would thrive for the Aggies' defense, even in nickel situations.
Still, Mitchell had yet to schedule a visit to Ohio State. This visit loomed large. Even as Mitchell entertained other opportunities, like those at Texas A&M and Oklahoma, his interest in Ohio State never wavered. When asked by a recruiting analyst after one of his high school football games to give a top three, Mitchell mentioned Ohio State first. As good as Mitchell was at choosing his words wisely when pressed by recruiting analysts, this is usually an informative signal of interest, provided the setting and recruiting analyst are neutral (as it was in this occasion). All that was left was for Mike Mitchell to actually schedule the official visit to Ohio State, which would be his first visit to the university that seemed to always lead for his signature on National Letter of Intent Day.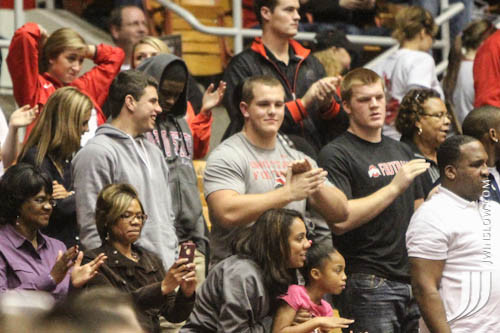 The visit actually came on the weekend of December 7-8, 2012. It was preceded by an in-home visit from Tom Herman and Luke Fickell the previous week. By all accounts, the visit was a blast and everything Mitchell would have wanted and anticipated when trying to schedule that visit in July.
One of the first orders of business was to attend the 12-0 celebration that Ohio State's football program had created for the weekend. At this visit, he was photographed in the stands, taking in the festivities, and in the company of future teammates Billy Price, Evan Lisle, and Gareon Conley (with Amy Halpin and the Elliott family in tow).
The visit included several other events. Importantly, Mitchell met with coaches and academic advisers. He also attended the Ohio State basketball game against Long Beach State that same weekend. When Mitchell was able to find time to call his dad about the visit, he could only muster the energy to describe the weekend as "crazy". The weekend had worn him out, but in a good way.
Not long after the visit, Mike Mitchell seemed to know where he wanted to go. All projections pointed to Ohio State. He announced that his decision would come during the U.S. Army All-American Game. Despite some reluctance over whether he is 100% ready, he seemed essentially certain of his choice. He talked about Ohio State with Eleven Warriors on the eve of his commitment.
His Commitment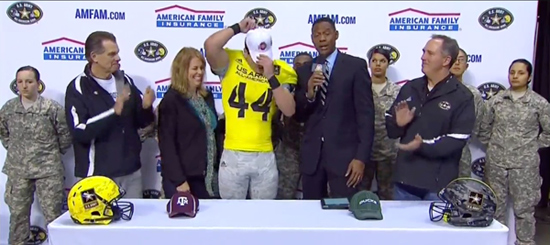 During the U.S. Army All-American Game, Mike Mitchell ended the suspense and selected an Ohio State cap off a white table. He committed to Ohio State over other offers, choosing Ohio State over offers from Oklahoma and Texas A&M, among others.
Eleven Warriors interviewed Mike Mitchell after his decision was made to ask him why he selected the Buckeyes.
What was the overriding factor that made you choose Ohio State over Texas A&M?

All three of the schools I had out there were great programs (Ohio State, Texas A&M and Oregon) and have great coaches and great facilities. Anywhere you would have gone would have been awesome. It mostly came down to where I felt I fit in best and was most comfortable. Ohio State was that school I felt comfortable at and felt I belonged.

 

Ohio State lost two starting linebackers from the 2012 team and didn't have much depth either. How much did that play in your decision?

It's a good opportunity (because I can possibly play as a freshman). You want to be smart about your decision, and I felt that was the best opportunity.

 

The Buckeyes were the leader in your clubhouse throughout the recruiting process. How important was your official visit in December?

You could say it sealed the deal. I knew it was a great school and that just confirmed all the thoughts I had about it.
His commitment was the nineteenth of the recruiting class and followed the commitment of Trey Johnson by a day. With his commitment and eventual signature on National Letter of Intent Day, Ohio State got the Rivals #1 prospect from Texas and a 5-star recruit.
Where He Excels
The obvious comment to make here is that Mike Mitchell's excellence in athletics makes me feel very inadequate by comparison. Ohio State signed Ezekiel Elliott, who a record-setting athlete from St. Louis who has won big in football, basketball, and track and field. It also signed James Clark, whose 10.43 100m time as a junior was one of the best times of any athlete in the entire country. To date, this Better Know A Buckeye series has said very little of Dontre Wilson, whose best 200m time as a junior (21.15) was one of the best times of any athlete in the country as well. That's no shortage of eye-opening talent that Ohio State signed in 2013, and Mike Mitchell might wear the crown as most athletic of them all.
Here's one such metric to express his athleticism, beyond reference to his SPARQ national championship in 2012. At the TAPPS State Track & Field Championships held this May, Mitchell finished third in his alphanumeric designation (5A) with a 100m time of 10.95 while running with a 6-4 and 225lb frame. Ezekiel Elliott won a Missouri State Track & Field Championship to go with St. Louis' distinction of Male Athlete of the Year with a 100m time of 11.03. Mitchell beat him. That 10.95 for Mitchell would even beat Dontre Wilson's times from when he was a sophomore, though it appears Wilson focused more on 200m as an upperclassmen.
However, being a linebacker for a major college football program is more than being a workout warrior. Mitchell's athleticism and frame project well on the football field. He's not shy of using the full force of his size and speed to collide with ball carriers. At 6-4 and 225lbs, with the possibility of playing, and playing well, at 240-245lbs, Mitchell could thrive at a middle linebacker position. He's also athletic enough to play well as an outside linebacker and remain on the field in nickel situations.
Must Work On​
Mike Mitchell spent a lot of time just being the best athlete on the football field. This meant a lot of time playing running back, and some time even playing tight end and rush end. It's unclear just how much of a "linebacker" he really is at the moment.
This is really the universal knock on Mike Mitchell from recruiting analysts who otherwise marvel at his athleticism. Mitchell only started playing football, at any level, in eighth grade. This lends itself to the ubiquitous "raw" label for Mitchell. You'll see this in his attempts at pass coverage. He doesn't demonstrate much confidence in his drops at all.
This leads to another commentary on his football "instincts", which may be underdeveloped. His "react" is still phenomenal and his athleticism allows him a margin of error. However, his "read" needs to be developed to better complement his "react". This is really his goal at Ohio State: to go from athlete to linebacker.
It may be worth underlining those sentences just to curb Ohio State fans' collective enthusiasm to see Mike Mitchell play as a freshman. Observers have also praised Mike Mitchell for being a fast learner and very attentive to coaching. His immediate success is really contingent on just how fast he can learn. If he can learn his role quickly, his athleticism may make him the second coming of Andy Katzenmoyer for Ohio State football fans. His ceiling is very high.
Highlights​
Senior year.
Redshirt?​
All else equal: no. Whatever comment can be made about Mitchell's nascent development as a linebacker won't be generalizable to special teams duties. The task of a kickoff team gunner is fairly simple: stay in your lane and make everyone in your path wish they weren't born. At a bare minimum, Mitchell is on special teams and might even be a standout.
Miscellany
Oregon was also strongly considered in his recruitment. However, he never took an official visit to Oregon and his interest waned when it became apparent that Chip Kelly was not long for college football.
Mike Mitchell has eight siblings.
His younger brother, Mickey, is a top small/power forward prospect in the 2015 recruiting class. Here's a feature on them both that focuses more on Mickey. Thad Matta is interested.
Mickey Mitchell also plays football. He's the Prestonwood Christian Academy quarterback you see in his highlight films.
Here is footage of Mike and Mickey Mitchell playing middle school football, which probably wasn't fair.
Julius Randle, one of Kentucky's star recruits in its 2013 basketball class, is from the same high school.
Dad, Ken, played at UNLV and is still in the record books for most single-season sacks. Ken Mitchell played briefly for the Atlanta Falcons. He is the first person to climb Mount Everest after knee replacement surgery. I'm not making that up.
Here's a background story on Mitchell and his family you should just read for yourself.
As a senior, Mitchell had 186 tackles, 11 sacks, 32 TFLs and forced seven fumbles. He also blocked three punts and even contributed a 99 yard kickoff return for a touchdown.
I think Mike Mitchell is better known.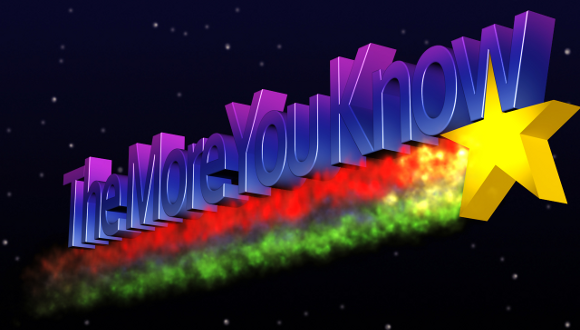 ---
Let's put him on the board.
| Name | POS | Ht | Wt | Hometown | Committed | Better Known |
| --- | --- | --- | --- | --- | --- | --- |
| Cameron Burrows | DB | 5'11 | 200 | Trotwood, OH | 01.19.12 | 02.19.13 |
| Jalin Marshall | WR | 5'11 | 196 | Middletown, OH | 01.30.12 | 02.26.13 |
| Billy Price | DT | 6'4 | 300 | Austintown, OH | 02.13.12 | 03.05.13 |
| Eli Apple | DB | 6-1 | 188 | Voorhees, NJ | 02.16.12 | 03.12.13 |
| Evan Lisle | OL | 6-5 | 280 | Centerville, OH | 02.28.12 | 03.19.13 |
| Jayme Thompson | S | 6-2 | 184 | Toledo, OH | 04.01.12 | 03.26.13 |
| Ezekiel Elliott | RB | 6-0 | 195 | St. Louis, MO | 04.01.12 | 04.02.13 |
| Marcus Baugh | TE | 6-4 | 233 | Riverside, CA | 04.10.12 | 04.09.13 |
| Tracy Sprinkle | DE | 6-3 | 255 | Elyria, OH | 04.17.12 | 04.17.13 |
| J.T. Barrett | QB | 6-1 | 230 | Wichita Falls, TX | 04.18.12 | 04.24.13 |
| Joey Bosa | DE | 6-5 | 270 | Ft. Lauderdale, FL | 04.23.12 | 05.01.13 |
| Darron Lee | ATH | 6-3 | 205 | New Albany, OH | 06.26.12 | 05.08.13 |
| Michael Hill | DT | 6-3 | 315 | Pendleton, SC | 06.27.12 | 05.15.13 |
| Timothy Gardner | OL | 6-5 | 310 | Indianapolis, IN | 07.28.12 | 05.22.13 |
| Tyquan Lewis | DE | 6-3 | 237 | Tarboro, NC | 09.20.12 | 05.29.13 |
| Gareon Conley | CB | 6-1 | 180 | Massillon, OH | 12.07.12 | 06.05.13 |
| Donovan Munger | DT | 6-4 | 285 | Shaker Heights, OH | 12.09.12 | 06.12.13 |
| Trey Johnson | LB | 6-2 | 225 | Lawrenceville, GA | 01.04.13 | 06.19.13 |
| Mike Mitchell | LB | 6-4 | 225 | Plano, TX | 01.05.13 | 06.26.13 |