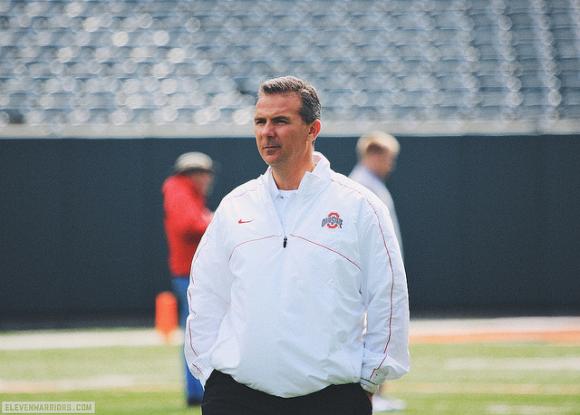 The dog days of summer are nearing. Fear not, though, Ohio State takes the field in 67 days for the season opener versus Buffalo. For teams around the country, this is the time that strength coaches operate the program. With coaching restrictions, the head coach and assistants aren't allowed to have on-field contact with their players.
For Urban Meyer and the Buckeyes, having Mickey Marotti in charge is A-OK. And the reports Meyer has received have him nodding his head in approval.
Meyer, along with former Ohio State athletes Kirk Herbstreit, Clark Kellogg, Eddie George and Chris Spielman, was one of the keynote speakers at the Greater Columbus Sports Commission's annual Morning Sports Report on Tuesday at the Ohio Union. Following the event, Meyer met with reporters to answer a series of questions.
On the summer conditioning and drills:
"I've heard all positives. I trust my strength coach, we've been together a long time, and I love my players. It's going really well."
On the freshmen:
"(I've heard) real positive things about the freshmen. We're fast, which is something I wanted to be. I wanted to get more speed on offense in particular. I'm hearing great things about them."
On injuries:
"Kenny Guiton injured his hand, but I don't know how serious it is. I'm going to find out. You just always worry (about injuries). You remember last year we lost Jordan hall for six weeks."
On entering Year 2 at Ohio State:
"I feel much better. What I really feel better about is my family being settled. It was a really difficult move for my wife and my son. That means more to me than the football team. They love Columbus. They're set and ready to go. Last year at this time was not very smooth."
And that's all folks. Don't worry, though, that's just a tease. Come back at 9:30 Wednesday morning for a full recap of the Buckeyes' summer…so far.