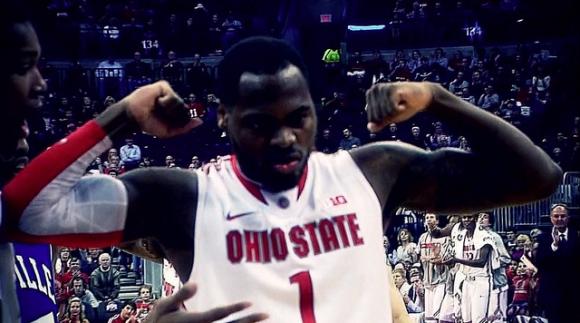 The knocks on Deshaun Thomas' game can be heard just as frequently as the sound of sneakers squeaking on a basketball court. He shoots too much, doesn't give enough effort on the defensive end and is too one-dimensional, shout the critics. Those qualities – or lack thereof – may hold some truth; Thomas once said he'd prefer 30 shots a game. But one thing is also undeniable: Deshaun Thomas is a scorer.
In high school, he scored more points than all but two players in the history of the state of Indiana. For a yearlong stretch, from the 2012 NCAA Tournament to the 2013 dance, Thomas put on a shooting display that few in Ohio State history have matched. He averaged more than 20 points per game in the Buckeyes' run to the 2012 Final Four and nearly took Ohio State back in 2013. Thomas scored a Big Ten-best 19.8 points per game during the 2012-13 season, adding 5.8 rebounds.
Still, the rumblings of an underwhelming skill set persisted. Thomas didn't help himself at the predraft combine when test results were lackluster across the board. He registered the sixth-most body fat – 9.1 percent – and his 12.94 lane-agility test time was the slowest among 51 players.
Suddenly, Thomas dipped from a possible late first-round pick to solidly in the second round. NBADraft.net currently projects Thomas as the 41st overall pick (11th of the second round) to Memphis while DraftExpress.com has Thomas going 48th to the Los Angeles Lakers. Other teams coveting Thomas' services are Detroit, Orlando, Phoenix, Washington, Portland, Indiana and New York. 
Instead of fretting about his falling stock or where he might spend the next chapter of his life, Thomas continues to solider on. His workouts have consisted of the usual sharpshooting but also a dose of defense.
"Everyone knows a guy like me can score in a lot of different ways, but I'm just trying to come out here, give the effort and have fun," he said after a workout for the Pacers.
At Ohio State, Thomas' defense was almost nonexistent his freshman season, but he realized quickly that quality defense equaled more time on the court. As his career progressed, Thomas became a team player and developed a respectable defensive game. Assists to Aaron Craft and LaQuinton Ross brought smiles to Thomas' face, while defensive stops prompted fist pumps. An ability to snare offensive rebounds as if basketballs were gold-plated nuggets also served Thomas well.
"Those are things from that perspective of just continuing to understand the whole phase of the game and how he can affect it," Ohio State head coach Thad Matta said last season.
Said Thomas: "I'm learning to do the little things. Being a leader, playing defense, going after offensive rebounds. This game is all effort. People out there know you can score, but can you do other things? Can you grab 10 rebounds? Can you get a steal? Can you box out? Can you make the hustle plays? I'm learning that it's not just all about the scoring, it's all about the effort."
DraftExpress lists Thomas among the top five in points per-possession. A low turnover rate also reflects well on Thomas. But questions about his capability of defending athletic NBA players and scoring at an elite level remain.
"Everyone knows a guy like me can score in a lot of different ways, but I'm just trying to come out here, give the effort and have fun."
Some players have an "it" factor when it comes to offense, and Thomas is one of them. He was one of those rare talents that could will his team to victory. As the Buckeyes' only reliable scoring threat for much of last season, he was still able to create shots and knock them down consistently. But where Thomas becomes even more dangerous is as a secondary option. In large part, that's how he became a sensation in the 2012 NCAA Tournament. And Thomas will find himself as a complementary piece wherever he lands in the NBA, which could bode well for himself and the franchise that selects him.
There were frustrating stretches for Thomas during his final season in Columbus, and he admitted part of it was due to being the top scoring option, a distinction that drew double teams his direction. He was already at a disadvantage with bigger players guarding him, but he used his speed to drive past them. The NBA will provide the opposite end of the spectrum – speedy and shifty defenders.
Six-foot-seven wings are a dime a dozen in the NBA. If there isn't one thing you do exceptionally well, it's easy to get lost in the shuffle. That's what Thomas hopes to avoid.
"It's just me becoming a (better) player and just knowing the game and understanding it – knowing when to make the extra pass," he said. "Freshman year, I probably wouldn't have made that pass. I would have jacked it up. It's just me learning the game and becoming an impact player and knowing there are other things than just scoring. There are other things in the game of basketball."
Statements like those are what NBA front office personnel want to hear from a rookie. When speaking to teams, Thomas made it clear he believes he can compete in the NBA and help fulfill whatever needs a team may have. When his shortcomings become a topic of conversation, Thomas is quick to assure teams he is a void filler.
Rookies and non-veterans often play different roles early in their careers. Thomas' shooting prowess could spell the same situation for the start of his NBA life. He could come off the bench and provide instant offense with his 44.5 percent shooting percentage and 34.4 percentage from 3. Those numbers combined with his size and athleticism could make Thomas the steal of the draft. 
But teams must first take what is viewed as a risk. As is the case on draft day, there are winners and losers. Grading picks is an annual practice. Five and 10 years down the road, when the 2013 draft is reexamined, Thomas could be the one that got away for many.