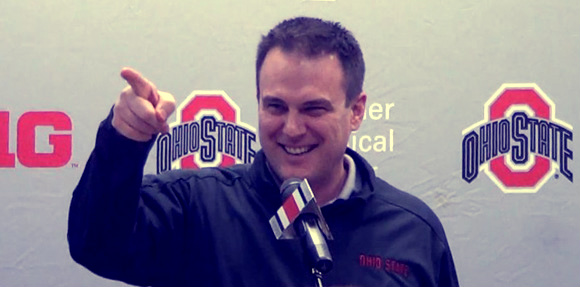 When you win at an 83 percent clip, you're bound to lose key members of your staff. It's one of the main effects of winning, and Urban Meyer knows it all too well. Still, given the option of winning championships and having staff turnover, or losing and keeping everything intact, you won't find a coach opting for the latter.
Year 1 of the Meyer Experience in Columbus received two thumbs up from all who lived it – coaches, players and fans. There is yet to be a loss, the offense and defense improved throughout the season and that all-important staff stayed whole.
With that, the expectations for the second go-round include one big target: the national championship. Accomplishing said goal could trigger a mass exodus of Buckeye assistants. Elite teams lose staff members every year when firing and hiring season arrives. Following a perfect 2012, several Ohio State assistants were rumored to be candidates for head-coaching jobs throughout the country, but none received the golden offer.
The most likely hole to fill next offseason is that of Tom Herman. The 38-year-old offensive coordinator has enjoyed a meteoric rise to coaching stardom. Nine years ago he was the wide receivers coach at San Houston State; in 2006, Herman was calling plays for then-FCS Texas State and earning $40,000 doing so; and just five seasons ago he was at Rice, far, far away from the bright lights of Ohio State or any other tradition-rich program.
But at Iowa State, Herman headed up some prolific offenses and helped tutor one of the top quarterbacks in school history. The Cyclones also had a penchant for pulling off big upsets. Meyer, a student of the game, was aware of Herman's success in far-off Ames, Iowa, and decided to take a chance on the boyish offensive coordinator/quarterbacks coach.
In a dose of irony, it was Herman who first sought out Meyer – in 2005. Herman had his first offensive coordinator job at little-known Texas State, and he needed a leg up on the competition. The team he chose to emulate was Utah, which just shocked the college football world with an undefeated season that culminated in a Fiesta Bowl triumph. That squad was led by Meyer. 
"Tom Herman has one of the bright young minds in college football," said Meyer, after hiring the whiz kid who is a member of the high IQ society, Mensa. "His philosophies are very similar to those of my own."
"Tom Herman has one of the bright young minds in college football."
Their first spring together was filled with tough love. Meyer didn't hold back, hurling insults at the offense for a month straight. Some – "clown show" and "ineffective" – became infamous. Herman and wide receivers coach Zach Smith took the brunt of the criticism. But when fall camp and the regular season commenced, the Buckeyes' offense steadily improved.
The "aha" moment came on the biggest play of the season. With Braxton Miller at the OSU Medical Center and Ohio State trailing in the closing seconds against an upset-minded Purdue team, the Buckeyes needed a two-point conversion to tie the game and force overtime. Nearly everyone on the sideline wanted Carlos Hyde to take a handoff from Kenny Guiton. Everyone except Herman.
"'Guys, it's right here. We've been practicing this for three weeks,'" he said. "'It's right here in front of me. It's our two-point play. I don't care if the O-line wants to run it. I don't care if Carlos Hyde wants to run it. This is what we've agree upon as a staff on Thursday for the last five weeks.'"
So a pass play to Jeff Heuerman was called – and converted. Ohio State won the game in overtime. 
"The sterility of the press box allows you not to get caught up in the emotion and not how big the moment is," Herman said. "I think you pick your battles as a coordinator. Had I been fighting for everything I've wanted for nine weeks, that one might not have gotten approved."
Although the Buckeyes went undefeated, Meyer and Herman met soon after the Michigan game with improvement on their minds. At the top of the list was Miller.
"Our quarterback was not the most fundamental quarterback in the country, so Tom Herman and I are going to have a talk about that," Meyer said.
The two agreed that Miller's scrambling ability would need to get better. While Miller racked up more than 1,000 rushing yards, becoming the first Meyer-coached player to do so, a majority came on designed runs. The signal caller's passing game – a C or C-, according to Meyer – was also in need of some fine-tuning.
Now making north of a half-million dollars, Herman is the guy in charge of raising Miller's 58 percent completion rate, refining his dual-threat skills and improving his snap decision-making. When you stop and realize Miller was the Big Ten's player of the year after accumulating more than 2,000 passing yards and 1,000 rushing yards all the get better talk seems out of place. But Herman expects perfection and few will outwork or outscheme him to get to the finish line.
"We are at least pleased with the progress," Herman said recently in an interview with Big Ten Network. "Satisfied isn't the right word, but we are pleased with the progress. When you take a step back, I would say we are on a very good trajectory. Would we like to be at the pinnacle? Absolutely, but we understand Rome wasn't built in a day. We are going to accelerate the process as much as we can, but we like the trajectory."
At three Texas schools and again at Iowa State, the speed and efficiency at which Herman's offenses have operated can be best described as fast, furious and expertly. The Buckeyes refer to their no-huddle up-tempo sets as "Jet." They had 10 scoring drives of less than a minute last season, 21 under two minutes and 29 under three minutes. It even drove some offensive linemen to vomit on the sidelines.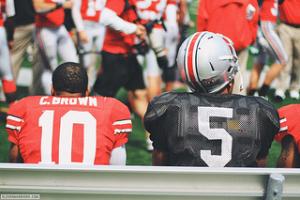 In the year prior to Herman's arrival, Ohio State offense hit a low point, ranking 107th in total yards and 81st in points per game. The Buckeyes were inside the top 50 in both categories last season, including owning the most prolific offense in the Big Ten. Their 424 yards per game average was third-most in the county.
It's no secret Miller enters 2013 as one of the Heisman Trophy front-runners. Regardless of the talent he's displayed, Miller is still only graded as a six out of 10 by Herman. But the coach does admit his quarterback could reach an 11 if everything comes together with precision.
Part of Ohio State's effectiveness could ride on whether the diamond formation meets expectations. It's the same offensive set that the San Francisco 49ers rode to the Super Bowl with quarterback Colin Kaepernick. Meyer and his offensive assistants became intrigued by the formation after watching the 49ers run roughshod over much of the league. So phone calls were exchanged, tape was examined and the Buckeyes had a new set of plays.
The formation uses an overloaded backfield with the quarterback and two running backs. It can benefit an offense in a number of ways. Defenses can concentrate on the running backs, freeing up a dual-threat quarterback to run or find an open receiver. Another option for defenders is to key on the quarterback, which can result in the running backs finding open room to roam.
Dynamic playmakers at wide receiver – something Ohio State has lacked for several years – is still a need. The Buckeyes have a horde of receivers returning, but there are also several freshmen drawing attention. The most prominent is Dontre Wilson, who was primarily a running back in high school but will likely help fill a void as a slot receiver. He's at Ohio State due to Herman's recruiting prowess, as is linebacker Mike Mitchell. Both hail from Texas, fertile recruiting ground where Herman has strong roots.
"I knew very well Tom had a background in Texas, and I knew he's a good recruiter, because I did the homework before we hired him," Meyer said. "Very good recruiter."
Said Herman: "Having been the flavor of the month, having gone 12-0, Coach Meyer's reputation and then this is one of the most storied programs in the history of college football. You can walk into Alaska and they're going to know what Ohio State is. There was immediate feedback, but certainly having coached in and recruited that area for 14 years and building the relationships helps you navigate your way through, rather than dumping a guy in there who's never been there before."
Superior offensive philosophy, the ability to mold quarterbacks into sound decision makers and yardage producers, and achieving a level of grandeur on the recruiting trail has Herman on the fast track to joining Charlie Strong and Dan Mullen as former Meyer assistants who are equally successful once they become head coaches.