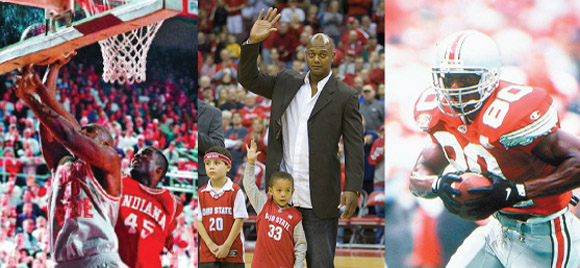 July 15, 1972 is the name of the second album by the seven-piece Japanese experimental music ensemble Taj Mahal Travellers. Coincidentally, it is also the date that Rickey Dudley was born.
Dudley was a two-sport star in his hometown of Henderson, Texas — a couple of hours east of Dallas, and not far from the borders of both Louisiana and Arkansas. He would eventually sign on to play basketball for Ohio State Head Coach Randy Ayers. And, like the Taj Mahal Travellers, Dudley would do a little experimenting of his own while in Columbus, dabbling in football with great success.
As a high school senior, Dudley averaged 20.5 points, 10.4 rebounds and 4.3 blocks per game for the Henderson High Lions basketball team. He was also the Texas 4A Player of the Year for football, playing safety and wide receiver.
At 6-foot-7 and 230 pounds, Rickey's athleticism drew the attention of many coaches around the country in more than one sport. He signed with Ohio State to play basketball in April of 1990, prompting Ayers to use one more scholarship on his incoming 1991 class than he'd anticipated.
"When a player of Rickey's talent is available, you go after him," Ayers said. "There were other schools in the Big Ten who were recruiting him, and I didn't want to play against him for the next four years."
Dudley chose Ohio State over Bob Knight and Indiana, as well as Tulsa and Louisiana Tech, where his father was involved with the hoops program. After a year of prep school at Fork Union Military Academy to improve his ACT score, Rickey enrolled at Ohio State and was a freshman on the 1991-92 basketball Buckeyes.
Freshman Year
Although he appeared in 26 games as a freshman, Rickey didn't make an immediate impact. He averaged only 1.5 points and 1.8 rebounds a game, playing a reserve role on a team that went 26-6 (15-3 in Big Ten play) and won the conference championship.
Dudley was a role player on a squad that featured All-American Jim Jackson, Chris Jent, Lawrence Funderburke, Mark Baker and Jamaal Brown. One of Ayers' deeper teams, it also featured key reserves like Jamie Skelton, Alex Davis and Bill Robinson.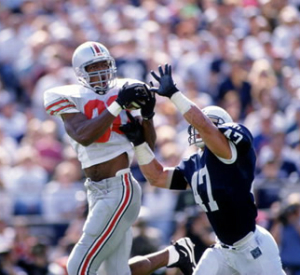 He grabbed four rebounds in 12 minutes off the bench in his first collegiate game, on November 26, 1991, a 94-61 beatdown of Miami (OH). First impressions of Dudley were of a physical specimen who would challenge shots, eat fouls to protect Funderburke and Robinson, and clean the glass.
He added five points in a win over Ohio University, including 2/2 on field goals. Rickey scored seven points in a 114-53 waxing of Howard with another 2/2 performance from the field.
Most of his play was cleanup duty and once the Big Ten schedule started, he saw fewer minutes.
He appeared in the NCAA tournament in the spring of 1992, grabbing four boards in four minutes in an 83-56 win over Mississippi Valley State at Riverfront Coliseum in Cincinnati. Rickey helped the Buckeyes reach the Sweet 16 with 17 solid minutes against UConn, scoring three points and nabbing five rebounds in a 78-55 win.
He saw 11 minutes without scoring in a win over North Carolina in Lexington, Kentucky in the Southeast Regional Semifinal. He also failed to score or register a rebound in 10 minutes in a heartbreaking 75-71 overtime loss to Michigan in the Regional Final. The NCAA later took that win away from the Wolverines, but whatevs.
Dudley finished his freshman year hitting 53% from the floor but just 57% from the stripe.
Sophomore Year
Rickey stepped into a larger role his second season in Columbus. With the departures of four starters plus part-time starter Robinson, Ayers needed his younger guys to contribute more.
Dudley appeared in 27 games, starting nine of them. He and Jamie Skelton replaced Tom Brandewie and Jimmy Ratliff in the starting lineup Dec. 28 at the Far West Classic in Portland — in an 85-77 win against Oregon State. In his first career start, Dudley posted six points and five rebounds in 19 minutes, before fouling out.
He had a breakout game the next night against Oregon, reaching double figures in both points and rebounds (12/16) for the first time in a 79-75 win. (In an interesting-yet-unrelated note, the Buckeyes haven't played either Oregon school since that season — source: OSU basketball media guide.) He backed that up with 13 points and six boards the next game against Illinois-Chicago.
The insertion of Dudley and Skelton into the starting lineup helped Ohio State ring up five straight wins before Michigan State's visit Jan. 13. That was the start of a bad stretch for Dudley and the Buckeyes. In 15 minutes of playing time, Rickey was held without a point or rebound in a 76-67 loss at Wisconsin. The Buckeyes lost six straight and Dudley slipped out of the starting lineup.
Rickey's low point ironically came in one of Ohio State's finest games of the season. The Buckeyes upset top-ranked Indiana 81-77 on Feb. 23, handing the Hoosiers their only conference loss of the year. But Dudley posted a six trillion in the game.
Ohio State finished 15-13 on the season and 8-10 in the Big Ten, slipping from first to seventh in the conference standings. The Buckeyes were invited to play in the NIT, and lost at home to Miami (OH), 56-53. Dudley played 20 minutes, scoring two points with six rebounds. He finished the season averaging five points and 4.8 rebounds per game. He was second on the team in rebounding behind Funderburke.
Junior Year
The basketball team's slide continued during the 1993-94 season. Ohio State fell to just 13-16 (6-12). The Buckeyes finished in an eighth-place tie in the B1G. It was the school's first losing season since 1976-77. The team was 10-5 at home and 2-1 at neutral sites, but just 1-10 in true road games.
Dudley started 21 games and played in 28, but his numbers dropped to 3.5 points and 3.8 rebounds per game. He blocked only five shots all season and finished third in rebounding behind Funderburke and sophomore guard/forward Derek Anderson. He shot only 37% from the field.
There weren't many highlights. He tied his career high with 13 points in a win over Pennsylvania. Rickey grabbed 12 rebounds in a loss to Marquette, but was held scoreless on numerous occasions and rarely peeked above the four-point mark. There would be no postseason for the Buckeyes.
In April of 1994, Dudley was arrested for DUI, driving on a suspended license and expired tags. He was never suspended (Brian Kelly nods and smiles knowingly), but was forced to pay a $300 fine plus court costs and enter an alcohol treatment program.
That off-season was even more notable for Dudley's decision to join the football team. He hadn't played competitive football for a couple of years, but it was becoming clear that if he had a future in professional sports, it was unlikely to be in the NBA.
Despite his layoff from the game, Rickey managed to catch nine passes for 106 yards and two touchdowns as a junior tight end for John Cooper's Buckeyes, averaging 11.8 yards per reception. He played in all 13 games, starting five. He scored his first career touchdown in a 52-0 win over Houston, and added another in a 32-17 win at Indiana. He also grabbed a two-point conversion in a lopsided loss at No. 1 Penn State.
Dudley helped the gridiron Buckeyes go 9-4 overall and 6-2 in the Big Ten, finishing second in the conference to the Nittany Lions. Rickey's athleticism on the football field was evident. He worked on his blocking and committed to getting better as a receiver.
Senior Year
The basketball Buckeyes hit their nadir of the modern era in 1994-95, finishing just 6-22, with a 2-16 mark in conference play. Ohio State ended up 10th in the 11-team Big Ten, just one game better than Northwestern. I'm still not sure how Ayers survived that year, but his tenure lasted through the 1996-97 season.
But Dudley's game improved that year. Rickey gained some consistency and averaged 13.3 points and 7.5 rebounds per game. He finished third on the team in scoring average behind Doug Etzler and Antonio Watson, and second in total rebounds to Watson (although he played nine fewer games due to football commitments). He was seeing a lot more of the court, too, averaging 35 minutes per game — a big increase over his previous three seasons.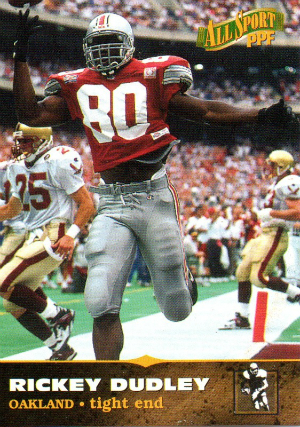 He saw his first action of the season in a 79-70 loss at Illinois, matching his career high of 13 points and grabbing seven rebounds. He set new career highs in points (16) and boards (17) in a wild 121-96 win over George Mason on Jan. 8. To illustrate how crazy that George Mason game was, Dudley even attempted a three-pointer (he missed).
Dudley reached double figures 14 more times the rest of the way, including 19 points at Northwestern and vs. Michigan State. He scored 20 points with 13 boards at Wisconsin and finished the season with a career high 22 points and nine rebounds in a loss to Illinois.
Without a postseason tournament invitation, Rickey's OSU hoops career was over. He turned his attention toward football season. When starting tight end D.J. Jones underwent open heart surgery, Dudley stepped in as his replacement.
All Dudley did in 1995 was put together one of the most outstanding seasons by a tight end in Ohio State history. He caught at least one pass in each of Ohio State's 13 games that year, finishing with 37 catches for 575 yards and seven touchdowns, averaging 15.5 yards per reception. He was third in receptions behind Terry Glenn (64) and Eddie George (47), and second in receiving yards and touchdowns to Glenn (1,411/17).
Rickey caught five passes for 97 yards against No. 12 Penn State, including a 32-yarder that set up Ohio State's winning touchdown in a 28-25 victory on Oct. 7. The Buckeyes climbed to No. 2 in the country that season before falling 31-23 at No. 18 Michigan. Dudley caught five more balls in that game.
He finished his OSU career with a five-catch, 106-yard performance in the Citrus Bowl against Tennessee. He was Ohio State's MVP for the game and scored on a 32-yard pass from Bobby Hoying to tie the game at 14 in the fourth quarter. Unfortunately, the Vols tacked on two Jeff Hall field goals to win, 20-14.
The Buckeyes finished 11-2 on the season, 10-1 in the B1G. The loss to Michigan prevented a tie with Northwestern for the conference championship.
Legacy
Rickey was a four-year letterman in basketball for Ohio State, and part of the 1992 Elite Eight squad. He won a Big Ten hoops title. He was on two second-place OSU football teams and was All-Big Ten in football his senior season . Even though he played only two seasons of football, Dudley is 11th in career receiving yards by an OSU tight end (681). He was passed for 10th by Jake Stoneburner last season.
In 1995, Dudley posted the second most receptions by a tight end in school history. His 37 grabs rank behind John Frank's 45 (1981 and 1983). He is tied for third on the school's career touchdown receptions list by a tight end (9). Not bad for two years of work after a long layoff from the sport.
His success also opened the door for fellow tight end John Lumpkin to cross over and play hoops.
The League
The Oakland Raiders made Dudley the ninth overall selection of the 1996 NFL Draft. He was the first tight end selected and ironically was selected just one pick after Michigan's Tim Biakabutuka (Carolina) and two after teammate Terry Glenn (New England).
Rickey had a nine-year NFL career, starting with five seasons in Oakland. He appeared in 80 games with the Raiders, starting 78 of them. He caught 34 passes for 386 yards and four scores as a rookie in 1996. He had his most productive NFL season in his second year, with career highs in receptions (48) and yards (787), with seven touchdowns. In both 1998 and 1999 he caught more than 30 passes for over 500 yards and posted a career high nine touchdowns in the latter season. He finished his time in Oakland in 2000, with 29 catches for 350 yards and four TDs.
After the 2000 season, Rickey returned to Ohio for a season with the Cleveland Browns. He played in only four games in 2001, starting all four, with nine receptions for 115 yards. He finished his career with three seasons in Tampa Bay, where he totaled 26 catches for 282 yards and four touchdowns in 24 games. He was a member of the Super Bowl XXXVII champions while in Tampa, along with former Buckeye punter/QB Tom Tupa. Rickey retired after the 2004 season.
His career was pretty solid by NFL standards and could have been even better had he not been prone to dropping passes at times.
After Football
Someone else may be able to fill in the blanks better than I can here, but Rickey eventually returned to Texas and opened an upscale wine bar called The Loft with hoops coach Michael Peck in the Dallas suburb of Southlake.
What Dudley accomplished at Ohio State is remarkable. Very few athletes can perform at a high level in one collegiate sport, let alone two. His story belongs on a bookshelf with a few other rare volumes in Buckeye lore.