When Cincinnati La Salle wide receiver Derek Kief committed to Alabama over Ohio State on Sunday, the Buckeyes missed out on yet another prospect from Cincinnati. To Urban Meyer, that was just a minor setback in an effort to infiltrate the 513. 
The Buckeyes have long struggled to land prospects from this region while Catholic schools such as Boston College and Notre Dame have thrived. Ohio State has dominated every other corner of the state, but no such luck in the Queen City.
The Buckeyes' roster shows just two scholarship players from Cincinnati, Adolphus Washington and Andrew Norwell. Meyer landed his first commitment from the area when Moeller's Sam Hubbard committed to Ohio State after originally committing to Notre Dame on a lacrosse scholarship. 
Since taking over as head coach, Meyer has taken steps to bolster Ohio State's recruiting efforts in Cincinnati. When building his staff, Meyer hired Kerry Coombs and Tim Hinton, both of whom had ties to the area.
Coombs was a high school coach at Colerain and coached cornerbacks at the University of Cincinnati before accepting a similar position under Meyer. Hinton coached at UC under Brian Kelly before following him to Notre Dame.
And then, two months ago, Ohio State hosted their annual spring game at Paul Brown Stadium, hoping to "plant the flag" in that region of the state.
The legwork is underway and Meyer and Co. are already looking ahead to three big Cincinnati-area prospects in the class of 2015.
LB Justin Hilliard (ST. Xavier)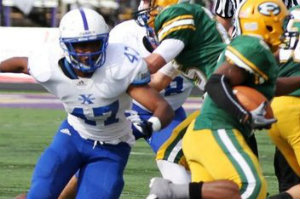 Justin Hilliard is one of the hottest junior prospects on the recruiting trail right now. He has early offers from Ohio State, Michigan, Notre Dame, Iowa, Boston College, Arkansas, Texas A&M, Oklahoma, Kentucky and almost twenty more. The Buckeyes will have fierce competition for the highly rated linebacker from St. Xavier. 
Justin's brother, C.J. Hilliard, recently committed to Iowa as a member of their 2014 class and the brothers have not ruled out the possibility of playing college ball together at Iowa. Landing Justin would be a huge coup for Kirk Ferentz and the Iowa program. 247Sport's insiders Steve Wiltfong and Gerry Hamilton currently have Justin predicted to Iowa, although it is very early. 
Another school fighting for his services is Notre Dame. The Irish have been very successful at attracting Cincinnati's top talent including former St. Xavier OL Matt James. James passed away a few years ago after a tragic accident. Our own Jeremy Birmingham currently has Justin predicted to Notre Dame on 247Sport's crystal ball. 
The 6-foot-2, 225-pounder is rated as Ohio's top prospect and the 43rd overall prospect in the nation. 247 also rates him as the fourth overall outside linebacker. He really impresses on film against some of Ohio's top competition. 
While he claims no favorites, it looks like Urban Meyer and staff will have some work to do. Notre Dame and Iowa look like two teams to watch out for. Kerry Coombs is handling the recruitment of Hilliard. 
OL/DL George Brown Jr. (Winton Woods)
George Brown. Jr is a jumbo athlete from Winton Woods HS. He attending Colerain HS, but recently transferred. Kerry Coombs was the former Colerain HC, so I'm curious if these two are familar with each other. Winton Woods' defensive line should be pretty impressive with George Brown joining Daniel Cage and Adrian Rankin.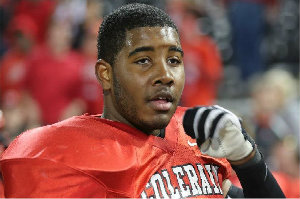 To me, George Brown Jr. looks like he could have a fit at OT. He has the frame to add the weight and save his athleticism. He currently claims to be 6'6 253 pounds. Some schools are recruiting him as a DE and some as a OT. Brown recently said in an interview that he prefers defense. 
Like Hilliard, Brown Jr. has a long offer list. He claims offers from LSU, West Virginia, Vanderbilt, Michigan State, Clemson, Baylor, Boston College, Kentucky, North Carolina, Florida, Louisville, and more. He has attended Ohio State's prospect camp in hopes of earning an offer. 
In an interview with Miles in December, George described what he is looking for in a school: "I like a good family atmosphere and a winning tradition. Also I would want to play my freshman or sophomore year."
It seems that everywhere Brown has camped, he has received an offer with the exception of Ohio State. This is definitely a name to watch closely as we move forward. Offensive line will always be important for us and Brown has the ideal frame to grow into OT. Early on it appears that he is very interested in the idea of playing down south. 
Here is some good film/video of George Brown Jr going through some drills at Clemson's football camp. With the way he can move, I can see a high-major OT if he is willing to play offense and bulk up. 
DT Elijah Taylor (Moeller)
Elijah Taylor is teammates with current Ohio State commit Sam Hubbard. It is still too early to say whether or not Taylor will earn an offer from Ohio State with Ohio State putting more of a focus on recruiting nationally, but Taylor is definitely a prospect to keep an eye on.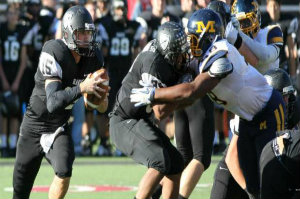 He has very good size for a junior-to-be at 6'3 275 pounds. He moves pretty well for his size and it up about 30-35 pounds from last year. He could potentially be a guy that could play SSDE or inside. 
Elijah Taylor currently has offers from West Virginia, Michigan State, Illinois, Louisville, Ohio, and Western Kentucky. He recently camped at Michigan and reportedly did pretty well. 
247Sports rates Elijah as the 137th overall player in the nation and 6th in Ohio. 14th overall DT. The first thing that stands out on his film is his ability to move for his size. He consistently got a good push against Ohio's top competition. As a sophomore he had 3.5 sacks, 35 tackles, and 2 forced fumbles. 
Michigan State appears to be the current front runner after signing Taylor's teammate, 2013 LB Shane Jones. Things could change if an Ohio State or another bigger school decides to extend a scholarship offer. 
---
Time will tell if Taylor and Brown Jr. will get offers from Ohio State. In the interim, it looks like Ohio State still has work to do in Cincinnati if they want to reverse the recent trend of top prospects going elsewhere. Derek Kief recently committed to Alabama and it's looking like Ohio State might have a uphill battle for the services of 2015 OLB Justin Hilliard.