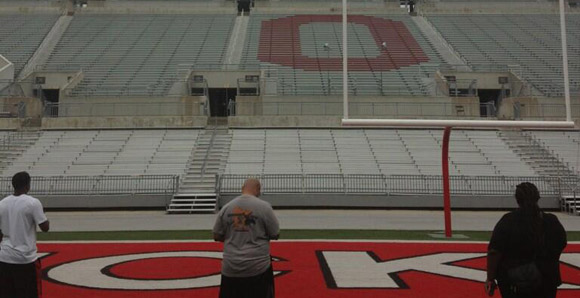 The gray box returns and this is a big one.
Norfolk (Va.) Lake Taylor High School defensive end Jalyn Holmes, who spent the last two days at Ohio State, has committed to Ohio State, becoming the 11th member of the 2014 class. The announcement of Holmes' commitment is not a surprise — his unofficial decision was unfortunately leaked yesterday — but tonight he made it official. 
Thought to be a strong Florida State "lean," Holmes becomes the second defensive lineman in the '14 class, joining Dylan Thompson in the trenches. Holmes is the fourth-ranked player in the talent-rich state of Virginia and is a consensus top-five player at defensive end. 
Zach Smith has been leading the charge on Holmes, and it's a big win for the Buckeyes' wide receiver coach as he nabs his first big Virginia fish. Holmes becomes the first Virginia native to select Ohio State since 2011, when Curtis Grant picked Ohio State. The Buckeyes have offered a number of big-time Virginia stars recently and have offers out to a handful of 2015 and 2016 players from the state as well.
Welcome aboard, Jalyn. Glad you liked the postal love.