Nebraska was very active on the recruiting trail over the past week. The Huskers picked up six of the Big Ten's eighteen commitments this week.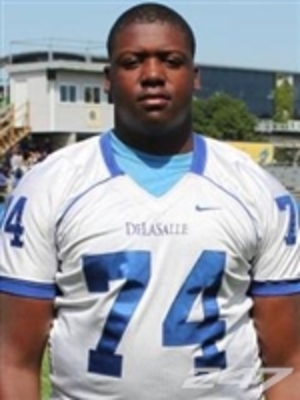 Michigan, Penn State, Northwestern, and Wisconsin were the only four teams in the Big Ten that did not gain another member for their 2014 classes. 
Nebraska made the biggest jump in the team rankings with their big weekend. The Huskers moved from 12th to 7th with the top six schools remaining the same. 
Ohio State picked up a commitment from kicker Sean Nuernberger, but remain at number two in the rankings behind Michigan. Michigan currently has a comfortable lead for the Big Ten's top spot in the recruiting rankings. 
Three Big Ten teams, Ohio State, Michigan, and Michigan State, are fighting for a commitment from highly rated OT Jamarco Jones. Jones is coming off visits from Michigan and Michigan State and is currently at Ohio State. Will Ohio State land Jamarco Jones to close the gap on Michigan? Or will Michigan distance themselves or could Michigan State shock many by landing Jones and jumping up in the rankings? It appears that we will find out on June 27th. 
Continue reading for the latest B1G Recruiting Rankings and other tidbits including Penn State possibly getting closer to landing another four star prospect. 
14. Indiana
Indiana is back in last place in this weeks recruiting rankings. The Hoosiers did pick up commitment number three this week when QB Alexander Diamont committed on the spot after being offer at camp. The California native did not have any other offers at that point. Diamont threw for almost 3,000 yards as a Junior and appears to be a good fit for Kevin Wilson's pass happy, spread offense.
Look for Indiana to continue to struggle on the recruiting trail. Indiana just is not a place that recruits want to go to play football. Kevin Wilson has brought in some good classes by Indiana's standards but his seat has begun to get a little warm. Any recruit that commits to Indiana might have to worry about their coach being fired after the season.
13. Purdue
Purdue jumped back up to thirteen after sitting in last place for a week. First year coach Darrell Hazell doubled his number of commitments this week from rwo to four.
On Friday, Purdue was able to flip Ohio commit OG Kirk Barron to the Boilermakers. Barron, from Mishawaka, IN, also had offers from Ball State and UMass. On Saturday, Hazell picked up QB David Blough from Texas. Blough chose the Boilermakers over New Mexico State and Memphis. Blough is Purdue's second commitment from the state of Texas. 
WR Terry McLaurin continues to be one of Purdue's top targets for the 2014 class. McLaurin recently impressed at Ohio State's camp as he continues to try to earn an offer from the Buckeyes. Landing McLaurin would be a huge pickup for first year HC Darrell Hazell. 247Sport's crystal ball has McLaurin headed to Purdue at this moment.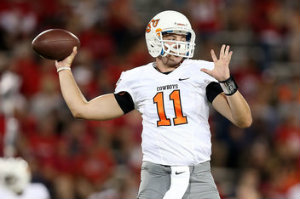 12. Minnesota
Minnesota was one of the ten teams pick up a commitment this week, but that commitment wasn't enough to prevent the Gophers from falling one spot in the rankings. 
TE Gaelin Elmore of Wisconsin decided to stay close to home by selecting Minnesota over offers from Nebraska, Wisconsin, Michigan State, Indiana, Iowa State and North Dakota. The 6-5, 238  pound tight end will give QB commit Dimonic McKinzy a big target to throw to while also being a capable blocker for 4-star RB Jeff Jones. 
Coach Kill has done a nice job finding some offensive weapons early on in this class, lead by soft-commit RB Jeff Jones. It is crucial for Coach Kill to keep Jones  committed come Signing Day. 
11. Illinois
Illinois picked up a commitment this week, but was jumped by Maryland and Nebraska. Coach Beckman picked up commitment number five when ILB Austin Roberts committed this weekend. Roberts had offers from Air Force, Army, Central Michigan, and quite a few Ivy league schools. Don't confuse this Austin Roberts with the one that Ohio State is recruiting as a WR/TE/H-Back. 
Illinois also made headlines today when Oklahoma State QB Wes Lunt announced he would be transferring to Illinois. Many would argue that he was basically forced to transfer to Illinois after Oklahoma State limited the schools he could choose. Lunt will have to sit out this season, but will be a guy to watch in 2014 for the Illini. He will have three years of eligibility. 
A solid get for Beckman after struggling on the recruiting trail. 
Note: Lunt was not factored into the rankings, but it is definitely worth noting. 
10. MARYLAND
Maryland has picked up a commitment in consecutive weeks. Yesterday, Maryland landed their first Ohio commitment of the year (and first in a while). Chardon (OH) TE Andrew Gray selected Maryland over Louisville, Ball State, Bowling Green, Toledo, Ohio, and Western Michigan. The 6-foot-4, 215-pound tight end considers himself to be more of a blocker than receiver. He had just twelve catches last season. 
It is nice to see Maryland come to Ohio to land a quality player. Maryland hasn't had a presence in Ohio, but with joining the Big Ten that could change. 
Maryland has been focused on landing hometown DE Jesse Aniebonam. Aniebonam is rated 105th overall by 247Sports and has offers from the likes of Alabama, Ohio State, Clemson, and Auburn. Keeping him in-state is a huge priority for Coach Edsall, who many consider to be on the hotseat. 247Sport's crystal ball currently has him leaning toward Maryland over Alabama. 
9. Iowa
Kirk Fertenz and Iowa continue to stay hot on the recruiting trail by landing their third commitment this month. Safety Jyaz Jones of Texas chose the Hawkeyes over Baylor, Nebraska, Texas Tech, and Colorado State. 247Sports rates Jones as a 4 star while some other services rate him as a two star. 
Fertenz welcomed QB Rafe Peavey to town this past week for a visit. Peavey, a then Arkansas soft commit, has since reaffirmed his commitment to Bret Bielema and the Arkansas Razorbacks. Ohio State was also interested in Peavey. Peavey would have been a huge get for the Hawkeyes, but it appears that Peavey will be sticking with his commitment. 
8. Wisconsin
Wisconsin was one of four teams not to land a commitment this past weekend. Wisconsin soft-commit DT Craig Evans visited Michigan State, which has some Badger fans worrying. Evans is Wisconsin's highest rated commitment in the class thus far. Of the six Wisconsin commitments, Coach Andersen is on responsible for bringing in two of them. However, he has done a good job in keeping the Badgers class intact after Bret Bielema left unexpectedly.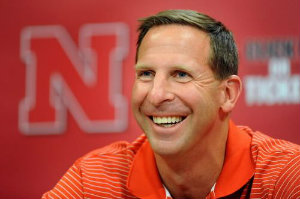 Wisconsin fans have had to listen to some smack talk from Minnesota fans after the Gophers stole a recruit right out of Wisconsin's backyard. Wisconsin fans should not be the least bit worried. 
7. Nebraska
Nebraska had a very good recruiting week by landing six commitments to help them jump five spots in the rankings. The biggest get was landing QB Zack Darlington over Ohio State, NC State, Arizona, Miss. State, and West Virginia. The Huskers also landed highly related OG D.J Foster over offers from Georgia, Iowa, Missouri, UCLA, and Vandy. 
OG Tanner Farmer chose Nebraska over Illinois, Minnesota, Missouri, and others. ATH Demornay Pierson-El surprised some when he committed to Nebraska over North Carolina. He also had offers from Wake Forest, Boston College, and Temple. CB Trai Mosley committed to the Huskers and has since added offers from SMU and Texas State. In-state DE Mick Stoltenberg chose Nebraska over Ohio and Tulsa. 
Zack Darlington was a steal for Pelini. A prospect I was very high on. He should fit in well in Nebraska's offense. 
It remains to be seen whether or not Nebraska safety commit Jason Hall will switch his commitment to Texas. Last week, Hall was offered by his hometown school, Texas. Many expect him to flip commitments soon. 
6. MICHIGAN STATE
Michigan State remains sixth in the team rankings this week. Michigan State did land a commitment from ATH Vayante Copeland from Dayton Thurgood Marshall. The RB/DB had offers from West Virginia, Louisville, Cincy, Illinois, Indiana, Minnesota, and many of the MAC schools. Copeland has the ability to play many different positions for the Spartans, anywhere from RB or WR to CB or S. 
Highly rated prospects (and OSU targets) OT Jamarco Jones and WR Jalen Brown visited this past week. Both appear to be longshots for the Spartans. The Spartans also hosted highly rated DT and Wisconsin commit Craig Evans over the past week. Evans appears to be strongly considering Michigan State. 
5. RUTGERS
Rutgers now has fourteen commitments in the 2014 class, which is the most commitments in the conference. Rutgers continues to rack up the commitments, but lack the quality of the top tier teams in the Big Ten. 
On Friday, Rutgers landed RB Robert Martin and TE George Behr. Martin had offers from Arizona, Pitt, Maryland, West Virginia and more. Ohio State showed interest in Martin early on, but the interest fell off. Rutgers second commitment came from Behr, who had no other offers, but was being actively recruited by Minnesota. The 6-5, 230-pound TE from Minnesota committed after impressing at Rutgers camp this past weekend. 
On Saturday, Rutgers picked up their second TE commitment of the week when Logan Lister of Katy, Texas chose the Scarlet Knights over Houston, UCF, and Arkansas State. 
Rutgers sits comfortably in second place in the Big East rankings according to 247Sports, but is fifth in our B1G rankings. 
4. Northwestern
Northwestern will sit in fourth for a second straight week after failing to add a commitment this week. Northwestern and Penn State are not too far apart in terms of these rankings. 
I don't believe this recruiting success is a fluke. Pat Fitzgerald has this Northwestern program going in the right direction. Northwestern's planned 220 million dollar facility should only help recruiting as well.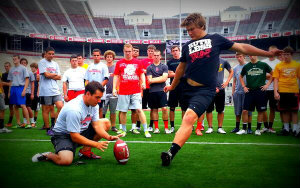 3. Penn State
Penn State remains third in this weeks rankings. No new commitments for the Nittany Lions. 
Internet chatter is that Penn State could be close to landing 4-star DB Troy Vincent Jr. by the end of the month. Vincent has offers from Maryland, North Carolina, Wisconsin, Pitt, Cal, Michigan, Michigan State, and many more. Many expected Penn State to struggle on the recruiting trail after the harsh penalties from the Jerry Sandusky case. That hasn't been the case so far. While Penn State will be limited scholarship wise, Bill O'Brien has been able to land some highly rated prospects. 
We will see if Penn State will be able to keep Bill O'Brien and whether or not he'll be able to keep up the excellent recruiting he has done under the tough circumstances. 
2. OHIO STATE
Ohio State picked up a commitment this week, but missed out on a few targets as well. Kicker Sean Nuernberger earned an offer at camp and committed on the spot this week. He will attempt to be a four year kicker for the Buckeyes. 
Ohio State fans received some disappointing news yesterday when WR Derek Kief committed to Alabama over Ohio State and Kentucky . This has lead to some fans questioning WR coach Zach Smith's recruiting ability and inability to land top recruits. It is too early to panic as we still have eight months until Signing Day and the Buckeyes appear to be in good shape for many of the top guys on their board. Ohio State also missed out on QB Zack Darlington when he committed to Nebraska. The QB recruiting picture is very fuzzy and it remains to be seen who Urban Meyer will take as a QB in this class. QB Stephen Collier from Georgia could be a name to watch. He performed well at Ohio State's camp recently. 
Numerous top 2014 targets including Jamarco Jones, TE/H-Back Austin Roberts, and DL Derek Barnett will be on campus this week for visits. Ohio State appears to be major players for all three of these recruits. Ohio State is the perceived leader for Jamarco Jones who plans to announce on June 27th. 
1. MICHIGAN
Michigan did not receive a new commitment this week, but remains atop our rankings. In 247Sports.com Team Recruiting Rankings, Michigan is now ranked fourth after being jumped by Texas and Alabama. 
Brady Hoke and Michigan hosted Ohio State target OT Jamarco Jones this weekend for a visit before he decides on June 27th. Ohio State was the perceived favorite going into the visits and it has yet to be seen whether or not Michigan did enough to change that. Jones is currently visiting Ohio State today. 
In a surprising move, Da'Shawn Hand eliminated Virginia Tech from consideration. What many thought was a Michigan/Virginia Tech battle has turned into a Michigan/Alabama battle. 
Michigan is off to a great start with the 2014 class and the current buzz is that they are sitting good with some of their top targets. Look for Michigan to close strong.
Rankings Overview
| No. | School | Commits | Scout ★ AVG | Rivals ★ AVG | 247 ★ AVG | ESPN ★ AVG | Overall Avg |
| --- | --- | --- | --- | --- | --- | --- | --- |
| 1 | Michigan | 11 | 3.55 | 3.55 | 3.82 | 4.00 | 3.73 |
| 2 | Ohio State | 10 | 3.60 | 3.56 | 3.89 | 3.56 | 3.65 |
| 3 | Penn State | 11 | 3.27 | 3.18 | 3.36 | 3.67 | 3.37 |
| 4 | Northwestern | 11 | 3.20 | 3.27 | 3.36 | 3.60 | 3.36 |
| 5 | Rutgers | 14 | 3.00 | 2.85 | 2.92 | 3.08 | 2.96 |
| 6 | Michigan State | 9 | 3.33 | 3.22 | 3.33 | 3.38 | 3.32 |
| 7 | Nebraska  | 9 | 3.00 | 2.88 | 2.75 | 3.50 | 3.03 |
| 8 | Wisconsin | 6 | 3.67 | 3.17 | 3.50 | 3.40 | 3.44 |
| 9 | Iowa | 6 | 3.17 | 3.17 | 3.50 | 3.50 | 3.34 |
| 10 | Maryland | 5 | 3.00 | 2.80 | 3.33 | 3.67 | 3.20 |
| 11 | Illinois | 5 | 3.00 | 2.80 | 3.00 | 3.00 | 2.95 |
| 12 | Minnesota | 4 | 3.25 | 3.00 | 3.25 | 2.75 | 3.06 |
| 13 | Purdue | 4 | 3.00 | 2.25 | 2.75 | 3.00 | 2.75 |
| 14 | Indiana | 3 | 3.00 | 3.00 | 3.00 | 3.00 | 3.00 |