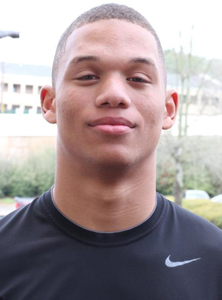 Well, things are changing.
Next week the Buckeyes were scheduled to host Apopka (Fla.) QB Zack Darlington and Bolivar (Mo.) QB and Arkansas commit Rafe Peavey as they continue their pursuit of a 2014 signal caller.
Today, Darlington committed (as I thought he would) to Nebraska when he got back in the country from a mission he was on, and Peavey unexpectedly reconfirmed his commitment to Arkansas and cancelled his upcoming visit to Ohio State's camp. So the Buckeyes "struck out" on seeing both guys to determine if they'd earn an offer.
Where does this leave Ohio State?
Let's take a look.
The first option is still Brandon Harris. Alabama received a commitment tonight from top-ranked QB David Cornwell, essentially removing themselves from Harris' list. The Buckeyes, LSU and Auburn still remain near the top of the dual-threat's list and while I still think it's unlikely that Harris leaves the south, he told me tonight that the Buckeyes are a real option for him. He insists that he will not be pressured to stay "South" and that anyone who says he is doesn't "know what they are talking about."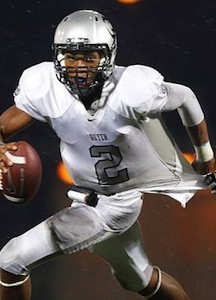 If Harris ends up staying in the SEC, the Buckeyes then are likely to turn to Leesburg (Ga.) Elite 11 QB Stephen Collier. Collier is big, strong-armed QB that is not quite as mobile as the Buckeyes would like, but he's incredibly smart and coachable and is a player that is a viable option down the road. He's an Elite 11 QB and a late-riser, but Ohio State's been very high on him from the first time they watched him two months ago. The staff at OSU is very fond of Collier and his family as people, and that's something that does weigh into their considerations.
After Collier, it's anyone's guess. There will certainly be new names that enter the conversation, but if Harris/Collier end up elsewhere, the Buckeyes might be willing to play the waiting game and see if Jerrod Heard or DeShaun Watson suddenly become a viable option in December because of coaching staff changes.
There's a number of good quarterbacks from the Ohio area, like DeShone Kizer, Chris Durkin, Drew Barker and more that would have all been considered Buckeye "locks" if they had received offers earlier in the cycle, but all three of those players are committed (Notre Dame, Michigan State, and Kentucky) and will not be swayed by Ohio State.
So, in essence, stay tuned.