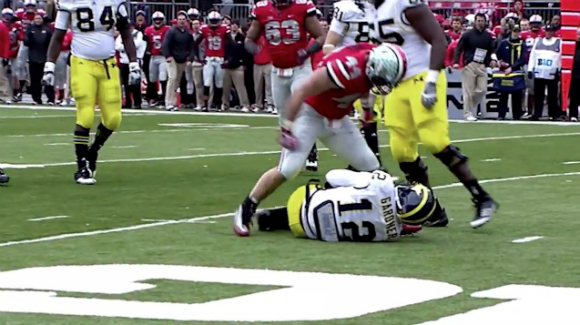 Everyone knows about Ohio State vs. Michigan. We are admittedly biased here, but it's the greatest rivalry in all of sport and this is indisputable because, science.
Aside from That Team Up North, how do the other teams stack up in terms of your aggression and hate? Most would agree that Wisconsin is next in line. There has been a beautiful animosity brewing between the Buckeyes and Badgers across both football and basketball in recent years. This has sufficiently placed Wisconsin in that coveted No. 2 most hated slot.
But then what? Who comes next? There must be some kind of hierarchy in place to let these other schools know just how much or how little they matter to us, right? We should put them down in writing with numerical values next to them, like some kind of….well, a list.
We've already got first and second covered. So let's start with those.
1. Michigan
The Wolverines will always be the team we hate the most. We have songs and chants about them. We don't care if they're winless or undefeated.
The Game always matters and it always matters more than any other regular season game. The rest of the B1G can try all they like, but it will be extremely difficult to supplant Michigan as the team we love to hate the most.
This rivalry has everything. It's a border war. The teams both focus recruiting efforts on the same home turf (Ohio, naturally). Numerous meetings have decided the B1G's Rose Bowl representative. The Ten Year War happened. There's just so much history that one of the teams would have to have an extended period of Minnesotism to really soften it.
Hate level: Maximum. We could not hate them more. We have reached critical hate. If we were Cleveland, Michigan would be LeBron announcing he's jilting us for Miami and Art Modell moving the Browns, all in one.
2. Wisconsin
Is it the last several years of being subjected to the magic invisible-to-officials holding of Badger linemen? Bret Bielema's face? The additional stuff that hoops coach Bo Ryan has added to the mix? Is it simply the quality of play that's made Wisconsin a threat in the conference? Just what is it about this team that is so utterly hateable?
It's probably all of those things. In addition, the Badgers were a thorn in our side even before they became decent. Some difficulties with Wisconsin started back in the Earle Bruce era, which made them irritating. But then their program improved and they suddenly made the jump from current Purdue levels to something just shy of Michigan. It will be interesting to see how this rivalry develops under a less punchable coach.
Hate level: Justin Bieber. If Wisconsin were a pop hit that just came on the radio, we'd pull a hammy scrambling to turn it off. Then we'd still feel dirty enough to warrant a shower. And we'd take that shower and drink a beer while doing so because, mmmm...shower beer.
3. Penn State
Some Buckeye fans hate Penn State for a variety of reasons, which mostly boil down to personal experiences with, or media stories about, Nittany Lions fans. Who could ever forget the story about the bags of urine being hurled at the OSU band?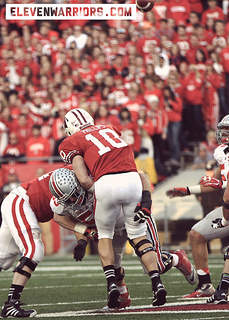 The Jerry Sandusky scandal revealed a new level of Pennsanity between the Joe Paterno apologists and the message board vitriol over the Freeh Report. This surely turned off a lot of opposing fans. The Nitts have knocked the Buckeyes off a few times, as well, which is what a rival is supposed to do.
Still, I'm not sure this is an actual thing.
Over time, I could see Penn State becoming a pretty heated rival. But I don't think they've quite earned that status yet.
Hate level: "NAPA know-how" commercial.
4. Michigan State
The hate level drops pretty significantly after Penn State. I put Sparty above Purdue solely because of some latent irritation I have with Derrick Nix and he doesn't even play football on the football team. The building blocks are in place for a rivalry with the Spartans.
They have an ex-Ohio State assistant as a head coach. They've mouthed off about Urban Meyer, which may or may not have led to some gamesmanship shenanigans involving game film.
And the games in recent years have been close. That's usually the key ingredient in a good rivalry. Whether Mark Dantonio can maintain that level or raise it is the key to whether Sparty becomes a legitimate OSU rival or remains in the "other conference opponents" category.
Hate level: Torn fingernail and you're at work and won't get home to your nail clippers for several hours.
5. Purdue
The wizards over at the Purdue University College of Engineering have developed negativity field technology. We really don't know exactly how it works (dammit Jim, I'm a blogger, not an engineer!), but it causes Ohio State to play at levels of incredible mediocrity whenever facing the Boilermakers.
This weaponized mediocrity has already had disastrous results at Ross-Ade Stadium, and last year the brass in West Lafayette came very close to success with a new, portable version of their negativity field generator.
Urban Meyer has top men looking into countering the technology. "Who?", you ask. Top. Men.
Hate level: The Fresh Beat Band.
6. Nebraska
The new kids on the block (for now), the Cornhuskers and Buckeyes haven't had much time to build up some really good hate. For the most part, Nebraska's fans have turned out to be polite and likeable. While that in itself is somewhat irritating, the biggest reason to dislike Nebraska so far is a loss that Joe Bauserman threw into the cheap seats.
Well, that and Taylor Martinez's throwing mechanics.
Without playing the Huskers every year, it might be hard to develop a really strong rivalry with the children of the corn. But if they stay among the conference's best teams, the Buckeyes could see them in Indy, and that would be a fine opportunity to plant the seeds of discontent.
Hate level: KFC "I ate the bones" commercial.
7. Illinois
Like Purdue, the Illini have sometimes given the Buckeyes more problems than they should. Those problems are often confined to the wind tunnel called Memorial Stadium, but there was one particular game involving a fumble that wasn't called a fumble that tends to stick in my own personal craw (wherever that is).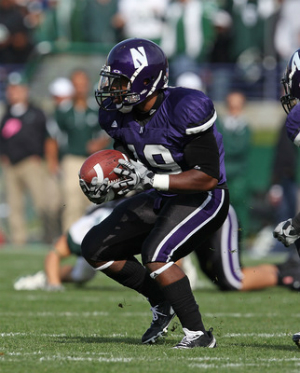 Sure, there's that whole Illibuck Trophy, but really, who cares? There hasn't been a loss to Illinois in my lifetime that has caused me any angst over that wooden turtle. Losing that trophy on top of losing the game is the same as watching your house get swallowed by a sinkhole and then noticing your car is really super dirty, and seriously, when was the last time you had it washed?
Hate level: An evening with your wife's friends from work and yep, they're talking shop.
8.  Indiana
If Kevin Wilson can continue to improve the Hoosiers, they could become a nice rival for Ohio State. This started to happen during the Bill Mallory years but never fully developed, as Indiana went back to being Indiana. Right now, the most hateable thing about Indiana is its basketball coach.
But a few close calls like last year and things could get interesting. Right now? Not so much.
Hate level: Once again, the only cheese B-Dubs put on your Buffalo chips is on the top. Once you've eaten that top layer, you're in a cheese-free zone.
9. Iowa
We haven't seen much of Iowa in recent years. From time to time, the Hawkeyes have put together a few years of strong teams. Any team that threatens to challenge for a B1G title can become a heated rival over time. Iowa's problem has been sustaining that level for extended periods.
Being in the other division won't make it any easier to build up some good, healthy hatred.
Hate level: You've got half a jar of Miracle Whip left but, doggone it, it expired yesterday and your sandwich is going to be so dry.
10. Northwestern
The Wildcats are one of the few Legends (Leaders?) Division — and soon-to-be B1G West — teams that could be on the verge of rival status. Northwestern has some game. They've had some decent teams in the past, particularly under Gary Barnett, but now Pat Fitzgerald has the Cats on the rise.
If Northwestern can finally stay at a high level, as Stanford has been doing out west, it could become an annual threat in the Big Ten race. This alone could push the Wildcats into the rival zone. But it would help if Fitz or their fan base would do something really awful to help us rally our hate.
Hate level: The Coke machine gave you your drink, but didn't give you your change.
11. Minnesota
It's pretty hard to hate Minnesota right now. They aren't threatening or offensive in the least. They could take the place of Northwestern as the team you root for because you feel sorry for them, if current trends continue.
Hate level: You've misplaced your keys, but you distinctly remember having them when you walked in the house. Well, you've got a spare set and I'm sure they'll turn up.
12. Tie: Maryland and Rutgers
OK, if truth be told, we probably hate Rutgers a little more than Maryland at this point, because the Terrapins haven't spent all spring and summer embarrassing the entire conference. But we still don't really have particularly strong loathing for either squad yet. We don't hate you. We nothing you.