Two top five recruiting classes and one undefeated season in less than two years at Ohio State.
A career dotted with unparalleled successes on and off the field; national championships, conference titles, Heisman winners, number one overall picks (from Utah!!!), and the list goes on and on.
Urban Meyer is a man who usually gets what he wants.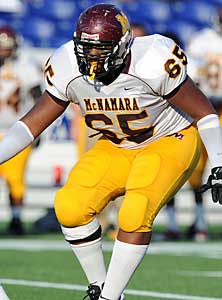 So why are the Buckeyes struggling to capture what he needs the most in the 2014 recruiting class? Why are so many offensive lineman, a position where the Buckeyes hope to land up to five players this cycle, choosing other schools? The Buckeyes failed to land a number of high-profile OL targets a year ago, and this year has seen an Ohio product, Jimmy Byrne from Ohio State stronghold St. Ignatius in Cleveland, commit to Notre Dame over the Buckeyes. Where's the disconnect? What will the Buckeyes do?
If you've followed recruiting or Urban Meyer for a while, you know there are two definitive outcomes of this frustrating situation. The first outcome is that Urban Meyer will recruit the best players for his football program, and he doesn't care (nor should he) if they are from Ohio or Lithuania, if they are committed to another school or if they don't want to even talk to the Buckeyes right now. He will keep fighting to get them on campus, he will fight to get audience with them and their parents and he will impress upon them their value to Ohio State collectively and to himself personally.
Secondarily, Urban Meyer will sign players that Urban Meyer wants. There are no reaches, there are no desperation scholarship offers. Urban Meyer would rather have 7 offensive lineman on his team that are good enough to play for — and win championships for — Ohio State than 12 offensive lineman that don't possess the attitude and abilities that he needs his offensive lineman to have.
These are the young men he's looking for to fill the positions that are soon to be vacated by outgoing seniors Jack Mewhort, Corey Linsley, Marcus Hall and Andrew Norwell. These are the guys that Ohio State is hoping will lead the way through the next five years of Buckeye football opponents. These are the best candidates to fill out the 2014 offensive line recruiting class alongside current verbal pledges Kyle Trout and Marcelys Jones.
JAMARCO JONES - CHICAGO (iL) - dE LA SALLE INSTITUTE
As far as outcomes go, this is the big one that Ohio State is going to "find out" about sooner rather than later. Jones, 6-foot-5 and 290-pounds, is scheduled to announce his commitment on June 27th. Down to a final group that includes Ohio State, Michigan and Michigan State (and to a lesser extent Notre Dame), the Chicago product has been very close to the vest about his recruitment, but he's been a long perceived "Buckeye lean," and most people in the know still seem to think the Buckeyes — who will receive his final visit — are the lead for his services. Jones would be a huge win for the Buckeyes head-to-head against Michigan and a personal notch in the belt for assistant coach Mike Vrabel, who has been at the fore of Jones' recruitment almost since day one. Prediction: Buckeye... but it's very close.
DEMETRIUS KNOX - FORT WORTH (TX) - ALL SAINTS EPISCOPAL SCHOOL
Knox, the former Texas commit, makes no bones about his love for Ohio State. He's a Buckeye fan, through and through, born and bred in the Dayton area before moving to Texas a few years ago. That does not, however, mean that he's a Buckeye "lock," but they must be considered a favorite for his signature as it stands today. He's a dominating force at guard, standing 6-foot-4 and 290 pounds and possesses great hands to go along with a nasty attitude. As much as "Meechy" is a fan of Ohio State, he may an even bigger fan of the recruiting "game," and is doing everything he can to keep people guessing about his final destination. Until recently, my gut on this one was all UCLA come February, but as of today I've got this one swinging back around to scarlet and gray; but no time soon. Prediction: Buckeye, maybe around the time of his official visit for Penn State game.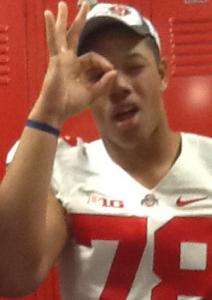 CHAD MAVETY - GARDEN CITY (NY) - nassau community college
The second-rated JUCO lineman in the country, Mavety has prototypical size for a B1G tackle at nearly 6-foot-7 and 320 pounds, and he's become one of the most sought after players at his position because of it. With offers from a who's who of elite college football programs, Mavety will start his recruiting process in earnest this weekend when he arrives at Ohio State. While he says there's "absolutely no chance" for a commitment this weekend, the visit will go a long way towards establishing the Buckeyes as the favorite to land the New Yorker. Florida State and Alabama poise the biggest threats currently to Ohio State, but the 247Sports.com Crystal Ball on Mavety is unanimous currently. Prediction: Buckeye
alex bookser - PITTSBURGH (PA) - MT. LEBANON HIGH SCHOOL
Bookser has been an incredibly difficult player to get a read on since he, like a number of offensive lineman, don't do much talking about their recruitment. He's much rather let his game talk and for Bookser, its been speaking volumes. With offers from Alabama, Ohio State, Florida State and more, Bookser will have a tough choice to make, especially as a western Pennsylvania product; do you spurn the hometown Panthers and take a leap to "bigger" football? I think ultimately that will be the case. Where Bookser ends up is another story, but he's a priority for Ohio State and a player they've liked for a while, and with every list "cutdown" he makes the Buckeyes are still involved. Prediction: Buckeye
There are a number of other high-profile players that the Buckeyes are pursuing along the offensive line, including Maryland's Damian Prince (who could very well choose Ohio State when it's all said and done), California product Damien Mama (who wants to find a way to make an Ohio State visit) and the aforementioned Eluemunor. The recent UCLA commitment reiterated to me that he's 100-percent still camping at and visiting Ohio State on the weekend of June 21st, so don't expect the Buckeyes to bow out of that one. 
Of course, the Ohio State staff is constantly looking for and evaluating other players, so don't expect this list to stay this way for long.