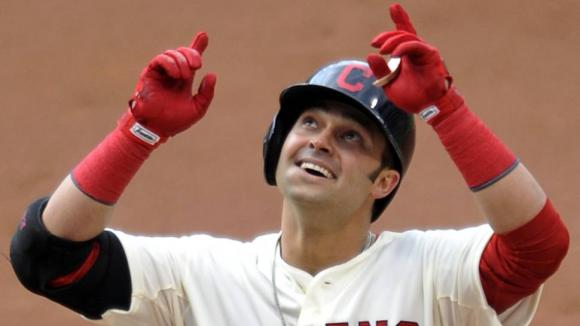 The first thing anyone notices who comes into contact with Nick Swisher is his personality. It's of the larger-than-life variety, sure to provide uplifting moments to someone stuck in the doldrums. In a 162-game baseball season, attitudes shift frequently, making Swisher's presence in the clubhouse an asset.
"He's electric," said Indians teammate Jason Giambi. "He's what you dream about for a ball club. He's always happy, always upbeat. He brings a lot of energy. The exiting part about him is it's real. He's genuine, and that's who he is."
Smiles, kindness and enthusiasm are Swisher hallmarks. Those traits have been a part of him since he was playing Little League baseball in his native West Virginia. He brought that upbeat and carefree attitude to Columbus in 2000, when he began his career at a school he loved to hate as a kid. But as Swisher tells it, "then I saw what I was missing out on and I was so happy to be a part of that."
Notre Dame was Swisher's team of choice as a youth. But his affinity for all things Ohio State began to take hold quickly. So too did his position on the team. In his first season, Swisher beat out senior captain Marcello Garofalo and justified it by hitting .299 with 10 home runs and 48 runs batted in, taking Big Ten freshman of the year honors. Still, head coach Bob Todd didn't immediately warm up to Swisher's antics.
"Bob is an old-school coach. He has a specific style and, at the end of the day, all the guys conform to the way Bob coaches," said Florida Atlantic athletic director Pat Chun, who was a longtime athletic department employee at Ohio State. "They're a mentally tough team, don't make a lot of mistakes, they have timely hitting and great pitching – that's Bob Todd baseball. That's why he's one of the most successful coaches in the game.
"Nick comes in and he has more personality than any guy Bob's ever had. That first year you knew he was the most talented kid on the field. But he beat a senior out who was a captain and one of the most respected guys on the team. It wasn't easy for Nick to come in and do his thing. Bob ran a very consistent program that developed kids and upperclassmen took the lead in the program. At first, everyone needed an adjustment period because Nick had such a unique personality."
Ultimately, though, it was that personality that drew people to Swisher and has made him a popular teammate for 10 years in Major League Baseball, from Oakland to Chicago to New York to Cleveland. His career has been played in culturally different cities and diverse locker rooms that resemble a melting pot. But Swisher's charisma cuts through managers, players, rookies and veterans.
"When I was in Oakland and he was a young player, you always heard about him," Giambi recalled of Swisher, the 16th overall pick in the 2002 draft. "He became that guy in the clubhouse that was a leader. He did the same thing in New York. Everyone feeds off him, no matter if you're having a good day or a bad day. It's hard to keep having a bad day when Swish is around. He reminds you what it's all about. That's a rare thing in this game because it can be so much me, me, I, I."
The biggest display of selflessness from Swisher, a former All-Star and World Series champion, has been his charitable giving. He and his wife, actress JoAnna Garcia, have been active in helping animal, veterans', children's and cancer charities. He founded his own charity, Swish's Wishes, that benefits children in the areas of vital medical and childhood care, education, recreational activities and other essential programs that will make a difference in a child's life. In line with his having fun spirit, Swisher enlisted other major leaguers to cover popular songs for an album that benefitted his charity.
Kids gravitate toward Swisher, who became a father on May 21 with the birth of baby girl, Emerson Jay. Whether it's Progressive Field or Minute Maid Park, he is one of the most requested players when it comes to autographs. It's not uncommon to see him sign for 30 minutes all the while grinning from ear to ear. He is also an ambassador for the Entertainment Industry Foundation Women's Cancer Fund.
During his stint for the A's, Swisher sported long hair, growing it out for nearly a year. When it came time to get a haircut, he donated it to a group that makes wigs for women with cancer. The move was symbolic for Swisher, who lost his grandmother to cancer in 2005.
For his time and efforts, Swisher was nominated for the Roberto Clemente Award, which recognizes the player who best exemplifies the game of baseball, sportsmanship, community involvement and the individual's contribution to his team. Clemente died in a place crash attempting to transport relief supplies after his native Nicaragua was devastated by an earthquake.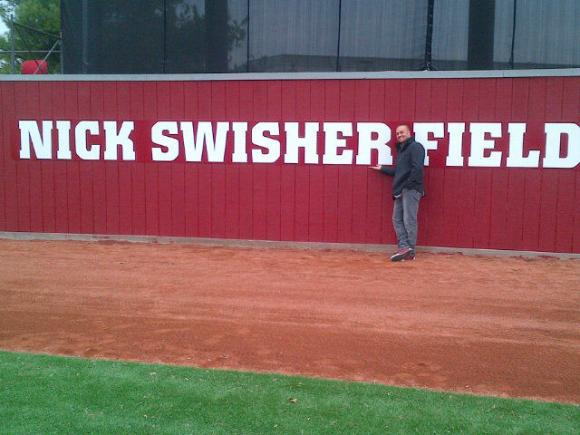 "I think of my life, I've been given so many things," Swisher said. "People have helped me out along the way. Like my grandma said, 'There are people who get it and people who don't get it.' For me, I've always been a charitable guy. I've been very fortunate to be in the spot that I am. I feel it is your duty and obligation to go out and do great things.
"You get one shot at this. When I'm dead and gone, I want people to remember me for being a good guy. Nowadays the way sports are with putting athletes on pedestals, I feel like you have to do it the right way. There are a lot of people watching. There are a lot of young kids that look up to you. Charles Barkley said he didn't want to be a role model, but I do."
Said Chun: "He's always been like that. He's just a guy with a big heart. I tell people he's one of the most consistent human beings you will ever find, because he wakes up every morning fired up to be alive. There are not a lot of people like him on this planet."
Swisher's giving hasn't been limited to charity. Thanks to a Michigan Man and the Big Ten Network, the wheels were set in motion for Swisher to help the Ohio State baseball program. As a Yankee, Swisher and Derek Jeter, a Michigan native an avid fan of the Wolverines, would rib each other about Ohio State and Michigan whenever the opportunity presented itself.
With the TV locked on BTN in the Yankee clubhouse, Bill Davis Stadium came on the screen, and what usually presented a pretty picture gave way to a chewed up piece of property. Jeter and other Yankees chided Swisher.
"That is the power of the Big Ten Network," Chun said. "Nick actually called me and asked why the field looked like crap."
Enter Greg Beals, who took over for Todd after he retired following the 2010 season. Beals attended Kent State and coached at Ball State, so he understood the disadvantages teams from the north faced. That led him to immediately starting an initiative to bring a synthetic field to Bill Davis Stadium. That way the Buckeyes would be able to play all year-round, even in the winter.
Beals also needed a beacon of light for recruits to grasp onto when considering Ohio State. The baseball program while rich in tradition is short on recent success. There hasn't been a trip to the College World Series since the '60s.
"The thing that came to my mind was making Nick Swisher the poster guy," Beals said. "You can come to Ohio State and achieve all your goals and dreams. Nick Swisher is a prime example of that. I had a huge mural of Nick put up outside the baseball office with all his accolades on it and at the top it says: Ohio State Baseball — Dreams Do Come True."
"You get one shot at this. When I'm dead and gone, I want people to remember me for being a good guy. Charles Barkley said he didn't want to be a role model, but I do."
The new coach and former player developed a fast friendship. Swisher actually served on the search committee, at the behest of athletic director Gene Smith, that centered on Beals. When Beals invited Swisher to speak to the Buckeyes in Florida during spring training a couple years ago, the answer was a no-brainer. Swisher's also been present in the clubhouse at Bill Davis Stadium.
Watching from afar, he is impressed with the level of recruiting Beals has sustained, especially the ability to attract quality out-of-state players. Swisher follows the team via an app on his phone, and he still yearns for Ohio State to complete the ultimate goal of advancing to Omaha.
"He's so genuine. He truly loves Ohio State University," Beals said. "It speaks a lot to Buckeye Nation when you can have your most celebrated baseball alum in the fold. That carries a lot of weight around when Nick's on board and believes in the program."
His belief is so strong that he donated $500,000 in 2011 to provide the baseball program with a synthetic field. The only dirt is the infield and pitcher's mound. The $1 million project was the biggest undertaking for Ohio State baseball since Bill Davis Stadium was built in the '90s.
All it took was a round of golf in Los Angeles and a conversation during lunch, and Swisher was hooked. 
"He put his head in his hands and looked up and said, 'I can't thank you enough for asking me to be a part of this,'" Beals said. "Here we are asking him for a pretty good chunk of money and he's thanking us, saying, 'I absolutely want to do this.'"
The university held a ceremony dedicating the new field during the fall of 2011, included was the unveiling of the centerfield wall that read: Nick Swisher Field at Bill Davis Stadium.
Barely 10 years after leaving his humble roots in West Virginia, Swisher had contributed enough money to have the field he starred on named after him.
"It's bad ass, bro," he said. "It's so awesome. It is surreal in a sense. Never in a million years did I think I'd have the opportunity to do that. For me to be part of the university and for them to want to be part of it as well – damn, I jumped in with both feet on that one. It just makes you feel like you're on top of the world."
The benefits for Ohio State have been innumerable in the two seasons since the change. It all leads back to Smith, Swisher and Beals, the three agents of change in regards to Buckeye baseball.
Victories and valuable recruits have ventured to Columbus during Beals' short tenure. Both have been effects of outstanding facilities. Player development is better because practice time is more plentiful.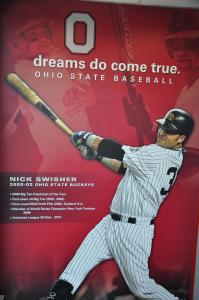 "It's a huge recruiting piece," said Chun, referencing the new all-weather field. "It gave Ohio State an advantage. You see a lot of other Big Ten schools going that way now. Greg is recruiting at a level Ohio State needs to be successful."
Beals' original vision from soon after he was hired has taken shape. Draft picks are coming through the program, just like Swisher did a decade ago. 
"Nick's character and commitment to The Ohio State University, the game of baseball, and the state of Ohio means so much to all Buckeye fans," Smith said. "For OSU baseball, his presence helps inspire our current players and sends a strong message to recruits that Buckeye baseball produces big league players."
"He's entrenched with Ohio State," Chun said. 
There was no mistaking Swisher's loyalties earlier this spring when the Indians did a Harlem Shake video, featuring him in a No. 33 James Laurinaitis jersey – or a Nick Swisher 33, as he calls it.
In expressing his excitement over receiving the uniform from the university, Swisher described his reaction as only he can.
"Man, these unis are the jam," he said, voice raised. "It was so great. I was so happy they let me do that. Obviously Ohio State is huge, especially in Cleveland. It's like a coming back party for me. To be able to represent the university the best way possible, I'm all for that."
His new signature home run celebration is Ohio State's iconic O-H. Swisher motions it as he crosses home plate. In a game full of showmen, Swisher's act is not one of one-upmanship. It's simply his way of paying homage to the Buckeyes, much to the delight of Indians fans.
"He loves Ohio State," Giambi said. "He takes a lot of pride in it, which he should."
Nick Swisher, 32-years-old, continues to go about his days with no worries, carrying the outlook of a glass not half full but overflowing with optimism. 
"You have to be you," he said. "I've always been a hyper guy. I've always enjoyed my life."