[Ed. Eleven Warriors reader, Tricia (ArTbkward), was kind enough to provide this summary of her experience at the 2013 Ohio State Football Women's Clinic, complete with photos.]
Women ruled the day at the Woody Hayes Athletic Center at the 2nd Annual Ohio State Women's Clinic on Saturday.  Coach Meyer introduced this particular football camp to the fairer sex of Ohio State last year and it's only become more popular after the first go around.  Guys, to be perfectly honest, you should be jealous because this is a fantastic event.  If you are lucky enough to have a girlfriend/fiancée/wife/mother who even remotes likes football and is in need of a birthday or anniversary gift, then your problems are solved.  Sign her (and a friend!) up for this next year and you will win serious points.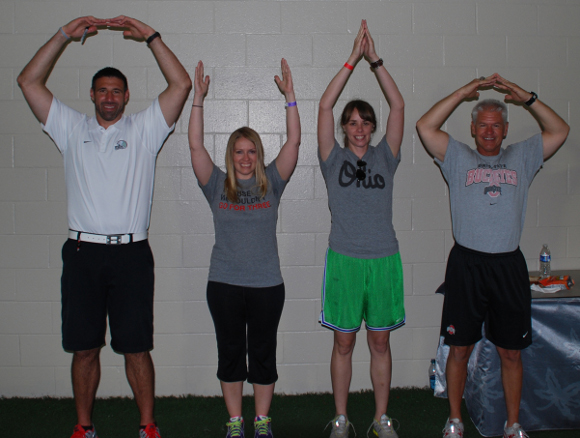 Hosted by the entertaining and charismatic, Stan Drayton, the day began with an introduction of each of the assistant coaches with the exception of Tim Hinton, who was absent.  The coaches from defense, offense and special teams each had a short presentation on their side of the ball.  The offensive and defensive presentations each used enthusiastic volunteers from the audience to represent each position. 
During Luke Fickell's portion of the defensive presentation, he asked one of his "players" what play they were running and her reply was, "You're so hot, I can't even talk right now," which brought laughs all around.  Kerry Coombs lead the special teams presentation and, as you would expect, there was a lot of yelling.  He took a more hands on approach and had a large number of women doing long snaps and punt returns with mixed results.
Next up was a new portion to the Women's Clinic which was an open Q&A with six current players which included Chase Farris, Curtis Grant, Warren Ball, Bradley Roby, Drew Basil and Jamie Wood.  These guys were good sports because the questions certainly ran the gamut.  They were asked everything from if they would show of their six-pack (Roby complied) to what their moms mean to them, which was touching especially for Ball whose mom was in the audience.  Farris danced to Stan Drayton beat boxing, we learned that outside of football Basil really likes bowling and after a game you're likely to find Grant at Raising Canes.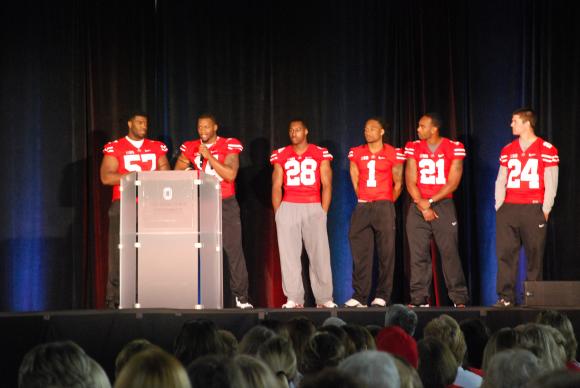 Shelley Meyer gave a short speech promoting the Buckeye Cruise for Cancer.  She did a good job because later they auctioned off an ocean front room for two and the winning bid brought in a whopping $4000 with the proceeds going to The James and cancer research. 
The graduate assistants hosted – or were forced into – a dance off.  Either way, the results were entertaining.  One graduate assistant recruited backup dancers to do the electric slide with him, which saw one lady dance right off the back of the stage and thankfully she was okay. We also saw the cupid shuffle with a back flip, swing dance and a solo hip-hop dance. Anthony Schlegel presented a short session on weight lifting, which mostly consisted of him using the word "sassy" and having his shirt removed.   Lunch followed along with more opportunities to get photos with the coaches and players.
The afternoon brought around the main event: Coach Meyer's presentation followed by football drills and the WHAC tour.  He praised his 2012 senior class for not only their 12-0 record, but also their love of Ohio State and for each other.  They all could have left to play in a bowl game elsewhere, and without really knowing the coaching staff, chose to stay anyway, which Meyer reiterated several times.  In the unlikely event that anyone was feeling drowsy after lunch, Meyer coached us on the correct football position.  After a few minutes of squatting while pulling back the shoulders, he had the quads burning of just about every lady in attendance.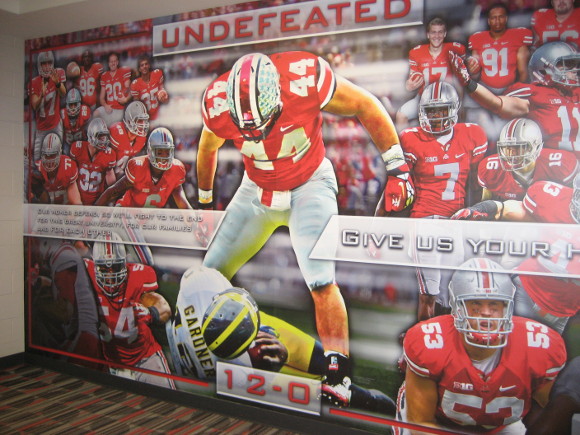 We were then broken in to smaller groups which rotated between pictures with Meyer, WHAC tours and the outside football drills.  If you've never been inside, the Woody Hayes Athletic Center has a museum like quality about it.  The walls are covered with photos and memorabilia of great moments and players at Ohio State the pinnacle of which is the "championship wall".  Along with the training facilities, it houses trophies including Heismans and a crystal football along with many others.  It's hard to imagine a recruit walking through those hallways and not being impressed.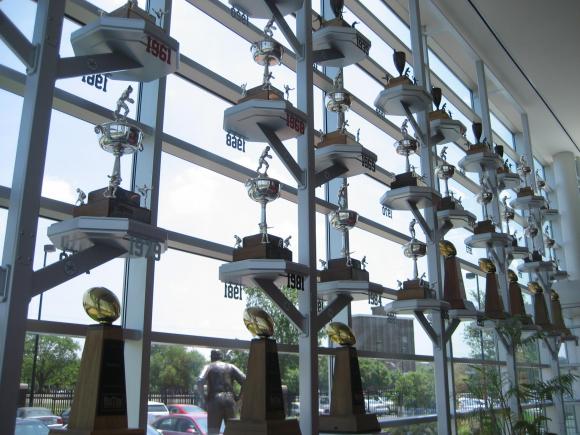 On the practice fields outside, all the ladies got to practice their football drills.  After stretching with Schlegel, the assistant coaches and graduate assistants ran different stations that had everyone tackling, running tight end routes, throwing, and most importantly, practicing touchdown dances.  There was a wide range of ages and athletic abilities present and the (almost) summer sun was beating down but that didn't stop anyone from catching passes and picking up interceptions.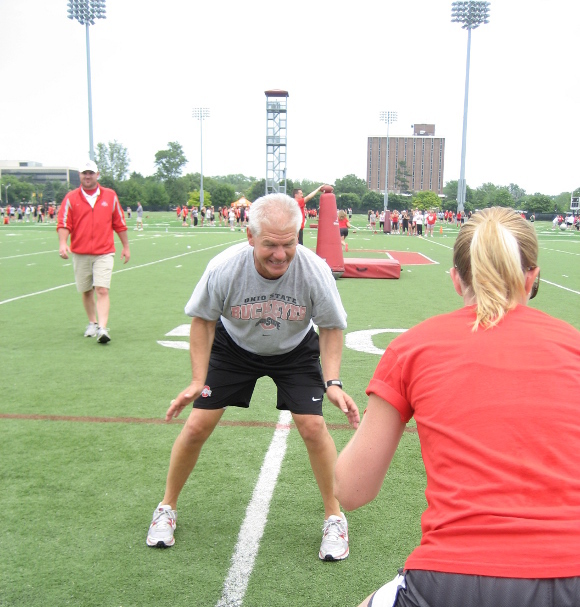 The day ended with Mickey Marotti leading his famous quick cals and smokehouse drills.  The smokehouse involves a lot of yelling, "smoke" and responding, "house" but then come the sprints and pushups. 
Everyone was broken into age groups to run a sprint down the practice field and then the winners came back to see who was fastest.  No one was exempt, even the 65+ group had a handful of participants. 
After the sprints came the pushup contest.  Quite a few women chose to sit this one out but the winners tied at 113 (113!) pushups each and these weren't your run-of-the-mill variety. 
You only did one when Marotti blew his whistle which he did at varying increments and although there were a few short breaks, the ladies left at the end were impressive.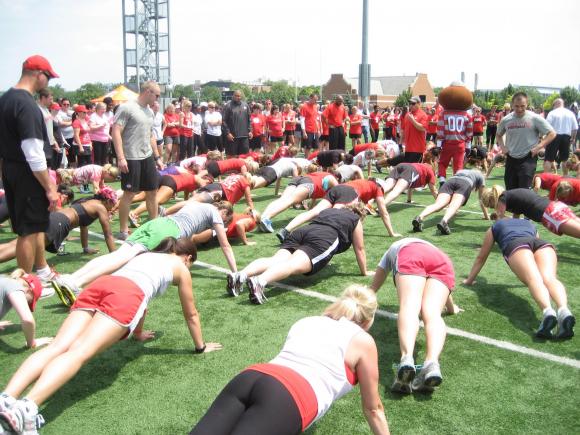 This is the second year I've attended the Women's Clinic and I think it's a fantastic event I would recommend it to any gal who even kinda likes Ohio State football.  After all, what could be more fun than playing football at Ohio State on a Saturday afternoon?