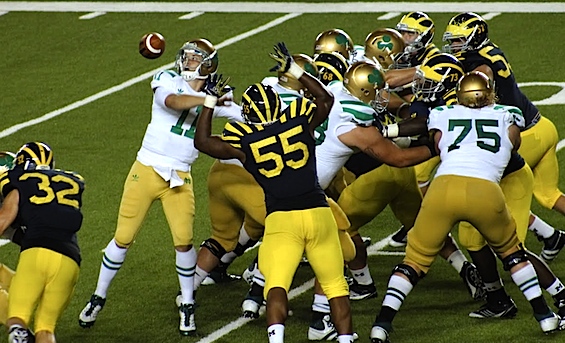 Kelly also talked Fighting Irish football Wednesday, including the Notre Dame quarterback situation. Kelly said Tommy Rees will be his quarterback this fall after starting quarterback Everett Golson left Notre Dame due to academic infractions.

"We always move forward," Kelly said. "I don't live in the past, and I don't spend too much time in the future. I live in the present, and in the present, we have Tommy Rees. We have Tommy Rees, who is an established player, and he will be our starter. We think Andrew Hendrix and Malik Zaire can contribute, but Tommy will be our starter."
Tommy Rees was the starter in 2011 before conceding the starting job to the since-departed Everett Golson for the 2012 season. Rees was 269/411 for 2,871 yards and 20 touchdowns in his full year as a starter. It is probably the 14 interceptions that best characterize Rees' 2011 campaign, which punctuated losses to South Florida and Michigan in particular.
Notre Dame finished 2011 with an 8-5 record with additional losses to USC, Stanford, and a bowl game loss to Florida State.