Happy Friday Buckeye fans!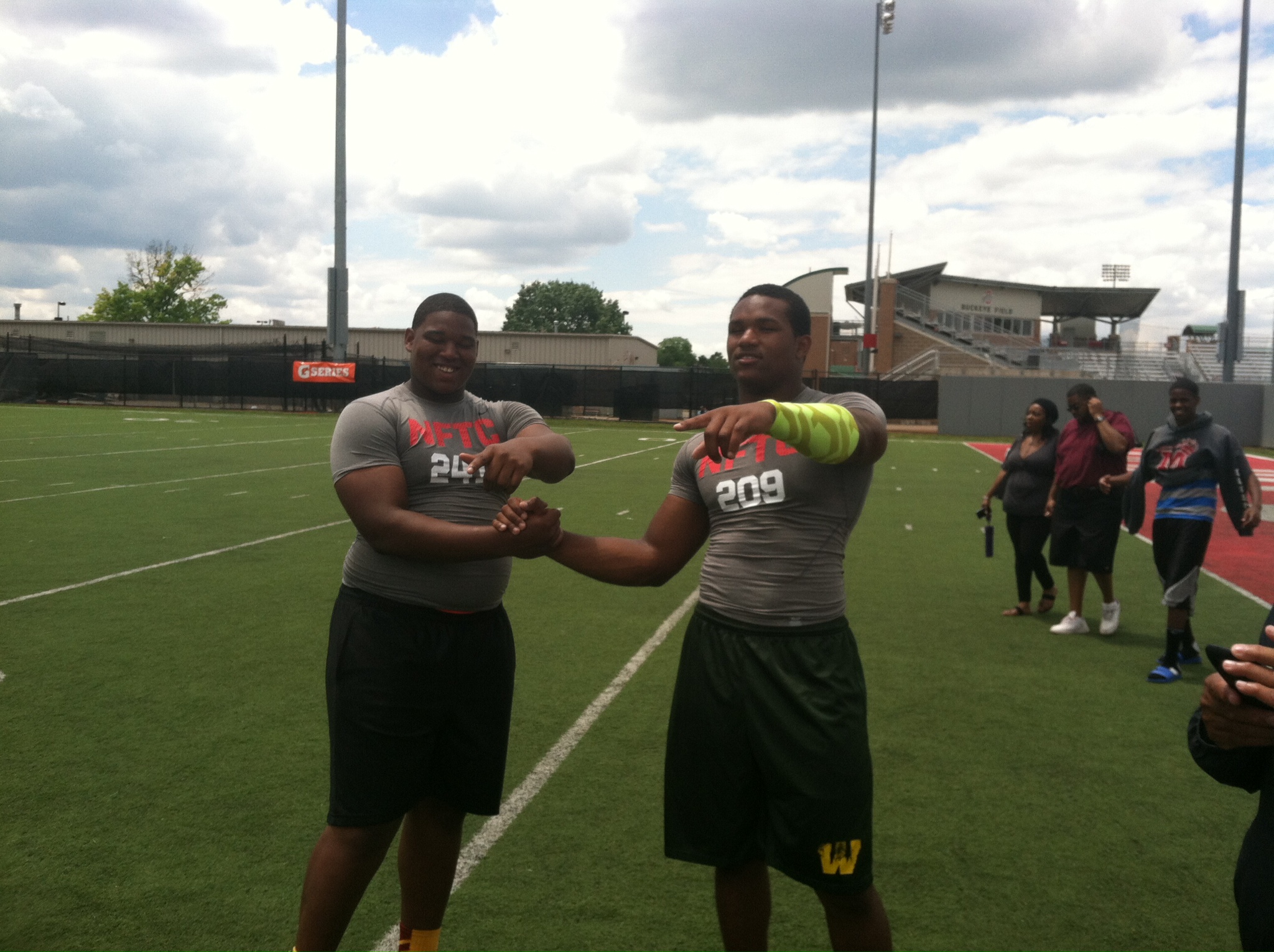 We have seen a busy couple of weeks in the world of Ohio State recruiting and it's about to get even busier with the first Ohio State football camp this Sunday.
Last weekend Nike's Elite 11 quarterbacks camp and Nike Football Training Camp came to Columbus. These events brought many top talents to the Buckeye state including top quarterback target Brandon Harris, super sophomore Tim Settle, the nation's number one player, Da'Shawn Hand, and many others.
We also saw a couple of Ohio State's top targets commit to other schools in the last week. We'll tell you who and where they went later in the notebook.
The Ohio State coaching staff handed a couple of offers last week. We'll tell you which players recently received an opportunity to play for the Bucks in college after the jump.
Finally there are many visitors on tap for the weekend as the first one day football camp the Buckeyes are hosting is this Sunday, June 9th. We'll discuss this weekend's biggest visitors in this week's edition of the Ohio State Football Recruiting Notebook.
Join us after the jump to learn about all of the above information and other major stories in the world of Ohio State recruiting.
THE BUZZ
The Buckeyes are coming off a weekend where many elite prospects were on campus thanks to the two Nike camps that came to Columbus in the Elite 11 camp, which is for quarterbacks and the Nike Football Training Camp, which is for players of all positions.
A couple of the players who attended either or both of the camps came to Columbus early for an un-official visit. These players include Bossier City (LA) Parkway quarterback Brandon Harris, Gary (IN) West Side wide receiver Lonnie Johnson, Manassas (VA) Stonewall Jackson defensive tackle Tim Settle, Woodbridge (VA) defensive end Da'Shawn Hand, and Detroit (MI) Cass Tech defensive back Damon Webb.
Harris was the first to arrive in town on Thursday. He got the chance to check out the Ohio State campus on Thursday and Friday, before participating in the Elite 11 camp on Saturday. He had a very good visit to OSU and the Buckeyes are in his final four schools along with Alabama, Auburn, and LSU. It will be a tough battle for the Buckeyes to win, but they have a chance. Right now I think he'll end up at Auburn.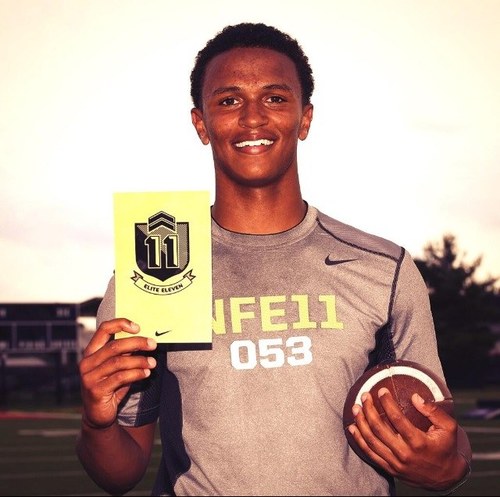 Hand and Settle came to Columbus together, arriving Saturday afternoon. While Hand said he had a good talk with the OSU coaches, there is almost no chance he will end up playing for the Buckeyes in college. I think he'll end up at Virginia Tech or Michigan. Settle on the other hand had an awesome visit and is very interested in the Bucks. OSU may even hold an early lead to land his commitment. There's still a long way to go though.
Lonnie Johnson and Damon Webb both had very good visits and remain firmly committed to OSU. The two of them have been busy recruiting players to join them in Columbus starting in 2014.
Six future Buckeyes were invited to Nike's "The Opening" last week. The prestigious camp is held at the Nike headquarters in Oregon next month. The future Buckeyes invited include Kyle Trout, Dylan Thompson, Kyle Berger, Dante Booker, Damon Webb, and Parris Campbell. 
One last major takeaway from the camps is the performance of Toledo (OH) Central Catholic quarterback DeShone Kizer. He has put himself in position to get an offer from the Buckeyes. If he gets the offer I think the Buckeyes would have a pretty good chance at landing him. Right now I feel he favors Notre Dame and LSU.
The Ohio State coaching staff handed out a couple of offers in the 2014 (3) and 2015 (2) recruiting classes over the past week.
The players in the 2014 class offered include the likes of Bellflower (CA) St. John Bosco offensive linemen Damien Mama, Southaven (MS) CC offensive linemen Avery Gennesy, and Elizabethtown (KY) John Hardin defensive linemen Matt Elam.
The two members of the 2015 recruiting class the Buckeyes offered last week were Fresno (CA) Clovis North defensive linemen Jacob Daniel and Monaca (PA) Central Valley defensive back Jordan Whitehead.
HAPPY TRAILS
Three players who held offers from the Buckeyes committed to other schools last week. Two of these players were recruits the Ohio State coaching staff really wanted in this class. The Buckeyes never had a shot at landing the other player.
The two major targets who decided to play their college football elsewhere were linebacker Chase Winovich, who committed to the Michigan Wolverines last Saturday over the Buckeyes and Pitt. The OSU staff really wanted him, but he decided Michigan was a better fit for him. He should be a good one for the Wolverines. The other major target who committed elsewhere was quarterback Kyle Allen who committed to the Texas A&M Aggies a few days ago. He was one of the Buckeyes top two targets at the quarterback position before deciding to take his talents to College Station.
The other player who held an OSU offer who decided to commit elsewhere was linebacker Kevin "KC" Crosby who committed to South Carolina. The Buckeyes never had a real chance at landing him.
LOOKING AHEAD
Ohio State is hosting two one day football camps this month. One of them is this Sunday, June 9th, with the other on Friday, June 21st. Both are expected to attract many talented recruits to Columbus.
The players who will be camping or visiting (but not camping) this weekend include the likes of running back Jonathan Hilliman, offensive tackle Kyle Trout, offensive guard Marcelys Jones, two-way linemen George Brown Jr. (2015), defensive tackle Poona Ford, defensive end Dylan Thompson, defensive end Nick Bosa (2016), linebacker Kyle Berger, linebacker Dante Booker Jr., athlete Parris Campbell, athlete Malik Hooker, athlete Sam Hubbard, and many others. Click here for the complete list of June visitors.
Many Ohio State targets and a commit will be participating in the Rivals 100 Camp this weekend. The OSU commitment who will be in attendance is Cass Tech's Damon Webb. OSU targets who will be there include Andrew Brown, Lorenzo Carter, Jalyn Holmes, Mitch Hyatt (2015), Sterling Jenkins (2015), Laurence Jones, Demetrius Knox, Marshon Lattimore, Tyler Luatua, Raekwon McMillan, Montae Nicholson, Speedy Noil, Jacques Patrick (2015), and Damian Prince. COMPLETE ROSTER
That's all we have for this week's edition of the Ohio State football recruiting notebook. Have a great weekend!