While Urban Meyer and Ohio State may not have signed enough Ohio recruits in 2013 to some fans and Ohio coaches' liking, the Big Ten brought in more Ohio recruits in 2013 than any of the previous four recruiting classes (2009-2012). In 2013, Ohio high schools are sending 50 scholarship athletes to Big Ten programs on full  football scholarships. Even more football prospects have signed to play in other conferences including the SEC, ACC, Big East, MAC, Pac-12, Big 12, and independents.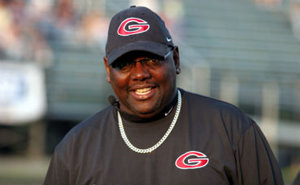 The State of Ohio is respected for the football talent it produces and the quality of football that is played in the Buckeye State. Year after year, Ohio produces some of the top football prospects in the country and sends well over a hundred scholarship football athletes to play football at the next level and receive an education for free. 
The Big Ten Conference has lead the way in recruiting Ohio high school athletes. Over the past five recruiting classes, 2009 to 2013, the Big Ten has signed, on average, about forty-six football prospects a season. Ohio State alone has been signing an average of twelve recruits per season and they are already off to a solid start with six Ohio prospects in the fold for their current 2014 class. Urban Meyer and company have been working on adding a few more Ohio prospects to their class including WR Derek Kief, ATH Marshon Lattimore, and DB Erick Smith.
The Buckeyes have signed twenty-six percent of the total amount amount of Ohio football prospects going to the Big Ten. Fifty-two percent of all prospects signed by Ohio State in 2009 to 2013 were from the State of Ohio. 
Unsurprisingly, Michigan has also turned to the talent-rich state of Ohio quite frequently. The Wolverines have signed thirty-eight prospects from Ohio, which is good for second in the Big Ten. In 2010, Michigan actually signed more Ohio prospects than Ohio State did, 10 to 9, but that has been the only recruiting year that Michigan has done that in the past five. Michigan has found success in landing some very good players that did not receive an Ohio State offer, such as LB Jake Ryan and DE Frank Clark. Also, Michigan has won their fair share of recruiting battles against Ohio State in Ohio, including Dymonte Thomas and Kyle Kalis. 
Over the past five seasons, Michigan has signed seven more football recruits from Ohio than they have from their home state of Michigan. This shouldn't come as too much as a surprise since Michigan high school football is not as highly regarded as Ohio.
It might come as a surprise to see that Indiana is tied with Michigan State in recruiting Ohio football prospects, with 25 prospects signed over the five year period (an average of five per season). Indiana is our neighbor to the west and apparently their lack of football success has not scared off Ohio prospects. Michigan State being up here should not surprise anyone since Mark Dantonio has plenty of Ohio ties and also with MSU being one of the better programs in the Big Ten.
Illinois and Purdue both recently hired coaches with Ohio ties. At Purdue, Darrell Hazell (former OSU WR coach and Kent State HC) will look to recruit Ohio more than the previous staff at Purdue. Hazell has not had much early success on the recruiting trail with the Boilermakers, but a successful season should help turn things around quickly. For Illinois, Tim Beckman (former OSU DC and Toledo HC) is coming off a dreadful season in Champaign. Illinois did see some success recruiting Ohio since Beckman has been hired, signing nine Ohio prospects with two more committed already for 2014.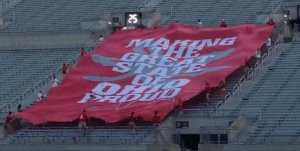 Penn State has not been able to recruit Ohio very well over the past five years. It comes as a surprise that a school with Penn State's tradition could not come into Ohio to land a few prospects, especially before their sanctions. The Nittany Lions have only two Ohio signees in the past five years. 
Maryland and Rutgers will look to capitalize on the recruiting grounds in Ohio as they join the Big Ten next year. Neither school has signed an Ohio prospect in the past five years. Maryland's and Rutger's games will be able to be viewed on the Big Ten Network, which will play into their favors when it comes to recruiting. These recruits all want to play on TV. 
Kentucky has made things interesting in the State of Ohio. The Wildcats already have six verbal commitments in Ohio for the 2014 recruiting class. Butch Jones led Tennessee has also made recruiting Ohio a higher priority with two early commitments. We will have to wait and see if Ohio will continue to send fifty kids to the Big Ten or if the SEC will start to cut into our numbers. 
Big Ten coaches and fans owe these hard-working Ohio coaches a big thank you. They number of hours they put into getting their kids noticed and recruited often goes unappreciated. The fertile recruiting grounds of Ohio has been quite generous to the Big Ten. 
Thank you, Ohio high school coaches! Your work does not go unnoticed. 
Breakdown of Ohio prospects going

b1G
| School | 2009 | 2010 | 2011 | 2012 | 2013 | Total |
| --- | --- | --- | --- | --- | --- | --- |
| Ohio State | 13 | 9 | 14 | 15 | 10 | 61 |
| Michigan | 3 | 10 | 7 | 9 | 9 | 38 |
| Michigan State | 5 | 6 | 3 | 7 | 4 | 25 |
| Indiana | 4 | 8 | 7 | 3 | 3 | 25 |
| Northwestern | 4 | 3 | 4 | 3 | 3 | 17 |
| Illinois | 4 | 1 | 2 | 2 | 5 | 16 |
| Wisconsin | 4 | 4 | 4 | 4 | 3 | 15 |
| Iowa | 2 | 3 | 2 | 2 | 3 | 12 |
| Nebraska | 0 | 1 | 2 | 2 | 5 | 10 |
| Purdue | 0 | 2 | 0 | 0 | 4 | 7 |
| Minnesota | 0 | 1 | 0 | 2 | 1 | 4 |
| Penn State | 1 | 0 | 0 | 1 | 0 | 2 |
| Maryland | 0 | 0 | 0 | 0 | 0 | 0 |
| Rutgers | 0 | 0 | 0 | 0 | 0 | 0 |
| Total | 40 | 48 | 45 | 50 | 50 | 233 |