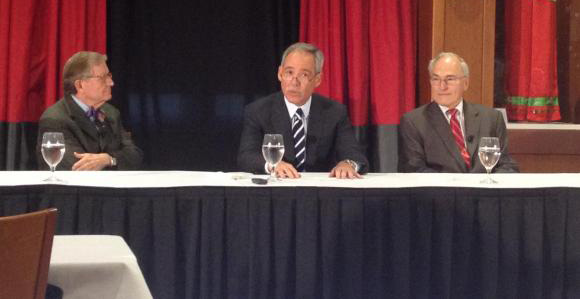 Gordon Gee will step down as Ohio State's president on July 1, but he won't be leaving the university. At a press conference today, Gee, board chairman Robert Schottenstein and soon-to-be interim president Joe Alutto spoke about the impact Gee has had on Ohio State and what the future holds.
Gee indicated that he will continue to fundraise for Ohio State and further the university's agenda. Schottenstein noted that Gee, who holds a law degree from Columbia, might teach at Ohio State's Moritz College of Law.
All three men commented on the positive trajectory the university is on and their belief that it will continue to excel under the next president. Schottenstein and Alutto both praised Gee for his many accomplishments at Ohio State, which includes two stints as president, from 1990-97 and again from 2007-2013.
"He leaves a rich, lasting and enduring legacy," Schottenstein said. "Gordon, my friend, you will be missed."
Since news of Gee's retirement broke Tuesday afternoon, the Ohio State community has taken on a somber mood. But Gee told Buckeye Nation to end the sadness because "this is not a funeral, this is a new phase."
Gee said his resignation had nothing to do with the verbal gaffes from a December athletics council meeting that became public last week. Instead, he focused on his grandchildren, a significant other living in California and his health.
"I run the university as if I were 36 years old, but I am 69. I am a little slower," Gee said. 
True to form, Gee made a couple self-deprecating jokes, saying, "I just can't leave quietly, can I?" When his voice cracked and a raspiness crept in he smiled and told the assembled media, "My voice is a little rough today after yelling at myself."
Gee said the swift timing was because of his lack of wanting a "victory parade." It's rare for university presidents to abruptly retire because of the time needed for a smooth transition.
Michigan president Mary Sue Coleman announced her retirement, effective July 2014, in April of this year, 15 month before she will leave the university.
Gene Smith, Urban Meyer and Thad Matta each issued statements thanking Gee for his service and commitment to the Buckeyes.
E. Gordon Gee Steps Down
"I want to thank Gordon for what he has done for me as a person and for his contributions to higher education and in particular to The Ohio State University," Smith said. "I am appreciative for all his contributions as a president to intercollegiate athletics on a national level. I wish he and his family all the best."
"It is hard to put into words the respect and love I have for President Gee," Meyer said. "His leadership brought me home to this great university and to this great state of Ohio. I will always be thankful and grateful to him for that. He has been a wonderful advocate for collegiate athletics and for The Ohio State University. It has been an honor to work for him. I wish him the best as he moves into retirement."
"Dr. Gee has done so much for me personally and as a coach," Matta said. "He has always gone above and beyond the call of duty to help build our program. I have never met a person who loves this university more than Dr. Gee."