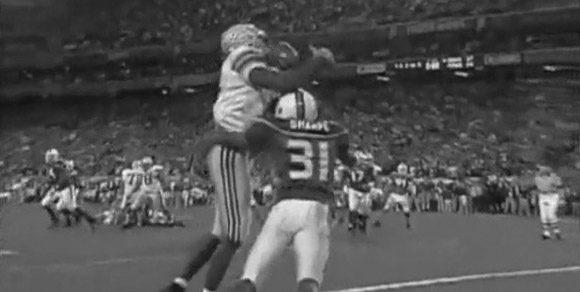 On Jan. 3, 2003, the Ohio State Buckeyes defeated the Miami Hurricanes 31-24 in two overtimes. It was Ohio State's first outright national championship since 1968—when I was two years old, living in New Jersey, and had no idea that something called "Buckeyes" existed or even what football was.
Winning a national championship has to be the greatest feeling one can experience in college sports. As a college football fan and an alumnus of Ohio State, Jan. 3, 2003 should have been one of the greatest nights of my life. It wasn't, and it's entirely my fault.
This is a very difficult story to write. It's tough to even discuss in person. Further, it makes me look like the petulant child that I was, despite being a grown man in his late 30s at the time. Some of my friends know what I'm about to reveal, but many don't. It's not something I generally bring up.
(I really hate to say this next part.)
You see, I went to bed on Jan. 3, 2003, thinking the Buckeyes had lost.
This is the story of how that happened.
The 2002 Season
In 2002, while the Buckeyes were working their way through a nerve-wracking series of (mostly) very narrow wins, I was working in South Florida in the communications department of the NHL's Florida Panthers.  Although my free time was limited and we often had games scheduled on Saturdays, I was still able to see much of Ohio State's season (there was no BTN back then). I watched all of the televised OSU games that didn't conflict with Panthers home games, and I was able to sneak in a few that did conflict by stealing off to the press box and turning on ESPN under the guise of "game prep."
As usual, I reveled in each Buckeye victory. What was happily unusual that season was the dearth of defeats to agonize over. I watched Ohio State complete its undefeated season alone on the couch of my then-fiancee's (now wife) parents' house in Las Vegas. I was out there to meet her family for the first time, and it was their first exposure to the intensity of my feelings for Ohio State football. They accepted me anyway.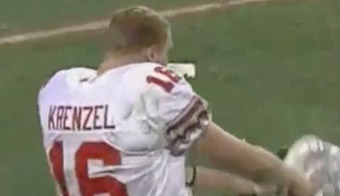 Like other games against TTUN, I yelled at the television. I cheered the big plays. I probably cursed a few times, although I made an effort not to, and to at least avoid the really bad ones.
When it was over, my beloved Buckeyes were unbeaten and on their way to the Fiesta Bowl to play for a national title. I was giddy, and I'm sure my future in-laws thought I was out of my mind.
The Buildup
The weeks of anticipation before the game were excruciating for me. I was happy Ohio State was playing for a championship, but I was in South Florida. I was surrounded by perhaps the cockiest bunch of bandwagon fans in existence, plus a few legitimate Hurricanes fans, and some interested third parties without a dog in the fight—all of whom assured me that Ohio State was about to get annihilated by mighty Miami.
I tried to distract myself with work and my fiancee's move from Vegas to come join me in Broward County, but it was futile. That game was looming, and it was looming very large. In hindsight, I should have been savoring every moment between Michigan and Miami.
One day in early December, my boss came into my office and looked up at the OSU flag hanging on my wall. One of our stats guys had Chris Spielman sign it during the football season and it was proudly on display. I never hid my passion for OSU sports. Everyone I worked with knew I went to Ohio State. In addition to the flag, I also had an OSU hockey poster on the wall and various Buckeye knickknacks on my desk, including an actual buckeye.
"You know your Buckeyes are going to get killed, right?" asked my boss, himself a Minnesota graduate and die-hard Golden Gophers fan. "Miami's going to smoke Ohio State."
"We'll see," I replied.
He laughed. "You really think Ohio State has a chance?"
I considered his question carefully before answering. "Hey, our defense can keep us in the game, so yeah; I do think we have a shot. Even if we lose, the game will be closer than people think."
My reply was an honest one, and perhaps a bit defensive, but I had no idea of the ripple effect it would cause. Word quickly got out that I thought Ohio State could win the game against the heavily-favored local team. As often happens, the grapevine distorted the message and one innocent reply in my office somehow turned into me being the homer fan, boasting about how Ohio State was going to crush Miami. I have never been that guy, mostly for superstitious reasons, but people were saying it. I was an island of Buckeye in a sea of enemies.
I found the buildup to the game so unbearable that Jan. 3 was a sweet relief for me. I had to be up early the next morning to prepare for our game against the Canucks in Vancouver. Even though I wasn't on the road with the team, it was my turn to prepare the morning press clips for the coaching staff and GM, and have them faxed to the team hotel. So I knew I couldn't go out to a sports bar to see the game. I would watch the game on our bedroom TV, sans alcohol.
The Game
For big Ohio State games, I have always been a bundle of nerves. I was much worse back then than I am now, partly owing to the events of this story. But as the game unfolded, I found I was enjoying it. The Buckeyes were holding their own. The defense was playing great. The offense wasn't doing much, but I thought someone like Mo Clarett, Chris Gamble or Michael Jenkins would eventually make a play.
Miami took the lead late in the first quarter and I started to grind my teeth a little. Ken Dorsey hit Roscoe Parrish for a 25-yard score. I felt like the game was on a knife edge at that point. For the Buckeyes to fall behind by more than one score would be inviting disaster, I thought. It could lead to a blowout. I wanted Ohio State to win, but if that failed, I at least wanted a close game. I knew that would at least shut up those who would otherwise never stop goading me over my "prediction."
Ohio State's defense stopped Miami after an arm punt by Craig Krenzel, marking a pivotal moment in that opening quarter. But the Buckeyes forced a punt and held the ball until the end of the period, trailing just 7-0 after one.
After an OSU punt, Dustin Fox intercepted Dorsey, setting his teammates up at the Miami 37.  One first down later, the Buckeyes lined up for a field goal. Punter/holder Andy Groom kept the ball but failed to pick up the first down. I was in agony. The Buckeyes could not move the football and had just left points on the field.
But the defense held again and Mike Doss returned a punt to the Miami 17, renewing my hope that points could indeed be scored. Krenzel's keeper and Mike Nugent's point after tied the game a few plays later. It was a ball game! A couple plays later, the Bucks were in business again when Darrion Scott fell on Dorsey's fumble. Clarett scored from seven yards out and suddenly the Buckeyes had a 14-7 lead at the half.
I won't bore you with all the well-known details from here on out. Miami trimmed the lead to three points in the third, but I felt pretty good. The defense was spectacular. I was by no means confident of the win but I felt like Jim Tressel's bunch had figured out how to win the close games that year. Still, Miami was dangerous and my nerves persisted.
My Turning Point
The clock wound down in the fourth quarter. Every tick of the clock felt like an eternity. Ohio State found itself facing a critical third down with six yards to go. A conversion would all but guarantee the win. Technically, Miami could still get the ball back but with very little time. Krenzel dropped back, rolled right, found his man beyond the sticks and…incomplete? What?
I still can't tell if Gamble caught the ball in bounds. I've paused the commemorative DVD hundreds of times and it still looks like a catch to me. But regardless of whether he caught the ball, Kelly Jennings committed an obvious hold on the play that should have resulted in a first down for Ohio State. As I watched from my South Florida bedroom I was livid. That penalty was obvious and directly in view of an official paid to make such calls. Ohio State had to punt with less than 2:30 remaining instead of having three more downs to kill clock and expend Miami's timeouts.
"How can we win a game like this?" I wondered. I got a familiar and very bad feeling in the pit of my stomach when Groom trotted onto the field to punt the ball back to Miami. Two missed tackles later, Parrish's return of Groom's kick had Miami in position for a game tying field goal. My cynicism had me convinced Ohio State had just lost the game.
The steel of my football pessimism was forged in the fires of close Rose Bowl losses to USC in 1975, 1980 and 1985; a decade of Michigan misery under John Cooper; and an adolescence of watching Dan Marino's Dolphins come up short. I knew what was coming, and I turned to the woman who would become my wife four months later and said, "I am not watching these assholes celebrate if they win. This game should be over."
A sack by Simon Fraser gave me a little hope, but two plays later Eric Sievers made a 40-yard field goal at the final gun, because of course he did.
At this point, I forgot to be hopeful. I forgot to be nervous. I was only angry—at what I perceived as a third-down catch and the uncalled obvious penalty that should have rendered it moot; on poor punt coverage tackling; and even on the failed fake field goal from the first half. I felt cheated and the game hadn't even ended yet.
Miami got the ball first to start overtime and in five plays they had their first lead since the second quarter. I became even more incensed when Will Allen was flagged for pass interference on the go-ahead Kellen Winslow Jr. touchdown. What Allen did didn't affect Winslow at all, whereas Jennings had fully stretched Gamble's jersey with his late hold, preventing him from getting to Krenzel's pass earlier. I perceived it as another slight.
"How can we win a game like this?" I wondered. "We had it. We should have been in victory formation."
Ohio State's turn came. Krenzel began with a five-yard scramble and afterward looked exhausted. I wondered if he had anything left or if he, like me, thought the game had slipped away with the punt that should never have happened. A penalty, a sack, and an incompletion brought up fourth-and-14. I just knew it was over. Krenzel had completed five passes all night. However, Michael Jenkins shook free on fourth down and gave Ohio State new life. But all the while, that missed third-down penalty call was still bugging me.
Three plays later and Ohio State faced fourth down again. Miami twisted the knife in me by calling timeout, prolonging the agony. When the players returned to the field, Krenzel took the snap from the gun in a five-wide set and threw right for Gamble. There was a lot of contact and the ball fell incomplete. I waited a beat, saw no flag, turned off the game and threw my remote at the wall. The refs who missed that third down hold on Gamble had missed another call.
Or so I thought.
Looking back at the film repeatedly in the years since, I must have turned the TV off maybe one or two tenths of a second before official Terry Porter let his flag fly. That was it. That was the difference between me eventually weeping tears of joy and going to bed so angry that both my head and stomach hurt.
The Aftermath
I rolled over and began a long night of tossing and turning that my wife still talks about today. Thinking back later, in a way, my sleeplessness was aided and abetted by my friends and family.  No one—not my dad, my brother or any of my old college buddies—called me after the game. It was the weirdest part of that whole thing. Not one celebratory call came. It wouldn't have made up for missing the end, but it would have saved me a restless night of torment. I saw that third down play over and over in my head; Gamble's jersey stretched out from his shoulder to Jennings' fist. How could they not see it? How could they not call it? How come no one called, looking to share the celebratory moment I had missed with a fellow Buckeye?
The next morning, I was on clips duty, so I stopped at the corner gas station to pick up the local newspapers. I walked in, reached for the stack of papers, and was greeted by a photo of a dejected Ken Dorsey, kneeling in defeat.
I looked at the headline ("In Battle of Kings, Ohio State One Yard Better"). I looked back at the photo. I read the first few paragraphs of the story. I looked at the picture again. Ohio State had won? Controversial pass interference call? Wait, what?
I paid for the newspapers and dialed home from the car. Jamie answered, groggy. It was early.
"Hello?"
"Do we live in Bizarro world?" I asked.
"What are you talking about?" She was sleepy, disoriented.
"Ohio State won."
"What?"
"The Buckeyes are national champions. They won last night." "Ohio State won."                   
"what?"
"How did that happen?"
"I'm looking at the paper now and it says Ohio State won. They threw a late flag on that last play. The game was still going and I'm an idiot and I MISSED IT!"
I went about my business the rest of the day but I was in shock. It was surreal. The whole world was telling me something that I knew couldn't be true. Even the strange sense of relief I had at finding out the Buckeyes had won couldn't exactly be called "joy" or "happiness," and certainly not "elation"—words I would have associated with seeing Ohio State win a title.
The funny thing to me is that there is still a part of my ego keeping me sane by irrationally asserting that if I hadn't turned off that television set, Terry Porter never would have thrown the flag. (You're welcome, America.)
The worst thing about having missed the end of that game didn't materialize for years.  Those back-to-back losses to Florida and LSU were probably much harder for me than many of you reading this now. If you'd seen (all of) the 2003 Fiesta Bowl, you at least got an opportunity to experience the pinnacle. I was more desperate than ever to see it happen in my lifetime (ok, in my lifetime after age two). In the buildup to both Florida and LSU, I had to listen to friends tell me repeatedly not to turn off the game early (HURRRR). I kind of wish I had.
The loss in the 2007 BCS National Championship Game was particularly cruel. Not only was it my favorite OSU team in many years, but I was also using it as a coping mechanism for the sudden death of my mother in an automobile accident just 23 days before the game. I more or less shelved all of my grief with the misguided notion that somehow Ohio State would win and make everything better. When that didn't happen (in spectacular crash-and-burn fashion, I might add), all that pent-up grief finally broke through the emotional dam I'd constructed and almost killed me.
Cruel as that year was, it was almost as bad to dangle another carrot in front of me just a year later, only to give me the stick yet again.
So here I am, 46 years old and still waiting to actually see an Ohio State national championship. I'm very hopeful it will come, and that it will occur at the expense of the SEC's best. It would be a lie to say I've made peace with what happened, but I've learned to live with it and can even laugh a little about it.
I've learned from it and have grown in a way that allows me to enjoy the games more than I used to. I still have emotional highs and lows, but I'm able to better keep things in perspective now. I'm not nearly as vocal or demonstrative watching the games from my recliner these days. I make an effort to try to savor the good plays and the wins and shrug off the bad plays and the losses—to enjoy the experience that is Buckeye football. And, most importantly, I've learned to reign in my anger.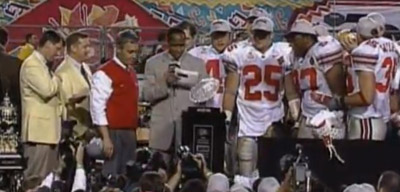 I'm happy to say that I'm not that petulant 36-year-old anymore. I've been humbled in a way that is probably unique among sports fans and I've come out the other side. I've learned not to rage at the fickle finger of fate, God, or karma. I still get angry at officials, but only as much as I would anyone else doing a terrible job, like a bad waitress. I don't take it personally anymore, because I've realized the fallacy of my own paranoiac version of solipsism. Bad refs aren't out to screw me or Ohio State. They just suck.
Although I've moved on to a degree, it would be a lie to say I didn't sometimes still kick myself for what I did.
Why am I putting all of this out there, for anyone to see? It's partly to serve as a cautionary tale to others, and maybe it's one last cathartic act to forever exorcize the demons of that night—a night I will both never forget and never truly get to remember.