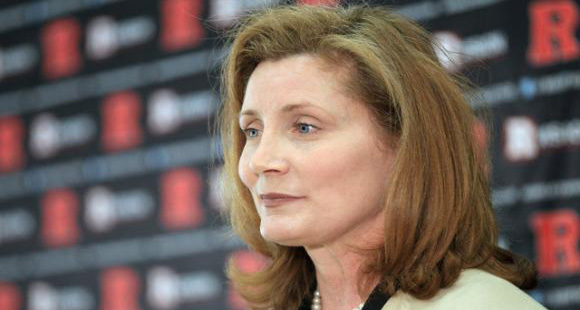 In recent weeks, the Big Ten has been at the center of multiple public relations disasters. First came the hiring of Julie Hermann as Rutgers athletic director. The move was seen as a positive after the controversial ending of Tim Pernetti's tenure.
Rutgers brass was hailed as progressive by hiring a woman, the first female athletic director in school history. When the Scarlet Knights enter the Big Ten in 2014, Hermann will be just the second woman AD in the 117-year history of the conference. That is if she is still employed.
Since her hiring, numerous controversies and scandals from her past have arisen. Former Tennessee women's volleyball players have come forward and said Hermann, who served as the head coach of the Volunteers for six seasons was verbally and emotionally abusive. In a letter to documenting Hermann's alleged abuses, 15 members of the 1996 Tennessee team stated that Hermann called them "whores, alcoholics and learning disabled."
As if that wasn't enough controversy, the New York Times reported Hermann was involved in a sex discrimination lawsuit in 2008 at Louisville, where she served as a senior athletics administrator until being hired by Rutgers. An assistant track and field coach expressed concern to Hermann about sexist behavior and "discriminatory treatment" by the head coach. Less than three later, the assistant coach was fired. The lawsuit states Hermann was the decision maker in the coach's termination.
Many believe Hermann will never take over day-to-day duties of the Rutgers athletic department, a position she's set to assume on June 17. The hullabaloo over Hermann comes after Pernetti was fired in the wake of the Mike Rice scandal. University president Robert Barchi is the ultimate goat, though, opting not to watch videotape of Rice's deplorable behavior when he was first told about the conduct.
That decision combined with not taking any fault in allowing Rice to stick around too long and then the Hermann fiasco, clearly a poor case of vetting a candidate, has Barchi looking like a clumsy president.
Then Gordon Gee came along.
The now infamous recording of Gee slighting what seemed like every school in the country, including Catholics, landed the outspoken Ohio State leader in hot water yet again. In the past few years, Gee made tone-deaf statements at a press conference regarding NCAA violations and offended the Little Sisters of the Poor and Polish-Americans, among others.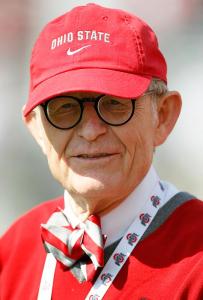 The public's reaction each time has been headshaking mixed with a "Gordon being Gordon" mentality. His latest comments elicited a more harsh response and a zero tolerance tag from the board of trustees. But rest assured, Gee is going nowhere. He is far too valuable.
That is the difference between Julie Hermann and Gordon Gee.
Donors have already indicated their displeasure with Hermann, and that's on top of the embarrassing headlines. Rutgers is a university and athletic department that can ill afford a financial letdown. Fundraising is the lifeblood of any program and a decrease in that category is the quickest way for athletic directors to become unemployed.
Current projects at Rutgers include a $30 million renovation of the basketball arena and a $1 billion university-wide capital campaign. A portion of that – $100 million – is dedicated to athletics and sprucing up other aging facilities before the school joins the Big Ten next year. The only problem is only $81.5 million has been raised at this point.
Rutgers' move to the Big Ten will result in a bigger bottom line, but that doesn't change importance of Hermann's job. The most crucial task she will undertake is securing funds from deep-pocketed donors to make up for the shortfall.
Hermann is certain to find the courting of contributors a difficult chore, though, considering many of Rutgers' biggest donors were vocal in disagreeing with Pernetti being axed. However, she believes an opportunity to sit down with some of the athletic departments top supporters will lead to continuing partnerships. 
"When I have the opportunity to actually arrive on campus and meet the people who are going to be critically involved with supporting Rutgers, I think they will meet me and know me and know what I stand for," Hermann said.
But based on statements made from the very people that have given in the past, Hermann's carefree attitude needs adjusting. This is a university that's been completely splintered by months of turmoil and unrest.
Dan Wheeler, a founding member of the Society of Old Queens, a group of alums who donate $1 million-plus to Rutgers over their lifetime, and a strong Pernetti supporter, resigned from the school's Board of Overseers when Pernetti was forced to resign.
"I don't know what I'm going to do, but the situation at Rutgers is so unsettling to me I don't know how I can be involved," he told the Newark Star-Ledger.
The move to the Big Ten galvanized the Rutgers community. Through the first five months of the 2013 the school raised close to the same amount its obtained in calendar years. But donations made to the athletic department have already slowed. 
Perhaps the biggest indictment against Hermann's effectiveness came from the board of trustees. Board member Abram J. Suydam Jr. asked fellow members how Hermann could possibly be efficient in rallying supporters of the athletic department and university when so much harm has already been done.
"If Ms. Hermann assumes the office, the unintended consequences will continue to manifest themselves," Suydam wrote. "By ripping this beloved university of ours apart, the leadership sets her up for a fall. How is she to successfully raise funds, a highly important part of the position, when so many donors will have decided that they have other life choices for their funds that are not the laughing stock of the country? Setting that aside, it will/would take years to overcome the perception of this university and its decision. As the old saying goes, 'Marry in haste, repent at leisure.'"
The Scarlet Knights already have a poor history in terms of fundraising. The university's endowment is less than $750 million, ranking last in the Big Ten by a wide margin. Overall, Rutgers ranks outside the top 100 and sits behind the University of Delaware.
"If Ms. Hermann assumes the office, the unintended consequences will continue to manifest themselves."
Gee, on the other hand, has made a career out of raising money and doing so in vast sums. It's why many consider him to be the best university president in the country.
When it was learned that Gee, who makes nearly $2 million a year, more than any other public university president, had almost the same amount in personal expenses, the university justified it by pointing to the $1.6 billion he's raised since returning to Ohio State in 2007. That includes secured some of the largest single donations in the university's history.
Over the past two decades, Ohio State has transitioned from a state school that admitted most anyone to a leading research institution. Through it all, the athletic department and football program remained the most visible part of the university.
Football Saturdays are the biggest days of the year whether you're a student, fan, alum or academic. Attracting donors for athletic programs and university-wide projects isn't an issue for Ohio State.
The latest Gee fiasco was embarrassing for him and Ohio State, but the negative headlines have already subsided. Gee is guilty of being ignorant and making ill-advised jokes – that is it. He hasn't caused irreparable harm to the university. He sounds more like a crazy uncle than a college president at times, but the university's mission remains on track and Gee is still a bow-tie wearing rock star to students and alumni alike.
He is also hugely popular with business and industry leaders. It comes from a charismatic personality that wins people over with each stump speech. Whether it's barnstorming through the state's 88 counties or speaking to a local rotary club, Gee immediately becomes the most popular person in the room – and the most photographed.
Armed with a $4 billion budget – larger than the state of Delaware – Gee has proven to be a transformative and revolutionary leader in bringing Ohio State to the forefront of higher education. 
That's why he'll keep his job.