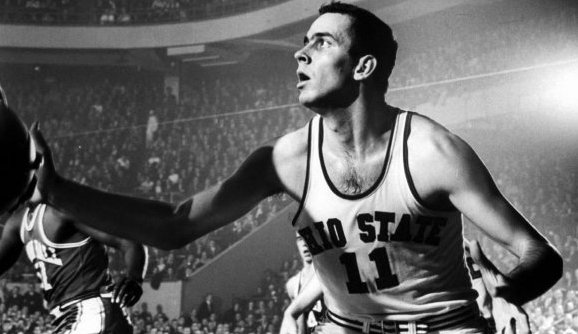 Wanting to switch gears from football a bit as the offseason drags on, I dug into Ohio State hoops history with the intention of running the same Mount Buckmore series I created for football last summer. In case you missed it, I took a stab at building an OSU football Mount Rushmore, by decade, starting with the 60's, and on through the 70's, 80's, 90's and 00's. 
The debates were fun so I initially thought taking the same approach with hoops was a no-brainer but with the yearly basketball rosters so small in comparison to football, the competition for one of four spots, by decade, simply didn't look to present enough arguments to make the endeavor worthwhile. 
As an alternate vehicle to look back on past Buckeye basketball greats - comparing and contrasting along the way - I decided to create two teams. 
Because Ohio State basketball wasn't much to sneeze at before 1960 (apologies to a handful of squads during the late-30's to mid-40's plus Robin Freeman and Frank Howard), I elected to start there, giving each team 26 years worth of players to choose from. Team Scarlet's roster would be built from guys playing anywhere from 1960-1986 while Team Gray's squad would be comprised of ballers spanning the 1987 to 2013 seasons. 
Today, I unveil my 10-man roster for Team Scarlet. Next Tuesday, I'll have Team Gray ready for your arguments and maybe even get into how a game might unfold if the two squads were to meet head to head. 
oHIO sTATE HOOPS: 1960-1986 STARTING FIVE

| PLAYER | YEARS | HT | WT | PPG | RPG | FG% | FT% |
| --- | --- | --- | --- | --- | --- | --- | --- |
| J. CLEAMONS | 1969-71 | 6'3" | 182 | 18.5 | 7.3 | 54% | 76% |
| J. HAVLICEK | 1960-62 | 6'5" | 205 | 14.6 | 8.6 | 51% | 73% |
| B. HOSKET | 1966-68 | 6'7" | 228 | 19.5 | 12.3 | 52% | 69% |
| G. BRADDS | 1962-64 | 6'8" | 200 | 20.7 | 9.5 | 54% | 78% |
| J. LUCAS | 1960-62 | 6'8" | 225 | 24.3 | 17.2 | 62% | 78% |
STARTING BACKCOURT
I went back and forth on who to start here but settled on a starting backcourt that provides some size, crazy defense and legit ability to score. 
At the point, I'm taking a bit of darkhorse in Jim Cleamons. At 6'3", Cleamons still managed to pull down 7.3 rebounds per game over his career, playing on the wing in his first two seasons before moving to the point during his senior year. The move clearly paid off for Ohio State and Cleamons as he won the B1G's MVP Award in 1971.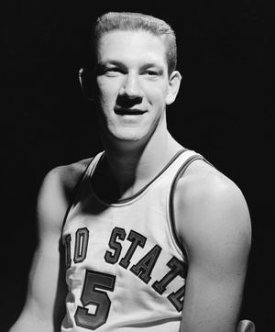 Nicknamed "The Cougar" way before it became a moniker reserved for middle-aged women in leopard print, too much lipstick and pumps, Cleamons was a beast at both ends of the floor. His 18.5 career points per game average still stands as the 10th best in school history and his 54.2% accuracy from the floor is good for 6th in school history. Cleamons had the type of midrange game you don't see anymore, featuring a deadly jumper from about 19 feet in. 
Joining Cleamons in the backcourt is none other than John Havlicek. Before going on to win eight rings with the Boston Celtics, Hondo was a ridiculously well-rounded player in Columbus that not only scored 14.6 points per game and pulled down 8.6 rebounds but was also a defensive stopper of the highest order.
Hondo could've easily scored 20+ points a night for just about any other team in college basketball but his selfless, versatile ways focused on winning above all else.
His exploits earned 1st team All-American honors in his final year in Columbus and he was twice named to the All-B1G team. While Jerry Lucas is the best player to ever suit up for the scarlet and gray, Havlicek's versatility remains unmatched. 
STARTING FRONTCOURT
Team Scarlet may not feature a starter over 6'8" but maybe, just maybe, size doesn't matter. The numbers certainly suggest it doesn't. 
At one forward spot, I went with Bill Hosket. The Vanilla Fundamental, as nobody called him but should've, averaged a pretty sick 19.5 / 12.3 double-double over his OSU career including 20.1 points and 11.4 boards per game as a senior, earning All-B1G honors. 
Impressively, Hosket led Ohio State in both scoring and rebounding in all three years as a starter, twice earning all-league nods and his 12.3 career rebounds per game trails only Lucas in school history. In another interesting bit, Hosket was named Ohio State's first academic All-American.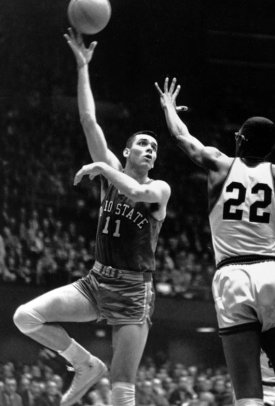 At the four spot, I took one of the most underrated players in Buckeye history in Gary Bradds. Out of Jamestown, Ohio, Bradds was nothing short of dominant during his time in Columbus. 
A two-time All-American, Bradds won National Player of the Year honors after pouring in 30.6 points per game to go with 13.4 rebounds. Bradds posted an incredible six-straight 40 point games during on stretch  including a school-record 49 points against Illinois. 
His 735 points during that magical senior season rank 2nd only to Dennis Hopson in OSU lore and his career 20.6 points per game is good for sixth-best. 
Finally, at center, Jerry Lucas is your no-brainer choice to round out the starting five. Void of peers at Ohio State, Lucas led the Buckeyes to the 1960 national championship and two runners up in addition to three B1G titles. Lucas was a three-time B1G Player of the Year (the only player to accomplish the feat) and a three-time All-American. He was also named the Most Oustanding Player of two Final Fours and won two National Player of the Year awards. 
The 6'8" product of Middletown led the country in field goal percentage all three seasons and his 1,411 career rebounds are 300 more than 2nd place Herb Williams, who was a four-year starter. 
With the loaded starting lineup introduced, who's on the bench?
OHIO STATE HOOPS: 1960-1986 RESERVES

| PLAYER | YEARS | HT | WT | PPG | RPG | FG% | FT% |
| --- | --- | --- | --- | --- | --- | --- | --- |
| K. RANSEY | 1977-80 | 6'1" | 188 | 17.3 | 3.7 | 49% | 78% |
| L. SIEGFRIED | 1959-61 | 6'3" | 196 | 15.7 | 4.8 | 45% | 82% |
| D. SORENSON | 1968-70 | 6'8" | 226 | 21.1 | 9.9 | 56% | 78% |
| C. KELLOGG | 1980-82 | 6'7" | 228 | 14.9 | 10.1 | 49% | 77% |
| H. WILLIAMS | 1978-81 | 6'10" | 242 | 17.6 | 9.7 | 50% | 67% |
So, the bench is pretty stacked. On most nights, I envision Kelvin Ransey and Clark Kellogg as the sixth and seventh men. 
Many of you would probably put Ransey in the starting lineup, I just happen to prefer the size, versatility and sharpshooting Cleamons brings to the table. To his credit, Ransey, a four-year starter, was a three-time all-league performer and a 1st team All-American as a senior. The two-time captain is 4th on Ohio State's career scoring list and ranks 2nd in career assists.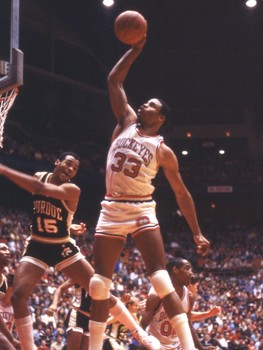 Kellogg, a product of Cleveland St. Joseph's, turned pro after his junior season but still ranks 5th all-time in total rebounds and rebound average. The '82 B1G MVP averaged a career double-double including 17.3 points and 12.0 rebounds as a sophomore. 
Dave Sorenson was a big-time scorer back in the day including 23.6 points per game as a junior and 24.2 as a senior. His career scoring average (21.1) ranks 5th in school history and his 56.3% clip from the floor ranks third. 
On the low block, Herb Williams gives the bench both an offensive and defensive presence. Williams ranks 2nd all-time in school history with 328 blocks while also ranking 2nd in career points and rebounds. In fact, the four-year starter is the only Buckeye to record at least 2,000 career points and 1,000 rebounds. 
Finally, Larry Siegfried gives Team Scarlet another gifted scorer at the top of the key. As he waited for Lucas and Havlicek to arrive, Siegfried went for 19.6 points per game in 1959 and still averaged 14 points per game over his final two seasons. 
With that, the ten players that make up the 1960-1986 all-time squad look to be a pretty formidable foe. Next week, we'll see which ten players make up the 1987-2013 all-time team and discuss which would win in a head-to-head matchup.