The month of June has just arrived and National Signing Day 2014 is over eight months away. It's never too early to start ranking the recruiting classes and seeing how the Buckeyes stack up against the other Big Ten teams, including Rutgers and Maryland.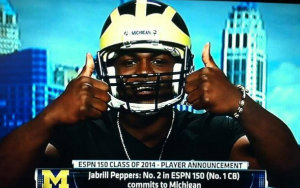 Ohio State and Michigan are unsurprisingly leading the way in recruiting for the Big Ten. Northwestern is having a very good year recruiting and Penn State has been able to recruit well despite the sanctions from the Jerry Sandusky case. 
It is still early in this recruiting cycle with many teams only having a handful of commits. Each week we will examine the latest movement in the rankings, the latest commitments, and up-to-date recruiting news for all the Big Ten teams. 
Check in each Monday evening to view our most up to date B1G football team recruiting rankings. Will Ohio State be able to catch Michigan? Where does Rutgers and Maryland stack up against the other Big Ten teams? 
Here is how we currently rank the fourteen B1G teams: 
14. INDIANA
After finishing tenth (out of fourteen) in the 2013 recruiting class rankings, Indiana is off to a slow start for 2014 with only one verbal commitment thus far.
Coach Kevin Wilson landed his only commitment on Sunday when DT Michael Barwick from Cincinnati Summit Country Day School choose Indiana over Ball State, Bowling Green, Central Michigan, and Western Michigan.
Could Coach Wilson's seat heat up if Indiana has another disappointing season? He currently sports a 5-19 career record at Indiana. The uncertainty of Wilson's future could come into play as a factor into many of their prospects' recruitments. Improvement on last years 4-8 season should temporarily cool his seat and lessen any concern for Indiana's recruits.
13. PURDUE
Darrell Hazell has yet to coach a game at Purdue, but he is already in the midst of his second recruiting class at Purdue. With very little time to recruit last season after being hired, Hazell finished dead last in the 2013 rankings. Purdue has landed just two commitments, a pair of out-of-state wide receivers, in the important 2014 class.
Three-star WR Trae Hart from Texas committed to Purdue in early May after they were the first school to offer. The 155 pound Hart will be expected to come in and compete as a returner right away after being timed at 4.38 in the forty.
On Friday, Purdue received their second verbal from WR Gregory Phillips when he chose Purdue over the likes of Air Force, Buffalo, Ball State, and others.
Recruiting in Ohio will be important for Hazell, who has Ohio connections from his Ohio State and Kent State days. Purdue and others have been hurt by Kentucky's increased presence in Ohio.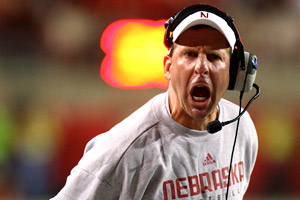 12. NEBRASKA
It's a surprise to see Nebraska rated this low after a ten win season, but by no means is it time to panic. The Cornhuskers have just two three-star commitments at this moment.
Three-star safeties Luke Gifford and Jason Hart have pledged to Nebraska. Gifford selected Nebraska over Iowa State, Ohio, and Toledo. Hart chose the Huskers over Baylor, Iowa, and Nevada.
Bo Pelini received good news from 4-star Peyton Newell when he narrowed his choices down to Georgia, Kansas, Kansas State, South Carolina, USC, and Nebraska. Many experts are predicting Newell to be a Cornhusker come February.
11. MINNESOTA
Coach Kill has been battling health issues while at Minnesota, but the Gophers have had a nice early start to their 2014 class.
Gopher fans will be sweating out RB Jeff Jones recruitment. Rated 115th overall by 247Sports, Jones committed to Minnesota over offers from Illinois, Iowa State, Wisconsin, Michigan State, among others. He has since decided to visit other schools and Notre Dame has entered to the picture, but has not offered at this point.
Kill has also landed a pair of three-star recruits in QB Dimonic McKinzy and DT Steven Richardson. The dual threat McKinzy will take his talents to Minnesota instead of Iowa, Kansas, or Nebraska. Richardson had offers from Northern Illinois and Western Michigan before committing to Minnesota in April.
10. MARYLAND
Highly rated QB Will Ulmer decided in April to commit to his hometown school over Nebraska, West Virginia, Boston College, and nearly twenty other offers. He should get the chance to compete for time at QB as a freshman, maybe in a wildcat role as he ran for over 1,400 yards and has been timed a 4.34 forty.
Guard Jared Cohen received his first scholarship offer from Maryland in February and quickly pulled the trigger to become a Terp. RB Jonathan Thomas is the most recent verbal to join Coach Randy Edsall's recruiting class when he surprised some by selecting Maryland over Arkansas, Boston College, and UConn.
Like Kevin Wilson at Indiana, Randy Edsall has been rumored to be on the hot seat heading into the 2013 season. This is something to keep an eye on throughout the season.
9. ILLINOIS
In 2013, over half of Illinois' signees came from the state of Illinois or Ohio. While it is still early, it appears that Illinois is focusing on Illinois and Ohio again this year with all four of their early commitments coming from these states.
Illinois snuck into Ohio to steal QB Chayce Crouch (Newark Catholic) from Toledo, Ohio, and Kent State. Centerville's DT Tito Odenigbo chose Illinois over Cincinnati and Boston College. 
8. IOWA
Will Iowa return to previous success levels?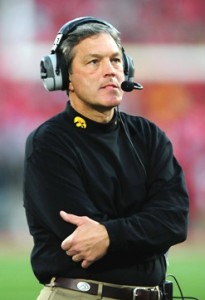 Kirk Ferentz made headlines when he said he's no longer assigning an assistant coach to recruit Florida. His 10 year, $41 million dollar contract that runs through 2020 still has most college football fans scratching their head.
Iowa's early three man class is made up of all in-state prospects lead by top 100 prospect, OT Ross Pierschbacher. Ferentz managed to keep Pierschbacher instate over schools such as Notre Dame, Oklahoma, and Alabama.
4-star ATH Jay Scheel is another highly rated in-state commitment for Ferentz. Scheel might take a chance at playing QB at Iowa, but might eventually end up at receiver.
7. WISCONSIN
Like Iowa, Wisconsin has really focused on locking down their home state, as five of their six early commitments are in-state kids.
Gary Andersen's first order of duty was to convince their four highest rated recruits in the 2014 class to stay after Bret Bielema left for Arkansas. All but Craig Evans have remained 100% committed. DT Craig Evans remains interested in Arkansas and Michigan State.
In typical Wisconsin fashion, they continue to really focus on recruiting the trenches with two early commitments on the offensive line and three for the defensive line.
6. MICHIGAN STATE
Michigan State lost their top commitment, WR Drake Harris, to rival Michigan this spring. It's a tough blow to lose your top commitment, let alone to your main rival. Michigan State currently has eight commitments in their recruiting class.
Youngstown (OH) Ursuline QB Chris Durkin committed to the Spartans over Cal, Illinois,  and Northwestern. Michigan State also took a highly rated QB in the 2013 class, but Durkin will have the opportunity to battle down the road.
OLB Chris Frey from Upper Arlington is a verbal I would keep an eye on for the Spartans. Underrated get for Sparty.
5. RUTGERS
Rutgers cracks the top five of the early B1G recruiting rankings, but mostly because of the size of their class. Rutgers has eleven early verbals, mostly made up of three-star prospects.
The controversies surrounding Rutgers lately hasn't seem to have an immediate impact on the football program. The Scarlet Knights recently went down to Florida to steal three-star CB Kam Lott from soon-to-be fellow B1G member, Minnesota.
Rutgers is looking to finish in the top half of the recruiting rankings for a second straight year after being ranked seventh last recruiting season.
4. PENN STATE
Give Bill O'Brien and staff credit for the work they have done on the field and the recruiting trail. The sanctions haven't stopped Penn State from putting together a very good class at this early stage. 247Sports rates Penn State at 18th in the nation.
On Saturday, Penn State picked up commitment number ten from OT Noah Bell. Bell chose the Nittany Lions over UConn, Maryland, Boston College, Pitt, Syracuse, amongst others.
Penn State's class is lead by three out-of-state four-star recruits that were all very highly recruited. Receivers DeAndre Thompkins and Chris Godwin should excel in Bill O'Brien's scheme with highly rated 2013 signee Christian Hackenburg as their future signal-caller.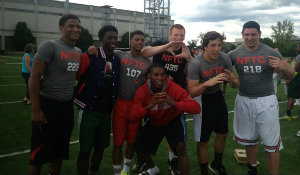 3. NORTHWESTERN
Pat Fitzgerald continues to show why he is an elite head coach. After a ten win season in Evanston, Fitzgerald has put together a great class by Northwestern's standards.
Northwestern's offense should continue to be fun to watch with the additions of three top 247 prospects on the offense side of the ball, according to 247Sports. RB Justin Jackson, WR/ATH Dareian Watkins, and QB Clayton Thorson headline the 'Cats class.
WR/ATH Watkins (Galion, Ohio) chose Northwestern over the likes of Wisconsin, WVU, Louisville, Georgia Tech, Michigan State, and almost twenty more offers in early May. 
2. OHIO STATE
Urban Meyer and the Buckeyes check in at number two in the rankings with a class of nine. Six of the nine early commitments hail from the state of Ohio. So far, Coach Meyer has had a very high success rate on landing in-state prospects. 
LB Chase Winovich committed to Michigan over Ohio State this past week, but the Buckeyes have early commitments from a pair of highly rated LBs in Dante Booker and Kyle Berger. LB Raekwon McMillan also has continued to name Ohio State as his favorite.
There has been some talk that OL Marcelys Jones from Cleveland Glenville would visit Kentucky, but it has since been reported that he will not visit. It appears that Jones' commitment is firm for the time being.
DL Dylan Thompson, CB Damon Webb, and Kyle Berger are three verbals that impressed enough this weekend to be awarded "golden tickets" to The Opening. ATH Parris Campbell and OT Kyle Trout also performed well. 
1. MICHIGAN
Brady Hoke and Michigan have not only the best recruiting class in the B1G, but the entire nation. Michigan has eleven commitments and also secured a gray shirt commitment from DT Brady Pallante out of Florida. Pallante will enroll in the winter of 2014.
Michigan had a huge week, picking up five-star DB Jabrill Peppers over basically everyone and also picking up LB Chase Winovich over Ohio State and Pitt. Coming into the week, many insiders had Winovich leaning toward Ohio State before ultimately changing their predictions later in the week.
Hoke flipped a prospect from each of Michigan's rivals - DE Lawrence Marshall from Ohio State and WR Drake Harris from Michigan State. Only one prospect in their recruiting class hails from the state of Ohio - Michigan's first commitment, LB Mike Ferns. Ferns chose the Wolverines over Ohio State, Alabama, Notre Dame, and others.
Michigan and Ohio State has continued to widen the gap from the other Big Ten teams. The bottom tiered Big Ten teams need to step up their recruiting or they'll fall even farther behind Ohio State and Michigan. 
RANKINGS OVERVIEW
| School | Commits | Scout * AVG | Rivals * AVG | 247 * AVG | ESPN * AVG | Overall Avg |
| --- | --- | --- | --- | --- | --- | --- |
| 1. Michigan | 11 | 3.55 | 3.55 | 3.82 | 4.00 | 3.73 |
| 2. Ohio State | 9 | 3.67 | 3.56 | 3.89 | 3.56 | 3.67 |
| 3. Northwestern | 11 | 3.20 | 3.27 | 3.36 | 3.60 | 3.36 |
| 4. Penn State | 10 | 3.30 | 3.10 | 3.30 | 3.60 | 3.33 |
| 5. Rutgers | 11 | 3.00 | 2.82 | 2.91 | 3.00 | 2.93 |
| 6. Michigan State | 8 | 3.25 | 3.25 | 3.38 | 3.20 | 3.27 |
| 7. Wisconsin | 6 | 3.67 | 3.17 | 3.50 | 3.50 | 3.46 |
| 8. Iowa | 3 | 3.33 | 3.67 | 3.67 | 4.00 | 3.67 |
| 9. Illinois | 4 | 3.00 | 3.00 | 3.00 | 3.00 | 3.00 |
| 10. Maryland | 3 | 3.00 | 3.00 | 3.33 | 3.50 | 3.21 |
| 11. Minnesota | 3 | 3.33 | 3.00 | 3.33 | 3.00 | 3.17 |
| 12. Nebraska | 2 | 3.00 | 3.00 | 3.00 | NR | 3.00 |
| 13. Purdue | 2 | 3.00 | 2.00 | 2.50 | NR | 2.50 |
| 14. Indiana | 1 | 3.00 | 3.00 | 3.00 | NR | 3.00 |