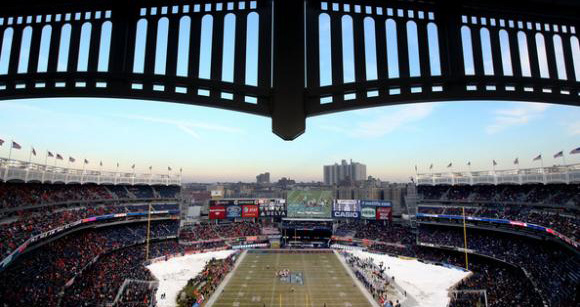 Bowl games are the gifts that keep on giving. Just when it feels like college football has been abandoned, the New Mexico Bowl pops up on your television. In hot pursuit are the New Orleans, Potato and Beef 'O' Brady's Bowl. Each game features 6-6 teams or mid-tier finishers from obscure conferences.
But people watch because even mediocre football is better than no football. We're so starved for football that we'll spend summer hours discussing freshly-published television schedules.
The latest twist to draw headlines from Lincoln, Neb., to College Park. Md., is the Big Ten's new bowl lineup, which is set to include the Pinstripe Bowl played in Yankee Stadium. The Orange and Music City Bowls also have been added to the rotation, while the Holiday, Kraft Fight Hunger and a new game in Detroit are rumored to be new additions.
The speculation on new and old Big Ten's bowl started two weeks ago at the conference's meetings between athletic directors and commissioner Jim Delany. From the time the Pinstripe Bowl came into the discussion, there's been an air of intrigue surrounding the game.
"New York City is the financial sports capital of the world," Delany said. "It's a global city like Chicago. We'll have conversations with them."
The fling between the league and the Yankees now appears to be a marriage. After weeks of speculation, the Big Ten is set to announce a six-year agreement with the Pinstripe bowl to send a team to the Bronx every season to play a team from the ACC.
Always on the quest for expanding its brand and finding a foothold in strong media markets, the Big Ten added Rutgers last fall to lay claim to the nearly 20-million person New York metro area. Washington, D.C., less than 10 miles from the University of Maryland, is home to six million people. Securing bowl tie-ins with games played in California falls in with this philosophy.
The three-year-old Pinstripe Bowl has never drawn more than 40,000 people in a configuration that seats 54,000. When the game was created, the thinking was a game in Yankee Stadium would serve as a unique venue and generate a large attendance. But in an era where bowl games are steadily losing attendees, the Pinstripe Bowl's logic has proven to be flawed.
Here comes the Big Ten and ACC, though, with enthusiastic fan bases that should be able to produce the sale of 54,000 tickets. Due to New York's size and location, most schools in the Big Ten and ACC have large alumni bases in the area.
"I think New York City around Christmastime is one of the most beautiful places in the world, or around the holidays," said Penn State athletics director Dave Joyner. "I think people will find it's a really great place to play."
Ohio State fans aren't likely to enjoy the new locales, at least not often, since they'll be for the fifth through seventh selections. Still, the change in scenery, and in particular adding major cities, gives the Big Ten bowls variety and a spark.
"We want to spread our brand nationally."
California is an appealing destination to most people, but give a Midwesterner the opportunity to travel west in December and chances are they'll take it. Florida is all well and dandy, but the Orlando-Tampa-Jacksonville link has run its course. Two games in Texas is also too many.
"The numbers don't lie. There's fan fatigue if you're going to the same area year after year, there just is," said Michigan athletic director Dave Brandon. "For many of our student-athletes, they would probably tell you the same thing. One of the points I support is we're going to try to move programs around and give you a chance to see the bowls."
Even though New York's average high is only 43 degrees in December, the allure of Manhattan and all it has to offer would be too much for Big Ten fan bases to avoid. Despite the cool temperatures, the holiday season is one of the City's peak visiting times due to all the luster that surrounds Christmastime and New Years.
It's easy to come down with a case of bowl fatigue. In the past, Ohio State has had runs where it played in Orlando and Phoenix with regularity. They are preferable destinations during the winter months, but three or four trips is overkill.
San Diego and San Francisco – the sites for the California games – and New York present worthwhile trips any time of year. All three cities have excellent food options, famous tourist attractions and good hotels that can be had for affordable prices.
They can also put an added emphasis on recruiting. Bowl games in almost any city are going to be well received by 20-year-old kids. Changing the lineup can be a benefit, though, if they've grown up seeing Big Ten teams play in the same bowls over and over. And when you rattle off cities that are sought after international destinations, the glamor for prospective players should be heightened.
The other effect is attracting kids from the cities where the games are played, especially California, which is one of the top producers of Division I talent.
"We want to be national," said Wisconsin athletic director Barry Alvarez. "We want to play at least two in Florida, we want to play in the desert, in Texas, in California, also New York and some place on the East Coast is an option. We want to spread our brand nationally."