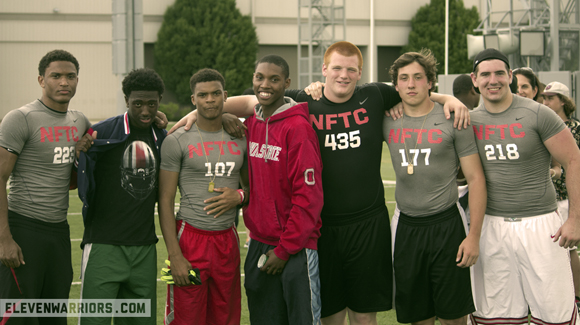 When it comes to recruiting camps, there are few out there that garner the attention that the NFTC, Nike's training camp series, does. The camp brings together hundreds of the best football players from all over the country, all competing for a spot in Nike's invitational camp on their Eugene, Oregon campus, "The Opening."
Today in Columbus that camp brought out roughly 500 of the midwest's best, and ten of them put in the work to earn their invitations to Oregon. While the parameters for selection to "The Opening" are not public – and I'm convinced some players are selected before they even work out – it's clear how important the chance to prove themselves against the best in the country are to the attendees. It's a matter of pride, both personal and for their high schools, prospective colleges, and their families. 
The ten players who received their invitation:
DE Dylan Thompson - Lombard Montini (Ill.)
S/WR Montae Nicholson - Gateway (Pa.)
C J.C. Hassenauer - East Ridge (Minn.)
DE Da'Shawn Hand - Woodbridge (Va.)RB Jalen Hurd - Beech (Tenn.)
CB Damon Webb - Cass Tech (Mich.)
TE Ian Bunting - Hinsdale Central (Ill.)
LB Kyle Berger - St. Ignatius (Ohio)
QB Drew Barker - Conner (Ky.)
WR Justin Brent - Speedway (Ind.)
While This afternoon's camp saw dreams come true for three Ohio State commitments, with the possibility that another could be added later, among the group that was selected. It also served as a barometer for all the players in attendance as they hope to continue their grind and earn college scholarships.
With several hundred players on hand, including probably 100 eventual Division One players, finding and observing every player was a challenge. With that, here are some of the things from the day that made me think.
YA' HURD ME?
There are occasionally players that just look different, and Tennesse commitment Jalen Hurd fits that description. From the start of the camp, Hurd displayed an athletic ability that was not matched by many. He's got incredible size/speed combination and a graceful, almost effortless stride that almost lulls you to sleep before he runs you over. He was uncoverable in one-on-one drills (against linebackers) and in most cases he didn't even attempt to juke them, instead deciding to just run them over before continuing on his route. Two-on-one? No matter for Hurd either. He was able to dart and dash around and between anyone who attempted to stop him. Only once did I see someone prevent him from reaching the endzone, Toledo Central Catholic 2015 linebacker Chris Green got a good angle on him, and even then it's debatable if he'd have been stopped in a non-two-hand tap setting. Hurd received the biggest uproar of the day from his peers when he used the truckstick on St. Ignatius linebacker Dameon Willis, Jr. in the one-on-ones. 
To be fair to the linebackers, these events really don't provide them much of an opportunity to come out on top, but Hurd's overall ability just jumped out at you. There's no reason Ohio State was courting him with such fervor.
TANGLED WEBB
Not that there was much doubt about it, but there was this relevation for any non-believers today: Damon Webb? Yeah, he's pretty good.
Lined up all day against the best wide receivers in the camp, the Cass Tech product and Buckeye commitment won battle after battle with great feet and very active hands. Webb is not the most physically imposing player on the field – he's still got a slight build at 6-foot-1 – but he does an incredible job jamming wide receivers before they can get up field. Only once did I see him lose a one-on-one, and that was when Notre Dame commitment, and fellow Opening invite, Justin Brent pushed off of Webb, a play that would have most certainly ended up in an offensive pass interference.
Webb was active all day, regularly jumping in for consecutive reps if he was allowed to do so, and never backing down from any challenge. He's got a quiet intensity on the field – no gum flapping from Webb at all – and genuinely enjoyed the chance to compete. Montae Nicholson, who was once a Buckeye defensive back target but competed today at wide receiver, told me that without question Webb was the best he squared off against.
speaking of nicholson...
The Gateway High School product was considered a high possibility to end up in Ohio State's recruiting class last fall, but he's not heard much from Ohio State lately. Last summer he was one of the camp circuit stars at defensive back, but the Buckeyes never pulled the trigger on an offer and things seemingly had fallen by the wayside with him and Ohio State.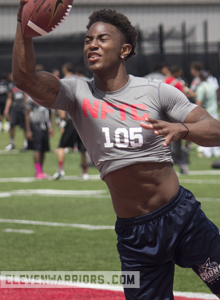 Today Nicholson not only lined up with the wide receivers, but he walked away with the position's MVP award for an outstanding performance that displayed nice versatility for a player of his size. He outpaced tremendous wideouts like the aforementioned Brent, Kentucky commit Thad Snodgrass, Indianapolis star Domonique Booth, and Northwestern commitment Dareian Watkins. 
The Buckeyes have been actively searching for an additional outside wide receiver to lineup opposite of Lonnie Johnson in this class but have struck out on their first few targets. If Cincinnati's Derek Kief and Arizona wide receiver Mark Andrews choose elsewhere, could Nicholson get another look from the Buckeyes, but this time at wide receiver? Just something to keep an eye on.
2015 players that stood out
Surprisingly, in a group of players so large, a number of players that really caught my eye were not seniors-to-be, but rather juniors-to-be. That group was led by Jordan Whitehead, an impressive cornerback from Monaca (Pa.), Andrew and David Dowell from Lakewood St. Edwards and massive offensive lineman Sterling Jenkins from Baldwin High School in Pittsburgh.
Whitehead and Jenkins each hold Buckeye offers already and were not only impressive in drills, but neither of them look like a prospect with two years left of high school. Jenkins is mountain of a teenager at 6-foot-8 and 295 pounds, easily the most imposing lineman on hand today. He told Eleven Warriors that he intends on being back at Ohio State this summer for a better look at the campus and the school.
Whitehead is very well put together and showed nice hands as well as excellent hips in coverage. He was paired up a lot of the day with Damon Webb, and it looked as if he was eagerly listening and taking advice from the camp veteran.
The Dowell twins are very interesting prospects, Andrew is a running back and David a wide receiver, and they each did very well in the camp setting. Andrew has huge legs and showed nice straight line speed in the running back and linebacker drills. David did a nice job catching the ball all day and was quick in his cuts and recognizing adjustments that needed to be made. The twins visited Penn State this past week, and are two players that will start to see some added attention coming their way.
Eleven Warriors will have more on the NFTC camp from Columbus, including breakdowns of how each Ohio State commitment fared, in the coming days.